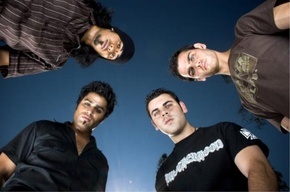 With all due respect to the other bands that performed Friday night at the Whiskey A Go Go, it was evident that Slant was the main event.
Their presence oozed that sort of rock star charisma, drenching the air with anticipation and excitement. They kept the audience engaged and added fuel to the frenzy with a flawless performance. And to the passersby who arrived not knowing Slant from a hole in the wall, they left avid aficionados and self- proclaimed presidents of the fan club.
The only downside: well, every show has to end sometime.  
As diverse and eclectic as the group is, they all fit together the way only bands that live past their first single could appreciate. Lead vocalist Fahim commandeered his position as front man with perfect vocals; Bassist Ilya made the soul pulse and vibrate; Guitarist Munir delivered impressive, fast paced guitar riffs; and drummer Andrew blew the crowd away with his mind numbing solos.
The glowing wristbands didn't hurt either.
Inarguably the most touching moment of the evening was when Fahim's cousin, Shawn Farhan, joined the group to perform "Beautiful Angel", written in loving memory of their cousin, Monira Qutubudeian. The soulfully crafted lyrics reached out to anyone who has lost someone and revealed a softer more vulnerable side of the group.
Those in attendance no doubt counted their lucky underwear that they were able to see such raw talent in such an intimate setting. It's safe to hold your breath while waiting for Slant to sell out major venue after major venue.
And save your kidneys. You may need to sell them to get tickets.
To listen to their latest tracks from their second album, "Slant" and keep up with the group, go to:
www.myspace.com/slantmusic
www.slantmusic.net
Review By: Keldine Hull – keldine_hull@yahoo.com
Photo By: Ty Watkins
Whiskey A Go Go
8901 W Sunset Blvd
Los Angeles, CA 90069
(310) 652-4202
www.whiskyagogo.com
Photos Below  By Jason Stone – http://jasonstone.name