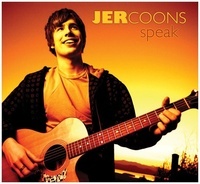 Jer Coons has plenty of things standing in his way of becoming a rock star. First off, he doesn't reside where there is a celebrated music scene; he calls Burlington, Vermont home. Also, the 20-year-old probably can't be called very hip as his forte is writing catchy pop songs with charming melodies.
Despite this, Coons is still a talented singer-songwriter to keep an eye on. This is evident after listening to his debut full-length cd Speak which drops on Sept. 29. The eleven song recording is full of pleasant pop songs that are instantly memorable, stuff that reminds one of the poppier side of John Mayer.
Speak gets off to a fine start with its title track which is a bouncy number with understated but infectious guitar riffs. The next track, "Legs," is a Jason Mraz-like track with an acoustic vibe and first-rate chorus.
Some of the best stuff on Speak tends to be the songs that reveal their simple charms after repeated listenings though. Things like the guitar solo halfway through "Boxing the Cold," the country vibe in "Girl in my Head," and the funky guitar beginning to "Ship Sank."
Another impressive aspect about Coons' debut is the lyrical content of the songs. Nearly every track deals with relationships, more specifically when romantic partnerships don't go as planned. The closing track, "The Only Trace," is the young Vermont native's best performance as he sings about someone's past failed relationship in a hopeful yet insecure manner.
Speak's interesting subject matter sometimes can be a crutch, however. This happens most when the music behind the lyrics is so positive and catchy that it doesn't necessarily fit what is being sung. Still, as Coons gets older and his music and lyrics get more complex, it will be interesting to see if he will become a star. Until then, Speak is a fine start for him and it is an enjoyable listen for pop music fans.
Author – Todd Sikorski
[Rating: 3/5]