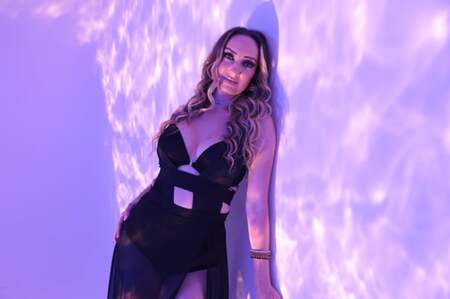 @skopemag news – friday – september 29, 2023 @ 11 am est
https://www.facebook.com/SkopeMag/
https://twitter.com/skopemag
https://www.youtube.com/@skopetv2
https://www.instagram.com/skopemag/
APP – Apple iTunes –
https://itunes.apple.com/app/id1465224822?mt=8
@skopemag APP – Google / Android –
https://play.google.com/store/apps/details?id=hr.apps.n207414718
Support @skopemag –
https://www.paypal.com/donate/?hosted_button_id=3APKAKT8K6ETW
KAT GRETA SHARES UPBEAT NEW SINGLE + VIDEO 'SEASON TO BELIEVE'
Romanie unveils stirring new single 'Cannot Have It All' from upcoming debut album
(UK hip-hop) Otis Mensah releases "bruiser bb" music video
COYLE GIRELLI SHARES NEW SINGLE 'BETWEEN US' LIFTED FROM NEW ALBUM 'MUSEUM DAY' SET FOR OCTOBER 27 RELEASE
Iggy Azalea Releases "Money Come (Remix)"
NEW YORK RAP PHENOMENON LADY LONDON RELEASES NEW SINGLE "YEA YEA" FEATURING DREEZY VIA HIGH STANDARDZ / DEF JAM RECORDINGS
BAD WOLVES REVEAL MUSIC VIDEO FOR "DIE ABOUT IT"
COLE BENNETT & LYRICAL LEMONADE UNVEIL NEW SINGLE + VIDEO "GUITAR IN MY ROOM" WITH LIL DURK & KID CUDI
ARMANI WHITE JUMPS ON PHILLY GOATS' PGS SPENCE "BUCKLE UP (REMIX)" – OUT NOW!
ONEOHTRIX POINT NEVER RELEASES NEW ALBUM 'AGAIN'
LIYAH KATANA SHARES DEBUT EP 8 VIA NYCESOUND PRODUCTION/ARTIUM RECORDS/DEF JAM RECORDINGS
'COME TRUE', SURF MESA'S DEBUT EP, SET FOR FALL 2023 RELEASE VIA ASTRALWERKS
BTS JUNG KOOK'S "3D (feat. Jack Harlow)" IS OUT NOW
JACK KAYS GETS VULNERABLE WITH NEW SONG "FEEL LIKE ME"
BIA RETURNS WITH 7 BRAND-NEW TRACKS – STREAM 'REALLY HER (INTL DELUXE) EP' TODAY
Dictator Ship launch second studio album "Electric Jihad"
ANDREW CUSHIN'S DEBUT ALBUM 'WAITING FOR THE RAIN' IS OUT NOW
RuPaul + Leigh Bowery inspired / Trippy, weird, DIY rave culture new single
ALEX MCEWAN RELEASES HIS SOPHOMORE ALBUM 'IN A WORLD WE DON'T KNOW' OUT NOW
ELLIPHANT SHARES THE NEW SINGLE 'THERAPY' – OUT NOW
Indie Singer-Songwriter Meghan Pulles Writes Stunning Tribute to her Oma Titled "10,000 Rains
Samie Bower pleads for an answer in new R&B single "Wrong"
Rising Darlington artist Luke Royalty returns with hypnotic new track 'Synthia'…
Molly Burch releases new album 'Daydreamer', produced by Wild Nothing's Jack Tatum – a record for your 13 year old self | Out now via Captured Tracks
Blanco White releases new album 'Tarifa' – Co-produced by Nubiyan Twist's Pilo Adami and Bullion (Nilüfer Yanya, Hayden Thorpe)
LEISURE release life-affirming new album 'Leisurevision'
SLOW PULP release new album 'Yard' | Out now on ANTI- | UK headline tour in Nov + Dec
HEAVY LUNGS Release Debut Album 'All Gas No Brakes' Out Now via Alcopop! Records
LUCY GAFFNEY releases new EP 'Daydream In Tokyo' and shares new single 'Boy Go'
DINA AYADA OFFICIALLY RELEASES NEW SINGLE — "Way Up!" OUT NOW
Top New Tune // Charlotte Plank – "Lights" (with Hybrid Minds)
London Indie-Rockers Depression, Baby Channel Early The Strokes On New Single 'Too Sick'
HERKEDAL'S DEBUT EP 'WILD RASPBERRIES & PLUM TREES' IS OUT NOW
MAYA DELILAH OFFERS WARM, NOSTALGIC NEW SINGLE "NECKLACE"
MULTI-PLATINUM, ICONIC RAPPER & MOGUL RICK ROSS + MAYBACH MUSIC GROUP PARTNERS WITH GAMMA
Introducing alt/indie artist Philine Sonny; Announces 'Invader' EP + Shares New Single "Drugs"
Alternative Rock Artist Concrete Green Crafts a Reflective Sonic Journey with "One Last Try"
R&B STAR KENYON DIXON RELEASES 'THE R&B YOU LOVE' ALBUM TODAY
Nottingham Synth-Pop Trio The Cost Of Loving Share New Single 'Esports Player'
Sandra Bouza's New Album A SOUND IN THE DARK Is Out Now!
KARDANG, have released a music video for their new single "Don't Let Me Drive"
KK'S PRIEST Reveals New Track, "Hymn 66"
Hear Zach Russell's Twisting And Turning Take On Reincarnation With "Born Again"
Ilona Releases Mesmerizing Single "For You"
COLIN STOUGH ANNOUNCES DEBUT EP PROMISELAND
WHOKILLEDXIX ANNOUNCE NEW EP AND COMIC BOOK 'IN CHAINS;' DROPS "GO!" FT. BENKRO
MULTI-PLATINUM GLOBAL POP SUPERSTAR ALLY BROOKE RETURNS WITH NEW TRACK "GONE TO BED"
CHRIS BOTTI TEAMS WITH SINGER JOHN SPLITHOFF ON ROMANTIC NEW SINGLE "PARIS"
Portland Americana artist Rose Gerber shares new EP "Memories Someday"
The Blaze Velluto Collection Release New Album WHAT'S ON YOUR MIND?
Peter Gabriel Releases 'This Is Home'
Thomas Day Shares New Single/Video, "I Don't Wanna Leave Just Yet"
OUT NOW: Dutch Producer/DJ Colyn Releases 'Cyclone' EP via RÜFÜS DU SOL's Rose Avenue Records
HANNAH GRAE RELEASES POWERFUL NEW TRACK "IT COULD'VE BEEN YOU"
Introducing LA-based visual artist Doris Club; Releases 'There's Still Time' Side A