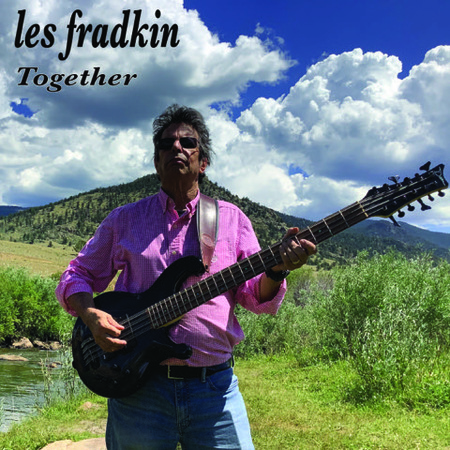 Les Fradkin is a producer and composer/multi-instrumentalist, vocalist and one-man band and he is a pioneer of the MIDI guitar. Not to mention, Les is an Akademia 2023 Hall of Fame Inductee and was an original cast member of the smash hit production "Beatlemania". Fradkin's latest single titled "Together" is featured on the full album called 'Reality-The Rock Opera'. Ironically, "Together" was written 20 years ago by Les and Loretta Fradkin yet the song rings so true for today. The theme on "Together" is very fitting for today and relevant to the current times. It is said that back in 2003 Les and Loretta Fradkin predicted the world and culture of today. Now, we all gather around "Together" and enjoy the fruits of their labor.
"Together" was recorded and produced by Les and Loretta Fradkin for RRO Entertainment with all music and lyrics by Les Fradkin & Loretta Fradkin. The single features Les Fradkin on lead vocals and all instruments along with Amber Gomez & Keri Smith Salazar on background vocals. The song plays out like a strong anthem for 2023 that people can enjoy and be a part of. "Together" is not just a simple song but more so a way of life Les Fradkin is hoping can become a reality. The message that we're all in this "Together" to the end comes out loud & clear and so I hope the world is listening.
Les Fradkin has a vision in mind for today and in a nutshell it's "Together". The track is musically rich, uplifting and inspiring as you receive a fresh perspective in the key of life. The listener won't be able to fight off the temptation to sing along because "Together" is catchy and fulfilling. "Together" will inspire individuals to do better overall and treat one another better. Our society certainly needs some help and "Together" might be the answer or at least the right ingredient. Les Fradkin delivers a powerful song that can be appreciated by everyone in the world because "Together" we are stronger.
This new anthem can play on for generations to come as the message will never die or go out of style. The truth shall set you free on "Together" with lines like: "Together, together, there's no more war, together, together, there'll be no poor, together, together, our day will come, Together, we'll all be one…one day." I couldn't agree more that, as a people, we succeed "Together" rather than divide and conquer, which seems to be the current medication prescribed for today's culture. Being a human should come naturally to everyone however there appear to be cracks in the foundation. The simple solution is to just be nicer and kinder and to also be respectful and helpful toward every single person you meet.
I thoroughly enjoyed "Together" because it's more than a song to me; it's hope and promise. Les Fradkin captured this feeling of togetherness brilliantly on this new single.
You can even SKOPE out the official music video for "Together" right here:
Enjoy "Together" today, tomorrow and forever and remember to pass it on!
https://www.facebook.com/les.fradkin/
https://www.facebook.com/lfradkin/
https://twitter.com/lesfradkin
By Jimmy Rae