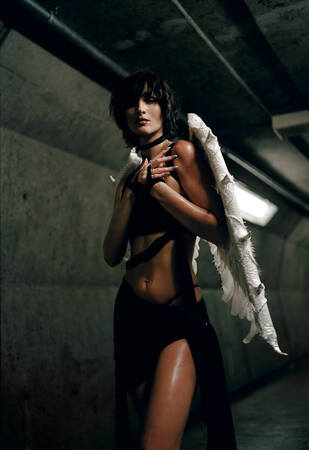 @skopemag news – friday – september 29, 2023 @ 9 am est
https://www.facebook.com/SkopeMag/
https://twitter.com/skopemag
https://www.youtube.com/@skopetv2
https://www.instagram.com/skopemag/
APP – Apple iTunes –
https://itunes.apple.com/app/id1465224822?mt=8
@skopemag APP – Google / Android –
https://play.google.com/store/apps/details?id=hr.apps.n207414718
Support @skopemag –
https://www.paypal.com/donate/?hosted_button_id=3APKAKT8K6ETW
Venesti y Jay Wheeler deslumbran con el lanzamiento de "Goodbye"
En un revolucionario giro para la música urbana contemporánea, Venesti, el artista colombiano que está redefiniendo las tendencias, se asocia con la superestrella internacional Jay Wheeler para presentar "Goodbye". El tema se desprende del álbum debut de Venesti "De La Nada" y el mismo se estrena con su video musical oficial, ya disponible en todas las plataformas digitales.
French Experimental Noise Metal Act NI Announce New Album, Video Single Released
Video Launch // Jacklyn – "Bad Romance"
Mereki releases her chic video for "Wasted Love"
Diving into the song, Mereki said, "I wrote 'Wasted Love' when I was going through a breakup, and everything felt meaningless. When I listen now, I can connect the feelings in this song to different difficult moments in my life. And with hindsight, I can see that every challenge has created the necessary portal to deliver me to where I am now."
OUT NOW: Sola shares poignant 9 track mixtape, 'Warped Soul'
The project is the latest full-body offering from Sola (pronounced Sho-la) featuring singles and their accompanying visuals such as "Abide In U", "Scream999", "Heat" and "One Breath" with features from Moses Boyd, Rarelyalways and Haich Ber Na. Across 9 tracks Sola explores themes of love, loss, grief. Nodding to her influences such as Burial, shes bounds effortlessly through myriad genres, from experimental Electronics and Garage through to Classical, Jazz, Trip-Hop and beyond.
Paint It Black share new single "Dominion"
Today, lauded Philadelphia band Paint It Black have shared "Dominion," the second single from the upcoming record Famine, set for release November 3rd on Revelation Records. Following the hard-stomping "Famine," "Dominion" is two minutes of ripping, melody fueled hardcore shouting at the exploitation of a thoughts and prayers filled society. Ink & Dagger guitarist Don DeVore brings his off-kilter approach to the song, contributing a distinct riff. You can stream "Dominion" HERE and Famine is available for vinyl preorder through Revelation Records and digital on Bandcamp.
Feminine Rage & Dark Energy in "EDGE" from Cherry Lena
Cherry Lena is an alternative pop R&B singer-songwriter from Montreal, Canada. Having first captured the attention of audiences with her performances on The Voice Quebec in 2018, she has since been making a name for her stunning combination of warm R&B tones and subtle 1950's jazz vocals. Her music is rich and timeless, resulting in a sound which effortlessly displays the musician's undeniable talent and passionate delivery.
SLOPE Releases New Single "True Blue"
BREAKOUT R&B STAR LAYA RELEASES NEW MUSIC VIDEO FOR "NEED 2 KNOW" TODAY
Experimental Bedroom Pop Artist Astral Swans Critiques the Absurdity of Contemporary Capitalism on New Single from 'Split' EP with Chad VanGaalen
These hotel songs are all informed by the absurdity of contemporary capitalist realism. Swann wrote "Shine the Light Inside" shortly after the world reopened post pandemic, and there was suddenly a greater divide between the extremely rich and poor. The song is about a billionaire's rocket going off course (à la Major Tom), and the lyrics are his AI reading aphorisms sourced from self help books assembled by a proprietary algorithm to try and calm him down.
SUDAN ARCHIVES SHARES NEW VIDEO AND REMIX OF "FREAKALIZER" BY THE EGYPTIAN LOVER
Depeche Mode release video for 'My Favourite Stranger' & unveil Vinegar Hill Sessions…
Drew Ryder Smith is Feeling "Free" in New Single
Award-winning songwriter, producer and alt-country artist Drew Ryder Smith released his self-titled album earlier this year featuring his latest single, "Free". Echoing the epidemically relatable conflict between emotional and material success, "Free" is the result of brilliant songwriting, top production and a catchy hook, written solely by Smith.
alexmaax (MS MR) enters his new era with "100 Nights"
The solo project of LA-based singer, songwriter, producer and composer Max Hershenow, best known for his work as half of acclaimed alt pop duo MS MR with singer Lizzy Plapinger. After several years focused on writing and producing for other artists, he's introducing a new era of his alexmaax project.
Apashe New Single "Human" Ft. Wasiu Out Today, September 28 with Music Video Shot in Tokyo, Montreal & Mongolia
GAEREA Unveils Unnerving Torture Art Experiment for "Dormant," On Tour in North America Tomorrow
Would you submit yourself to human torture to go beyond your limits to expressing art? Voluntary suffering for the greater goal in pursuit of artistic excellence is what one of the members of cathartic black metal band GAEREA (PT) went through for the visualization of "Dormant."
DEORBIT Paints A Surreal Picture Of The World In "Stratolith" Off Psychedelic Stoner Instrumental Album "Retrogradient"
That Mexican OT Slides Texas-Style in "Matagorda" Video
EL LEGENDARIO CANTANTE DE HIP-HOP TONY SUNSHINE, MUESTRA SU LADO ROMANTICO CON EL SENCILLO, "PERDÓN"
El legendario cantante de Hip-Hop en ingles Tony Sunshine, incursiono en el mercado Latino hace unos meses con el sencillo y video musical de "El Real", tema que lo llevo a hacer una gira extensa de promoción por los medios mas importantes del mercado, y logro tener una pantalla en el emblemático Times Square de Nueva York con la portada de su sencillo. Ahora, Tony lanza su segundo tema en Español con una pieza visual titulada "Perdón".
MANIPULATOR: No Echo Premieres "Tangled Insides" Video From NYC Grindcore Project Of This Is The Last Time/Ex-Sunless Member
Mercilessly unloading its salvo of twenty tracks in fourteen minutes, Drawing Secret Circles takes the MANIPULATOR attack to new levels of musical intensity. With project founder Andrew Notsch handling the instrumentation and vocals, the record also features guest vocals from Derrick Karg, Tim Bradley, and Juan Vargas, and additional guitar on "Fear And Mystery Drown" by Lucas Wyssbrod (Monovoth). The final production and mastering were handled by Adam Tucker of Signaturetone (Ulthar, Thou, Sunless) and the record was completed with art by Notsch.
MASSIVE SCAR ERA's Groundbreaking "Between Waves" Pushes Music Boundaries Off "Metal Goes Egyptian" Out Nov 2023
Massive Scar Era, the brainchild of visionary artist Cherine Amr, is proud to announce the upcoming release of their highly anticipated seventh release, an EP, "Metal Goes Egyptian", which is coming out in November. Known for pushing the boundaries of music and blending genres, Massive Scar Era is set to captivate audiences once again with its unique fusion of progressive rock, post-grunge, Egyptian music, and metal. The second single is "Between Waves", which Amr comments on:
JORJA SMITH RELEASES NEW ALBUM 'FALLING OR FLYING'
The Protest Unveils Their Most Passionate Anthem Yet: "Dying Breath"
LOLA YOUNG RETURNS WITH BRAND NEW SINGLE "CONCEITED" OUT TODAY VIA DAY ONE / CAPITOL RECORDS
4L JAVI DELIVERS NEW SINGLE "FACE CARD"
BELLMAN & Tom Mårtensson releases new single 'Rolling Stone (Everything I Want)'
Rising Montreal Indie Artist kerri Finds Happiness with 'Finish What You Started' LP
"ISSA PARTY" WITH LATTO AND BABYDRILL ON THEIR NEW TRACK & VIDEO COLLAB!
*NSYNC RELEASES FIRST SONG TOGETHER IN 20 YEARS "BETTER PLACE"
Out of Philly PA – The Stone Eye New Single "RAINDROPS"
RISING COUNTRY ARTIST CALEB ORR RELEASES DEBUT SINGLE "CAN'T BREAK YOU"
Mishaal Tamer releases emotional new single 'PAINFUL PARADISE'
UK's biggest-streaming Phonk artist $werve's new single
Manchester's rising rapper 6BABY unleashes brand new track "Tek Time"
ALBUM OUT NOW: MALKA – Anatomy of Sight (FFO Little Dragon, tUnE-yArDs)
Jamie Hai & ettu collab on feelgood garage cut 'With Your Love'
Martin Solveig ft Stefflon Don – 'I Don't Wanna Work'
DIY artist Yxngxr1 drops dreamy indie-pop track 'Budapest'
Charlotte Haining x goddard. – New drum and bass banger 'High Hopes'
OUT NOW: Jack Kane reveals his new single 'Sequins' // Listen here