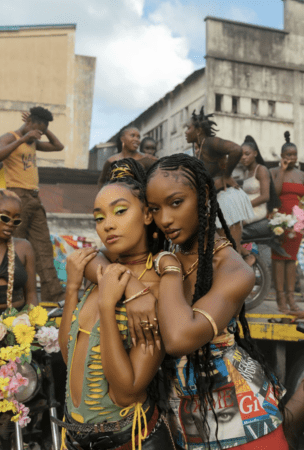 @skopemag news – saturday – september 9, 2023 @ 2 am est
https://www.facebook.com/SkopeMag/
https://twitter.com/skopemag
https://www.youtube.com/@skopetv2
https://www.instagram.com/skopemag/
APP – Apple iTunes –
https://itunes.apple.com/app/id1465224822?mt=8
@skopemag APP – Google / Android –
https://play.google.com/store/apps/details?id=hr.apps.n207414718
Support @skopemag –
https://www.paypal.com/donate/?hosted_button_id=3APKAKT8K6ETW
LEIGH-ANNE RELEASES LATEST SINGLE 'MY LOVE' FEATURING AYRA STARR
The anthemic and infectious track sees Leigh-Anne as she explores the complex truths about self-love and relationships. Leigh's appreciation for afrobeats/afropop is seen throughout 'My Love' as she recruits Magicsticks (Asake) for production and tag-teams with Nigerian artist Ayra Starr. Collaborators on Leigh-Anne's sophomore single also include PRGSHN, Khris Riddick-Tynes of The Rascals, Alex Goldblatt, Kameron Glasper and DYO.
For Skope: Brazilian talent Zerky releases a very unusual house tune "NonSenSe" on CONTROVERSIA (out now)
Pat Boone Releases New Country Album, Country Jubilee – Out Today
Boone comments on the release of the project, saying "It is my honor and privilege to release this album for my friends across the world to enjoy. No country artist has done this type of work before, and it is with excitement that I get to share this work. I do hope it brings smiles to everyone's faces and brings back real country music to those who listen."
Honey Island Swamp Band Releases New Single "Gone" // New Studio Album 'Custom Deluxe' Out October 27
"'Gone' was a really fun tune to write and always a pleasure to perform," shares front man Aaron Wilkinson. "I love songs with clever lyrics and a lot of them. Singing these harmonies with the guys in the band never gets old."
The Haunt Create The Vital Soundtrack To Stepping Into Your Own Power with New EP 'Dead on Arrival (DOA)'
Fronted by siblings Anastasia Grace Haunt [vocals] and Maxamillion "Max" Haunt [vocals, guitar, production], the band is coming into their own and creating a safe space for their fans with their powerful messages. "Even though we're dumping our problems into the songs, we want to connect to people. We know you might be going through the same thing, and we're here for you," adds The Haunt.
Alt/rock outfit Roseburg unveil EP of second chances
Roseburg forms the indie, alt-rock fused musical project of Zach Knell, Samuel Sheppard (YesterKid), Keith Lambson (Dryggs) and Soren Buchert. In reference to the place itself, the quartet formed in Roseburg, Oregon, and now reside in Utah.
Shimmy-Disc Announce Allen Ginsberg Double-LP Reissue, Share "To Aunt Rose" Video via Brooklyn Vegan
Allen Ginsberg — internationally renowned, visionary American Beat Poet — was a figurehead of the global youth movement in the late 1960s, a devoted teacher and scholar, inspiring generations of young poets. He was a racial activist, pacifist, one of the most politically engaged poets for decades, using his voice and international platform as a campaigner for human rights, gay liberation, ecology, and free speech. Nearly all his books remain in print to this day.
Allen Ginsberg's 1989 Hal Willner-produced album getting expanded double LP reissue (watch "To Aunt Rose" video)
BAKAR UNVEILS NEW SINGLE "I'M DONE"; NEW ALBUM OUT SEPT 22
After impressive performances at Reading & Leeds Festival in August and at Lollapalooza in July, and a spot at #18 in US Pop Radio with "Hell N Back", British artist Bakar delivers his new single, "I'm Done".
That Mexican OT Traps Like a Tejano in the Video for the Beat-Shifting "Skelz"
That Mexican OT shares his new video for "Skelz," a beat-shifting lyrical showcase that shows why OT is one of the hottest rising rappers of the moment. Produced by DJ Skelez, Freek van Workum, Jonny Shipes, Olivier Bassil & Subb, "Skelz" kicks into gear with screaming guitars and a slinking bassline laid over live drums, providing a canvas for OT to flex his verbal muscles via Texas-fried triplets: "When I pop out I smell like a skunk/Gang banging, I be stacking like a bunk/F*ck around and throw ya daddy in the trunk/AR-15 got him walking like he drunk/I ain't scared of them, I put it on Chuck/You a b*tch-ass punk." Part-way through, the song slows down to halftime, but the Houston-area rapper keeps his tempo, rolling his r's as he finishes his verse. The video, directed as always by DGreen Filmz, gives a glimpse into OT's ladies' man lifestyle, as he moves from conquest to conquest with a smile on his face.
Perto introduces himself with new single & music video "jester"
The track illuminates his knack for genre-shifting and his gleeful disregard for the rules. Glitchy beat-craft underlines glossy synths perfectly suited to either the dancefloor or a high-speed midnight drive. Meanwhile, his unpredictable cadence carries a chantable hook as he confesses, "I enjoyed it in the moment."
Toronto's The Conscience Pilate Release Latest Post Punk Single "Blue Shadows" (Sept 8)
Goose surprise fans with new EP release feat. studio versions of live fan faves; new video streaming now
The official music video for the complete three-song composition was filmed, directed, and edited by Will Thresher, Michael Nuchereno, and Aaron Mannes, and is streaming now on the band's YouTube page. Filmed largely in western New York, the stunning visuals bring the viewer on a thrilling journey through wonderous natural landscapes that mirror the depth and beauty of the accompanying soundtrack.
NBC's The Voice Alum Joey Green Unveils Anticipated Album "Heart Lessons" and Drops Title Track
Nashville, TN – Joey Green, the Texas-born sensation whose journey on NBC's The Voice captured hearts nationwide, is thrilled to announce the forthcoming release of his highly anticipated album, "Heart Lessons." This musical gem is set to grace our ears on November 3rd, 2023, through a partnership with CMD SHFT. The album's debut single "Heart Lesson" arrived on digital music platforms today along with a brand new video located HERE.
Joey Valence & Brae Release Debut Album 'PUNK TACTICS' & Announce 2024 Tour
Forged by the sounds of giants like Beastie Boys and brimming with '90s references including Mortal Kombat, Nike Air and Super Mario, Joey Valence & Brae are bringing back a sound that is equal parts nostalgic and infectious – perfect for a wide-ranging group of both misfit teens and nostalgic adults. The 14-songs on PUNK TACTICS are larger than life, and all produced in Joey's home bedroom in State College, PA. Releasing music one banger at a time, the duo has quickly found a foothold amongst indie hip-hop stalwarts and Gen Z fans alike, earning them festival spots and major TikTok traction in less than a year. Influenced by the sounds and cultures of hardcore punk and hip-hop, they're cleverly weaving their way through pop-culture and counterculture – and theirs is a sound you're going to want to push play on right now.
Boy Golden Shares "The King of Western Swing"
Boy Golden dances with the darker side of country music history on "The King of Western Swing," a detail-driven story song about fame, fortune and fiddles, the story of one Spade Cooley. Inspired by Tyler Mahan Coe's "Cocaine & Rhinestones" research and podcast episode, Boy Golden presents "The King of Western Swing," recorded live off the floor in Winnipeg, Manitoba.
EXEK Share "It's Just a Flesh Wound, Darling" Single + Lyric Video via Brooklyn Vegan | 'The Map and the Territory' LP Out 10/6 via Foreign Records
Australian post-punk sextet EXEK — singer Albert Wolski, guitarist Jai Morris-Smith, synthesist Andrew Brocchi, trumpeter and backing-vocalist Valya YL Hooi, bassist Ben Hepworth, and Chris Stephenson on the drums — recently announced their forthcoming sixth full-length LP, The Map and the Territory, out October 6 via Foreign Records.
The Intemperate Sons Release New Single "Lake of Poison" + Official Music Video via FRAME|WORK
Indie rock band The Intemperate Sons released their latest single "Lake of Poison" from their highly anticipated new album Game of Keep Away that will be released to all major platforms via FRAME|WORK/INgrooves in the fall of 2023. The band also released the official music video for the single and are in the early stages of planning a fall run of shows on the west coast.
Drake Milligan's "I Got A Problem" Is Available Today
Following the release of his critically acclaimed debut album Dallas/Fort Worth that skyrocketed to #1 on the iTunes All-Genre chart, Stoney Creek Records artist Drake Milligan today releases the up-tempo "I Got A Problem." The good-time, romantic tune tells of all the ways a cowboy's new gal has a hold on him like never before, singing: "your kiss tastes like whiskey, and I'm a drinker."
Grammy Award Winning Duo Brothers Osborne Set To Release Fourth Studio Album, Brothers Osborne, Next Friday, September 15th
GRAMMY-winning duo Brothers Osborne will release Brothers Osborne, their self-titled fourth studio album, next Friday September 15th via EMI Records Nashville. The album is named one of the most anticipated albums of the year by The Los Angeles Times who call it "a lively self-titled" album which adds "fresh sounds and textures to the Osbornes' solidly built songs" and the duo currently are on the cover of American Songwriter who say a "sense of comfortable confidence echoes through all eleven tracks on Brothers Osborne, which builds off the duo's trademark meld of classic Southern rock and polished modern country."
American Songwriter September/October Cover Story: Brothers Osborne—Nothing to Hide
Rothstein Ushers in New Sonic Era with Release of His Beautifully Dark, New Album 'How Not to Drown'
Boston-bred, NYC-based multi-hyphenate Rothstein unveils his highly-anticipated, 13-track album How Not To Drown out now via The Orchard, alongside a dark, illusive music video for his single "No Balconies in Vegas" featuring actress/model Violette Trotter.
Produced in its entirety by Rothstein and Brasstracks' Ivan Jackson, the project's rollout began at the top of 2023 with a slew of soul-tinged pop singles and visuals, including "small talk," "chokehold", "don't look down", "pushover", and his latest offering "carolina".
BUSTA RHYMES IS BACK WITH EXPLOSIVE NEW SINGLE & CINEMTATIC MUSIC VIDEO "LUXURY LIFESTYLE" FEATURING COI LERAY OUT NOW!
The song produced by Swizz Beatz and Busta Rhymes, unites two eras and vibes on one slick track, giving the Jay Z and Foxy Brown classic, "Ain't No N****" a 2023 spin. The record is a straight up party banger and a masterful display of the marriage of Busta and Coi's supreme skill sets. Busta gives guidance to his younger sis Coi Leray while he empowers the lauded MC to be her best self. A funky bassline sets the tone as the groovy beat simmers. Right out of the gate, Busta and Coi lock into a quotable call-and-response. Flaunting a punchy cadence, he warns, "If you don't mention me as one of the greatest, your train of thought is no exception." Their voices bounce back-and-forth on the hook, "Luxury life, we living over the top…No one can do it better."
Tejon Street Corner Thieves Release Video For "You Rascal You"
Tejon Street Corner Thieves, the outlaw alt-folk sensation hailing from Colorado Springs, has released the second single "You Rascal You" off their forthcoming record, 'Juxtaposition', out October 27th, 2023 on Liars Club Records. The band has just unleashed the album's second single, "You Rascal You" along with a brand new video.
Akintoye Releases Spirited Fight Song "F*ck Em Up Moses"
Fast-rising hip hop artist Akintoye has released his new single "Fuck Em Up Moses," out now on all DSPs. Produced by Dan Vucko, "Fuck Em Up Moses" is a display of clever lyricism, spotlighting his unfiltered bravado and steadfast confidence. Over an aggressive beat of floor-shaking kicks and skittering 808s, the spirited anthem sees Akintoye throwing caution to the wind as he delivers slick bars about the complex musical landscape he occupies.
maeve & quinn Share Debut LP Another Door via Atwood Magazine
Today marks the release of maeve & quinn's new LP, Another Door. As their first full-length album, Another Door, is an affirmation of possibilities, especially when the future feels unclear. Speaking on the album, the duo said, "Another Door reflects our deepening understanding as twin sisters, friends, and musical collaborators, and how that bond set a foundation for us to travel into new musical territories on this album — the songs are a map of self searching, finding, and affirming that we hope our listeners will hear and see themselves in, too."
Premiere: maeve & quinn Explore Dynamic Friendship & Selfhood in Debut Album 'Another Door'
ZAYN RELEASES "LOVE LIKE THIS" (MURA MASA REMIX)
Released this Summer, "Love Like This" created a frenzy online as fans and critics alike were eager to hear Zayn's first new music release in 2 years. Rolling Stone declared the release as "marking the beginning of a new musical era," with Billboard noting "Riding some UK garage production and aiming squarely at summer-jam status, Zayn uses 'Love Like This' to demonstrate what every version of his musical career has been founded upon: the marriage of melodic understanding and sensual, deeply felt vocals." The song quickly surpassed 50 Million global streams, and the music video, directed by Ivanna Borin & Frank Borin, has already crossed 12 million views. Watch HERE.
salamander Share "wildfire" Single via Under the Radar | '[container]' Debut LP Due October 18 via Cropsey Records
Brooklyn-based salamander (Leo Frampton, PJ Hunter, and Ben Verde) recently announced details for their forthcoming debut LP, [container], due October 18 on all DSPs via Cropsey Records. Following the previous release of the record's first two singles, "xylem" and "ride," today, the band shares a third cut entitled "wildfire," a freeform psychedelic slowcore track littered with fuzzed out guitar sequences and mesmerizing vocal harmonies. The track, which was premiered via Under the Radar, will soon have an accompanying music video.
Acclaimed metal songwriter/drummer Miss Randall premieres track via Metal Insider
Heaven Doesn't Want Me," (out 9/8) " can be interpreted in many ways, but mainly comes from a place of distrust of the status quo and imposing dogmas of others, including religion." Taken from her upcoming EP Desertations Vol. 1 out 11/10/23, Miss Randall reveals "These songs are a starting point for me to reveal my innermost thought patterns in songwriting. Going back to my roots, I focus on pouring my heart and soul into the honest space that is Blues and Southern Rock which have always been my DNA. The desert and open space imagery is an overlying theme that I intend to keep exploring in future releases as well."
Chow Lee Reflects on His Super Sexy Summer in "Chow Lee's Life" Video
Video: Koan Kenpachi – Put it In the Air (feat. Mr. Smoker)
Renowned emcee Koan Kenpachi is once again making waves with the release of his highly anticipated video for "Put it in the Air," a standout track from his latest LP Supremium. The body of work has garnered acclaim for its innovative sound, authentic storytelling, and seamless blend of various musical influences that has already garnered significant attention from fans and critics alike.
BUSTA RHYMES IS BACK WITH EXPLOSIVE NEW SINGLE & CINEMTATIC MUSIC VIDEO "LUXURY LIFE" FEATURING COI LERAY OUT NOW!
The song produced by Swizz Beatz and Busta Rhymes, unites two eras and vibes on one slick track, giving the Jay Z and Foxy Brown classic, "Ain't No N****" a 2023 spin. The record is a straight up party banger and a masterful display of the marriage of Busta and Coi's supreme skill sets. Busta gives guidance to his younger sis Coi Leray while he empowers the lauded MC to be her best self. A funky bassline sets the tone as the groovy beat simmers. Right out of the gate, Busta and Coi lock into a quotable call-and-response. Flaunting a punchy cadence, he warns, "If you don't mention me as one of the greatest, your train of thought is no exception." Their voices bounce back-and-forth on the hook, "Luxury life, we living over the top…No one can do it better."
CALEB CALLOWAY TEAMS UP WITH SAIKO ON NEW SINGLE, "CARNET"
Renowned producer/DJ Caleb Calloway joins forces with chart-topping Spanish urban vocalist Saiko on the new single "Carnet," which the two artists wrote together. On the vibrant track, Calloway combines Saiko's rapid fire vocals with powerful beats and haunting keyboards. Performed entirely in Spanish, the song tells the story of a girl who doesn't yet have her driver's license but goes out to the club with a friend to have an epic night. ("Carnet" means "license" in English.) Listen HERE.
Bittersweethearts Release New Single "Empty"
"I was in a failing relationship that was so draining," shares frontwoman Zoe Infante on the inspiration for the single. "People in life can have that effect on you and it's hard to see it until you reach a breaking point. This song is about finally realizing that person was not good for me. I'm sure a lot of people can relate to that."
For Skope: T-Mass & Staarz take it back to the '60s with phonk remake of "Somebody To Love" (out now on Dim Mak)
BEAR WITHIN US ANNOUNCE NEW SINGLE/VIDEO "DOWN"
Music Submission: Wuzy Bambussy new single 'Yesterday's Shoes'
Yesterday's Shoes is an Indie pop gem, opening with a timeless piano riff and Bristolian vocalist Kat Harrisons' trademark ethereal voice. Driven by acoustic guitars and a killer rhythm section, the song is another big addition to the duos' rapidly growing and widely admired back catalogue.
Out Today! NYC Punk Veterans The Underbites Reveal New EP "Four Songs About Girls"
If the pop-punk onslaught of the '90s and early 2000s left you with the impression that punk music loses its edge with the introduction of melodies and hooks, New York City quartet The Underbites are here to remind us all that accessibility and grit don't have to be mutually exclusive. Founded by veteran guitarists and veteran listeners Jon Fox and Kurt Feldhun, The Underbites may have formed in 2020, but their origins date back to when Fox and Feldhun witnessed the halcyon days of punk first-hand.
Their new EP, Four Songs About Girls, makes its debut today.
DJ & PRODUCER BUNT. RELEASES UPLIFTING TRACK "LOVE" // EP COMING THIS FALL // UPCOMING NORTH AMERICAN TOUR
"Love" is an uplifting track that ties the end-of-summer vibes perfectly, featuring vocalist Johan Lenox. Regarding the track, BUNT. commented, "Love makes everything easier." This song by Johan connected with me so personally. I had to work on it. It's a record that I've played live in different parts of the world and people seem to connect with the lyrics everywhere. Love is a universal theme that we all as people long for in our daily relationships. Hope this song resonates with people the same way it connected with me."
J. Worra and Cherry Tooth Combine Forces on Jackin' House Collab "Dancing At The Disco" on Insomniac Records – OUT NOW
J. Worra previously touched down on the label with "Lightning to Strike" and "Burn This House" alongside Little Boots, amassing 4.5M and 1.7M streams, respectively. She has upcoming headline gigs at Academy LA, The Vanguard (Orlando), Musica Club NYC, Soundcheck (Washington D.C), Nova (San Diego), Concord Music Hall (Chicago), and festival appearances at Electric Zoo, Life Is Beautiful, Lights All Night. She has enjoyed past radio support from Pete Tong, Danny Howard, Kiss Dance, MistaJam, Diplo's Revolution. Cherry Tooth recently launched the project with inaugural single "Way Too Good," earning radio support from Benny Benassi, Tough Love, Fedde Le Grand, Kyros, Tomo Hirata.
Fake Figures (Atreyu etc) announce new EP + single "Miasmatic"
FAKE FIGURES, a rock/metal group based out of the greater Los Angeles area, has released their new single "Miasmatic" and announced their upcoming EP entitled 'From Within'. "Miasmatic" is out today on all DSPs alongside a lyric video on Youtube with the EP being released on Friday, September 29th. The band previewed the single + video earlier today via influential metal/rock website Knotfest.
Danny Towers & DJ Scheme Team Up With C Stunna for "Rolls Truck" Video
Earlier this week, Danny Towers & DJ Scheme dropped their "Rolls Truck" video featuring C Stunna. "Rolls Truck" moves briskly with propulsive percussion and a sinister string melody, providing the perfect canvas for Danny Towers and fellow Floridian C Stunna to paint their vivid pictures.
Culture Code Crafts Gripping Rocktronic Pop Punk Ballad "Rest of My Life" ft. Medyk on Lost In Dreams – OUT NOW
Culture Code recently debuted on the label with their single "Gone Too Long" ft. Donna Tella, drawing support from Arctic Empire, Wave Instinct, Soundrive, Find Your Sounds, EDM Train, Caesar Live N Loud, Canadian Ravers. Medyk graced the label with her "Hate To Be" collab with Synymata, which was supported on Illenium's Phoenix Radio show. She released her "Lost" single with Culture Code earlier this year, and has featured on tracks for ARMNHMR, DNMO, Fells, ELUDE.