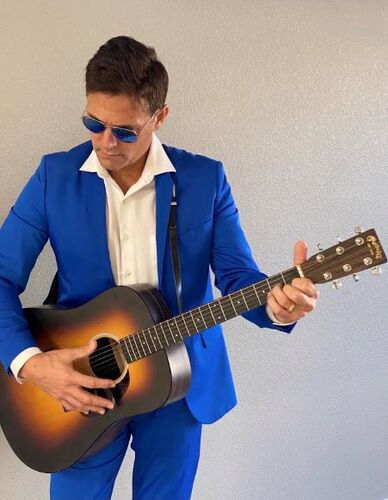 There's an electric thrill coursing through Denver, Colorado's music scene, a dynamic and palpable charge in the air. At the heart of this resurgence is the charismatic pop music phenom Scotty Hollywood Band, whose latest release, "Wondervu", is setting the town alight with its sonic brilliance. Wondervu, with all of its diverse melodies and innovative production, is serenading its way into the hearts of music lovers everywhere. Picture this: a collection of music that beautifully blends rock, R&B, and roots music into a captivating pop music tapestry. That's what you get with Scotty Hollywood Band's magnum opus, "Wondervu."
The album, scheduled for release on MTS Records in September 2023, is a testament to the artistic genius of Scotty Hollywood. This Pittsburgh native and Castle Rock, CO resident, has poured his heart and soul into the album, leaving no stone unturned in his relentless pursuit of musical excellence. Capable of playing multiple instruments, Scotty's musical flair is palpable in each track, making Wondervu a compelling listen. 
Living up to its name, Wondervu is a wonder to behold. Its intricate melodies, thoughtful lyrics and expert production invite listeners on a captivating journey through the mind of one of pop music's most promising talents. Behind every note and lyric lies a story, a sentiment, a piece of Scotty Hollywood, waiting to be discovered and appreciated by the discerning listener.
Each track on Wondervu is a testament to the meticulous craft that went into its creation. Scotty Hollywood was at the helm of its production, leaving his distinct stamp on every note and lyric. His prowess as a multi-instrumentalist is evident in the rich, diverse soundscapes that pepper the album. From the bass guitar's spine-tingling thrum to the piano's poignant melodies, every instrument adds a unique layer to the album's rich tapestry, making for an immersive sonic experience.
The album's production team, a collective of seasoned professionals from Denver, CO and beyond, have collaborated to breathe life into Scotty's musical visions. Jesse O'Brien's mix, the guitar engineering of Casey Wood and finally, the audio mastering by Paul Abbott at Zen Mastering have collectively given Wondervu its sonic brilliance. The fluidity, precision and artistic flair with which each track has been produced speak volumes about the sheer dedication and passion that went into the album's creation.
Wondervu is a musical exploration that weaves its way through various genres, offering something unique at every turn:
– The Ricochet: The album's energetic opening track is a fitting introduction to Scotty Hollywood's musical genius, setting the stage for what is to come.
– Killing Time: This track guides listeners through an introspective journey, showcasing Scotty Hollywood's ability to create deep, emotionally charged music.
– Moonshine Lake: A musical masterpiece that beautifully blends classic and modern elements to create a truly unique sound.
– Come Over Tonight: A heartwarming track that paints a vivid picture of unrequited love and longing.
– The Phenomenon: Showcases his ability to experiment with genres, blending pop music with undertones of rock.
A soulful and poignant track, "Human to Human" explores the universal themes of love, connection, and mutual understanding. It profoundly showcases Scotty's ability to infuse his music with deep, well-pondered thought, creating a connection between his art and his audience.
"Jumpin' Joe" is a light-hearted, upbeat tune that perfectly captures the joy and freedom of living life to the fullest. Its playful lyrics and infectious rhythm make it a feel-good anthem that is sure to have listeners tapping their feet.
In "The Places I've Been," Scotty Hollywood takes listeners on a musical journey through his personal experiences and the lessons he's learned along the way. It's an intimate glimpse into the artist's life, encapsulated in a heartfelt, moving melody.
Wondervu is more than just an album. It is a musical journey that promises to inspire, entertain, and move you. With its broad spectrum of genres, from pop music to rock, R&B, and roots music, it caters to an array of music preferences. The album's brilliant production and evocative lyrics add depth to each track, making them resonate with listeners long after the music has stopped playing.