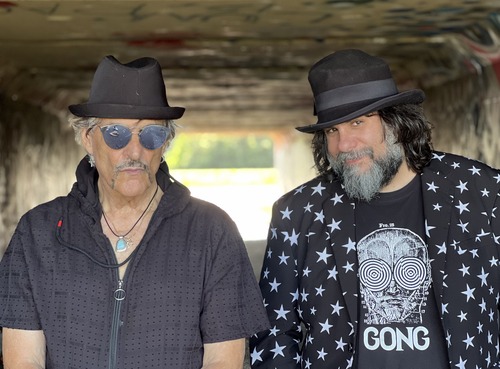 What would a "Drum City" be like? It'd be loud, sure, but it wouldn't be a place of lawlessness and effrontery. Nobody knows the importance of discipline like a good drummer does. Drum City would be a raucous place but a solid and sensible one, too. Residents would always know what time it was. Great percussionists would be the leading citizens. And the mayor? Well, that'd have to be Carmine Appice — the man who literally wrote the book on rock drumming.
"Drum City" presents a powerful sonic landscape, built on a solid percussive foundation and surrounded by the swirling guitar riffs and bass lines laid down by Fernando Perdomo. Fast becoming "the musician's musician" (especially with his acclaimed session and production work), when it comes to a musical connection, Perdomo is the Ying to Appice's Yang. "Drum City," the latest single from the Appice Perdomo Project, is the latest example of Carmine Appice's mastery behind the kit. It's paired with artwork created by Appice along with contemporary artist, painter ED Heck.Classic rock fans will recognize that characteristic blend of power, precision, and imagination that Appice brought to Vanilla Fudge, the Rod Stewart band, King Kobra, and countless other groups. It was Appice who showed the world that it was possible to shake the house while playing with great sophistication, and in so doing, he influenced generations of metal, prog, and punk drummers and got himself inducted into the Classic Drummer and Modern Drummer Halls of Fame. Appice drives this instrumental track hard, but he also puts the groove first; as it turns out, "Drum City" is a place where everybody and everything is, joyously, on the move.
Remarkably, he's found a partner who is every bit as accomplished as he is. Multi-instrumentalist Fernando Perdomo straddles Latin music, folk, and hard rock with absolute confidence and a playful sensibility audible in every chord he strikes. Like Appice, Perdomo has developed an instantly identifiable musical style, and he's applied it to recordings by artists as disparate as Rebecca Pidgeon, John Wetton, Todd Rundgren, and Jorge Moreno. Perdomo was the star of the band in Echo in the Canyon, the celebrated movie about the development of the California Sound, and in it, he demonstrated his flexibility and his daring.
As an illustration of Perdomo's sensational tone, we're sending the video to the Appice Perdomo Project version of Kate Bush's art-pop classic "Running Up That Hill" alongside the "Drum City" clip. Perdomo captures Bush's emotional phrasing and lyrical delivery in every phrase he plays. But "Drum City" is the main event, and a thunderous reminder of the deep musical connection that Appice and Perdomo have established. In the video, they storm through a fantasy landscape of electric skies, pulsing lights, and stratospheric special effects. It's exactly the look you'd expect a Drum City to have: exciting, colorful, irresistibly turbulent, and built on the sturdiest of bedrock.
Follow Carmine Appice:
http://carmineappice.net
Follow Cleopatra Records:
http://www.CleopatraRecords.com
https://www.facebook.com/CleopatraRecords/
https://twitter.com/cleopatrarecord
https://www.instagram.com/cleopatrarecords/