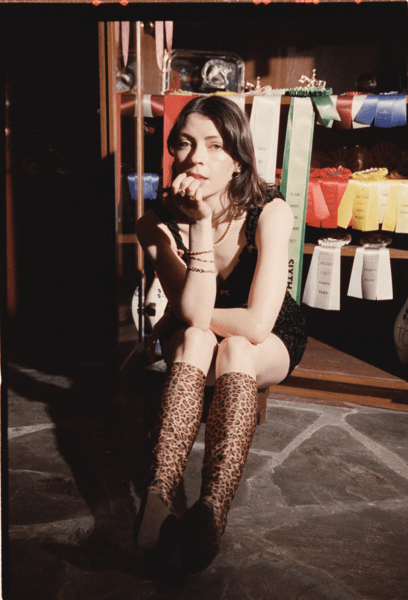 @skopemag news – wednesday – march 29, 2023 @ 1 pm est
https://www.facebook.com/SkopeMag/
https://twitter.com/skopemag
https://www.youtube.com/@skopetv2
https://www.instagram.com/skopemag/
APP – Apple iTunes –
https://itunes.apple.com/app/id1465224822?mt=8
@skopemag APP – Google / Android –
https://play.google.com/store/apps/details?id=hr.apps.n207414718
Support @skopemag –
https://www.paypal.com/donate/?hosted_button_id=3APKAKT8K6ETW
Your Ex (FFO: Frank Ocean, Steve Lacy, Cautious Clay, bLAck pARty, Khalid)
Singer/songwriter/producer Your Ex is an LA native who found a passion for music at a young age that later flourished into a deep exploration of the arts. As an independent artist, Your Ex took a spot on Spotify's Fresh Finds and Best Of Alternative R&B playlists with his single "BUT HER LOVE" in 2021, and he is now back for the first time in two years with brand-new music in the form of EP Interludes & Daydreams p.2.
ROLLER DERBY! Swedish singer Emi Li calls out to all roller skaters around the world!
Calling out to all roller skaters around the world, the Swedish artist Emil Li now launches her international tribute single to the sport Roller Derby! The song was premiered at the Swedish national championship where Emi Lie performed it live, and the music video already has more than 100.000 views on YouTube.
CROOK announces debut mixtape FEEL BETTER with new single "OH GOD"
Irish born, Berlin-based based musician, songwriter and producer CROOK, today announces his debut mixtape FEEL BETTER, due for release later this year. This news coincides with the release of new single "OH GOD", produced by CROOK.
ACCLAIMED ARTIST / PRODUCER / MULTI-INSTRUMENTALIST JONATHAN WILSON RELEASES NEW SINGLE "MARZIPAN"
Critically-acclaimed artist, multi-instrumentalist and GRAMMY® nominated engineer/producer Jonathan Wilson today releases his brand new single, "Marzipan" (BMG), accompanied by a stunning music video produced entirely using artificial intelligence (AI) technology.
MARGARITA WITCH CULT: new video "The Witchfinder Comes" streaming
UK doom rockers MARGARITA WITCH CULT present an intoxicatingly heavy second video taken from their awaited self-titled debut album, to be released on April 21st through Heavy Psych Sounds.
Ireland's Ezra Williams (fka Smoothboi Ezra) announces debut album with "Bleed"
Ezra offers an often overlooked take on emotional relationships, as they're writing as a person who is gender non-binary and on the autism spectrum. They are helping people who don't often see themselves represented in the media hear themselves in music and moving the needle on what it means to write a love song. They've been compared to "Phoebe Bridgers at her best" (Paste), and their tender, self-examining indie calls to Fiona Apple, Soccer Mommy and Indigo De Souza, though they wouldn't corner or compare themselves with anyone but their own self.
JENNY LEWIS: NEW ALBUM, JOY'ALL, OUT JUNE 9TH
Jenny Lewis has confirmed the release of her forthcoming album, Joy'All, arriving June 9th on Blue Note/Capitol Records.
Accompanying the album's announcement is the brand new single "Psychos," available now.
Joy'All, the fifth solo album from Jenny and followup to 2019's critically acclaimed On The Line (Warner Records), finds the singer-songwriter embarking on a new era, in a new town—and on a new label, as she joins the iconic roster of Blue Note/Capitol Records.
OUT NOW: Versatile Electronic Extraordinaire Nau Leone Shares 'Nº7 Fuerza' (FFO: Ben Böhmer, Trentemöller, and Avoure.)
Viji Releases New Single "Down" Via Speedy Wunderground
One of the most exciting alternative artists to watch in the UK right now, Viji, kicks off a new era today with the release of her new single, "Down". Starting soft and building to a scream-along crescendo, "Down" showcases Viji's songwriting craft, with an instant earworm hook that insists "misery makes me holy".
Lil Phycho – When The World Stops
RAVEN To Release New Album, "All Hell's Breaking Loose," On June 30th Via Silver Lining Music
Prepare yourself for a metal rampage the likes of which you haven't enjoyed in many a year as New Wave of British Heavy Metal stalwarts RAVEN deliver the electric mayhem of All Hell's Breaking Loose, their 15th studio album, set for release June 30th on Silver Lining Music.
PORTRAYAL OF GUILT Announce New Album – Share Orchestral Side B / Short Film – 'Devil Music' out Apr 20 on Run For Cover
Portrayal of Guilt eschew predictability. While the Austin, Texan outfit have released material at a rapid clip since their formation only six years ago, it has been near-impossible to predict what each ensuing release might sound like. The only window into what to expect has been those releases' titles, wallowing in themes of affliction, isolation, and just plain underworld allusion. Naturally, this leads to…Devil Music.
Bob Rock & Gord Downie (Tragically Hip) share new video; new album arrives May 5
The penultimate song before the arrival of Gord Downie and Bob Rock's long-anticipated album, Lustre Parfait, "Greyboy Says" is its rallying cry. The physical combustion of poetry and power, the song is filled to the rafters with searing electric guitars and incomparable wails of wisdom. With words by Downie – the iconic late frontman The Tragically Hip, one of the most beloved rock bands in Canadian history – and music by Bob Rock – the multi-platinum-selling producer of Metallica, Motley Crüe, The Offspring, Nelly Furtado, Michael Bublé, Bryan Adams, and more – "Greyboy Says" is alight with Gord's heartrending lyrics of resilience and Bob's incomparable sonic theatrics. The opening song on Lustre Parfait, "Greyboy Says" was also the last Gord recorded with Bob for the collaborative project. Gord shines through when he sings "You can do it, and if you can't I'm here" – an impossible assertion of his everlasting closeness. On "Greyboy Says," Rock's mastery of brash post-punk energy inspires one of the most memorable performances of Downie's unparalleled career.
Chile's Alex Anwandter Shares New Single "Precipicio" From Forthcoming LP 'El diablo en el cuerpo' Out 5/26
Alex Anwandter today released his irresistibly danceable, disco-influenced new single "Precipicio," the latest from his forthcoming new album, El diablo en el cuerpo, due out on May 26th. The track arrives with a Will Colacito-directed video filmed at Bed-Stuy, Brooklyn's iconic nightclub Sugar Hill, which sees the Chilean artist/producer showcasing his best moves alongside choreographed dancers cast as restaurant staff. The song's title translates to "Precipice," and Alex explains: "It's a song about how when a relationship is crumbling, it can mirror a chaotic, self-destructing world. And if the world is ending, you might as well dance."
Sub Pop Signs waterbaby + Shares First Single/Video "Airforce blue"
Today, Stockholm-based artist waterbaby has signed to Sub Pop worldwide and is sharing her first single "Airforce blue," and its charming, firework-laden video, which introduces her hypnotic and evocative approach to music. "Airforce blue," is available today worldwide on all DSPs.
Graham Czach announces LP 'Originalien' (Ropeadope) + shares single "Follow Me and I'll Follow You" feat. Rachel Eckroth
Anna Shoemaker Buries The Past In Scream-Worthy New Track "I Think I"
Following her spellbinding release of "Holly," indie-pop starlet Anna Shoemaker returns with an enchanting new single "I Think I" via +1 Records. This is the second single from her forthcoming EP Hey Anna due this June. On par with the cottage-core-themed "Holly" video, the video for "I Think I" finds Shoemaker ditching the goats and high-tailing it into the woods, hellbent on (literally) burying her past.
TSJUDER Announces New Album, Shares New Single + Music Video
BAD OPTIX (Tim Armstrong and Jesse Michaels of Operation Ivy) SHARE DEBUT SINGLE "RAID"
TikTok Sensation Rocco Shares "Apples" & "Have Me Again (Demo)"
19-year-old Asian-American singer-songwriter Rocco shares Apples, a two-song single featuring the title track "Apples" and "Have Me Again (demo)." Both tracks stemmed from acoustic ideas, quickly transforming into emotive and expressive indie pop jams once touched by Rocco and producer Marcel Garcon.
Swedish indie-folk musician Tobias Arbo collaborates with visual artist Olaf Grind (Phoebe Bridgers, First Aid Kit) on new single and video "Carousel"
Swedish musician Tobias Arbo has released a new single "Carousel" – the final taster of his debut EP 'Powerlines' out this Friday 31st March via CRC Records.
Examining the dysfunctional relationship between the self and the superego, "Carousel" was produced by Tobias himself and mixed by Zach Hanson (Bon Iver, Waxahatchee, Owen). Celestial electronic keys welcome the song in, as "Carousel" then opens up with the addition of delicate brushes of acoustic guitar, graceful percussion and swirling atmospherics.
Altin Gün share "Su Siziyor," new album out this Friday on ATO Records
GRAMMY® Award-nominated Turkish psych-folk innovators Altın Gün have shared their grooving new single, "Su Siziyor," available now at all DSPs and streaming services. The track heralds the impending release of Altın Gün's eagerly anticipated new album, Aşk, arriving via ATO Records this Friday, March 31.
KOMMAND: Death Age LP By Los Angeles Death Metal Faction Now Streaming
Death Age, the gnarled second album from Los Angeles, California-based death metal quintet, KOMMAND, is now streaming in its entirety ahead of its worldwide release through 20 Buck Spin this Friday.
Kerry Charles shares new single "Empress Of The Crystal Moon" ahead of debut LP
"Empress of the Crystal Moon" is about a person who I used to encounter in the cafe below the Philadelphia apartment I lived in for many years. The epitome of "new age," she would often talk to me about science fiction, crystals and other "woo woo" phenomena. I wrote this song (and the track that follows it on the LP) while imagining her metamorphosis from "total normie" to an Empress of the Crystal Moon… whatever that means." -Kerry Charles
New Zealand's Genre Bending Rockers Written By Wolves Release ALT Version Of Latest Single "GIVE 'EM HELL"
New Zealand's genre bending rockers Written By Wolves released the ALT Version of their latest single "GIVE 'EM HELL" today Wednesday March 29th, following the premiere of the original version with Outburn Magazine on March 16th and premiere of the ALT Version yesterday with Metal Insider.
Track Premiere: Written By Wolves – "Give 'em Hell – ALT version"
Mexican-American Rapper DeeBaby is the New People's Champ of Houston
With Junkie Mode, DeeBaby proves that his hard-hitting, soulful sounds deserve attention far beyond the Lone Star State. Stay tuned for more from the rising rap star, as he continues to follow his muse.
Rodrigo y Gabriela share new single; new album out April 21
Grammy Award-winning guitar virtuosos Rodrigo y Gabriela have shared "The Eye That Catches The Dream," available now at all DSPs and streaming services. The track – which shifts from stark opening notes to a glorious whirlwind of galloping rhythms, sweeping strings, and brightly bubbling effects – heralds the duo's landmark new album, In Between Thoughts…A New World, arriving via ATO Records on Friday, April 21. A special deluxe vinyl edition is available exclusively at www.rodgab.com, limited to 2,000 copies and featuring a translucent "Galaxy" custom-colored LP in a gatefold package alongside a bonus LP collecting all nine tracks from last year's deeply metaphysical Stages project on opaque "Galaxy" custom colored vinyl. All pre-orders are available now.
Alberta alt-country duo THE GODDAMSELS share new single "Sorry" from debut EP Wayward Daughter
Since the release of their debut EP Wayward Daughter in summer 2022, Edmonton duo The Goddamsels—singer/songwriters Mallory Chipman and Frédrique "Freddi" MacDougall—have become one of the most talked-about new voices within the Americana scene. Now, coming off a stellar appearance at the 2023 Folk Alliance International Conference in Kansas City, they are sharing "Sorry," the latest single from Wayward Daughter, and the EP's most electric track.
Alt-rock/indie duo The Manic Boys And Girls Club announce EP + share single "We'll Be Fine"
Phoenix/The Neighbourhood opener new single and video
Rebounder has over 25 million streams and has toured alongside Phoenix, The Neighbourhood, Dayglow, Cautious Clay, How Long Gone and MUNA to name a few and released the song "Change Shapes" with Jesse Rutherford. The band has received acclaim from the likes of NME, FADER, Pigeons & Planes, Ones to Watch, Ladygunn, Wonderland and have been featured on popular Spotify playlists such as Lorem. Rebounder is set to embark on an upcoming US tour.
Silver Moth (ft Stuart Braithwaite of Mogwai) Share Video For "The Eternal" / Debut Album out April 21 via Bella Union
Khaotic – Princess Treatment feat. Sukihana [DJ Pack]
DeeBaby's Reign "Never Gon End"
"Never Gon End" is the latest release from Junkie Mode, DeeBaby's next project. A raw collection of melodic Texas rap tunes, Junkie Mode immerses listeners into DeeBaby's mind, dripping with the ambition and relatability that endeared the rapper to his legion of fans. The young rapper compares his need to create to a junkie's need to get a fix. Spanning 26 tracks, the new mixtape is home to recent singles like the heartbroken "Anymore" (3.3 million views on YouTube), recent single "Bank Statements & Deposits" (880k video views in just two days), and the moving "Junkie Mode (Intro)" (4.8 million views), in which he speaks on his deepest feelings and resolves, "I've been cut before, but I can't bleed on you." Already charting in Apple Music's All-Genre Top 200 albums chart off the strength of a pre-order, Junkie Mode arrives on April 7th via Black Diamond Entertainment / Create Music Group.
Toro y Moi protege Elijah Kessler shares "BENZO" from LIGHTSPEED LP
April 14th will see the release of Elijah Kessler's debut LP on Company Records, an album called LIGHTSPEED. The sessions on the album began when Elijah was a teenager, after one of his early Soundcloud experiments was discovered by Chaz Bear of Toro y Moi and immediately reached out to see if Elijah would be interested in working together.
International selling Pop Reggae artist, D Howell Drops New Single "Man Dem"
ABIOTIC Drops "Ocean of Worldly Suffering" Featuring Matt Heafy of TRIVIUM
Stella Rose Announces Debut LP, Shares "Faithful" Single + Video | Playing MSG w/ Depeche Mode | 'Eyes Of Glass' LP Due 5/19 via KRO Records
Out Today: TEKE::TEKE share psychedelic fable "Gotoku Lemon"
The song comes with an animated music video directed by the band's own Maya Kuroki and Sei Nakauchi Pelletier. Cautioning against snake oil solutions, "Gotoku Lemon" builds to an unnerving climax of horns and flutes; a psychedelic warning cry for the internet age.
Jason Isbell and the 400 Unit release new single 'Middle Of The Morning'…
"Middle of the Morning" is a song written during the pandemic lockdown. Melancholy and honest with those Isbell phrases that will sneak into your vocabulary, the narrator, who both is and is not Isbell himself, describes the feeling of being stuck in place, wheels and mind spinning, feeling like some essential part of yourself lives just outside of your reach.