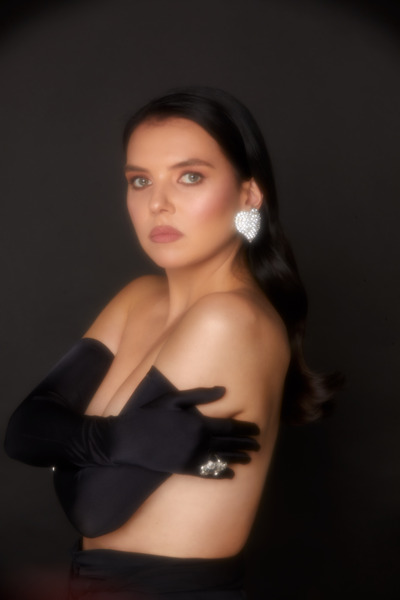 @skopemag news – thursday – december 8, 2022 @ 12 pm est
@skopemag HQ – http://smarturl.it/skope
Progressive Rock Artist ALMS Presents "Ira" (Official Lyric Video)
Alms is a progressive rock project created by Spanish talented artist Aitor Lucena Martínez. With a structure following the operatic format, 'The Trial' is a concept album that can be labeled as Symphonic Progressive Rock, in which besides the classic-rock elements, instruments such as flutes, mandolin, oboe, or violin contribute to creating the atmosphere and landscapes of each and every passage. It is a very heterogeneous album in its style, as I drink from many different influences: folk, rock, classical music… all of them converge to make 'The Trial'. I hope you like it!
Breanna Barbara shares video for title-track 'Nothin' But Time' – a love letter to New York City
NYC's Breanna Barbara shares the video for 'Nothin' But Time', the title-track from her new album released last month on Fuzz Club. Barbara's second full-length is a raw and immersive trip through the sounds of psychedelic rock and blues, anchored by her powerful vocals and unforgettable songwriting.
COLUMBIA RECORDS NAMED #1 LABEL FOR OVERALL AIRPLAY CHART SHARE BY MEDIABASE
Today, MediaBase has announced that Columbia Records takes the #1 label position for overall airplay chart share in 2022. Columbia holds a 15.3 share, up 31% from an 11.7 last year. This marks the greatest chart share growth for any record label since 2018.
It was also announced that Columbia holds the #1 label ranking for Top 40, going from 17.0 to 23.8 year-to-year (+40%). Columbia also takes the #1 at Hot AC, surging 15.8 to 22.0 (+39%). Additionally, Columbia ascends to #2 for Mainstream AC and Triple A, as well as the #4 ranking for both Rhythmic and Country.
Legendary Pop/Country Crossover Group Exile Releases Music Video in Support of New Holiday Single "Lovin' Little Christmas Night"
Legendary pop/country crossover band Exile have released a music video in support of their new holiday single, "Lovin' Little Christmas Night." The new video was exclusively premiered on AIM TV and will be featured on CMT.com and Heartland's 12 Days of Christmas among many other popular platforms. Watch the new video on the official Exile YouTube channel –
The Adam takes cues from 60's rock n roll invasion with "I Don't Believe' ft. Lasse Storm
Taking his cues from the golden era of rock n roll's "British Invasion" of the mid-1960s, this single comes out with vocalist Lasse Storm, on fine form as he rips into the track giving us a fine ol' list of what he doesn't believe in. It's glorious in every way as it pokes holes and fun at modern day society and all its largess and hypocrisy.
Inspiring New Video from Mental Health Advocate Waiting for Smith
Acclaimed singer-songwriter Waiting For Smith has unveiled the stunning video for "Heal", the latest track to be taken from the Amsterdam-based Londoner's new six-track EP Trying Not To Try which was produced and co-written by Dane Etteridge (Lewis Capaldi, Declan J Donovan, & StLundi and is out now.
LE SSERAFIM 'FEARLESS' Japan 1st Single Available In The U.S. Digitally On January 24 Followed By The CD Single On February 17
LE SSERAFIM, the first girl group jointly launched by HYBE and Source Music comprised of 5 members (KIM CHAEWON, SAKURA, HUH YUNJIN, KAZUHA, HONG EUNCHAE), will be releasing their Japan 1st single FEARLESS digitally at 10am EST / 7am PST on January 24 (0am JST on January 25), followed by the CD release on February 17 in the U.S.
Icewear Vezzo & DJ Drama Share 'Paint The City,' a Star-Studded Gangsta Grillz Mixtape
Suwannee Spring Reunion w/ The Infamous Stringdusters ft. Molly Tuttle, Sam Bush, Leftover Salmon – March 23-26
Suwannee Spring Reunion takes place Thursday through Sunday, March 23-26, 2023 at The Spirit of the Suwannee Music Park (SOSMP) in Live Oak, FL. Slip into Spring in the most fabulous of ways—making memories with friends old and new while gathering under the gorgeous, mossy live oak trees in this picturesque setting for four days and nights of music rooted in Americana, newgrass, bluegrass, folk, blues, and more!
FIFA World Cup Host International Recording Artist Najjah Calibur Releases 'We Are The World Rep Your Country"
Najjah Calibur has been a part of the music lining of Toronto for a long time. The artist has been involved in many of the sounds that make up the music industry, from Hip-hop, house music, ambient sounds, sleek soul to funk. Like most artists, Calibur takes his inspiration from personal experiences, the good and the bad. The times he soared and the times he crashed head on into life. The always evolving artist has been a part of bands, Bluesunderdog and Najjah's World, collaborated with Trinity Chris and Bush Life and had the privilege of touring Canada with the Black-Eyed Peas. Because of his positive energy and his ability to bring a crowd to their feet, Calibur has become a sought-after international host, but music remains his first love and balances his life. "We Are The World" (Rep Your Country)" can be heard throughout FIFA World Cup games and can be found on all music platforms… available now.
Delena – Why Should I Love You
Moving to London to study at the London Institute of Contemporary Music Performance was a new lease of life for Kiev-born Delena, who, inspired by the likes of Etta James and Ella Fitzgerald, amongst others, began to develop her distinctive, sassy style of pop and find her place within music. Since then, it's been a meteoric rise for the young singer-songwriter.
UNCOMMON EVOLUTION announce new album FRY; new single out now
Montana-based Stoner Hard Rock force UNCOMMON EVOLUTION are back with the follow–up of their critically acclaimed album Algid (2020). FRY is an exciting work made of fiery vocals, big ballsy riffs and grooves thick enough to shake mountains, recorded and produced at the Machine Shop Recording Studio.
The guys definitely honed a sound truly on their own through a wide range of influences, giving life and form to a "mountain rock" flavor, recommended if you like acts like Clutch, The Sword and Atomic Bitchwax.
Foyer Red sign to Carpark Records / Share "Etc"
Instead of sticking to their guns and retreading similar ground, Foyer Red reinvented itself as a five-piece, adding singer and guitarist Kristina Moore and bassist Eric Jaso, and became a fixture of the NYC scene in 2022, sharing stages with artists like Cola, Empath, Babehoven, Why Bonnie, Peaer, Momma, Mamalarky, and Diane Coffee, and embarking on their first tour with New Orleans' post-punk outfit Lawn. This year has also seen a procession of singles from the band that have explored a broader spectrum of ideas as the groups new members have become part of the songwriting process.
H. Hawkline Shares New Track "Suppression Street"
H. Hawkline (Huw Evans) has today shared a new track, "Suppression Street" which is taken from his forthcoming fifth album, Milk For Flowers out on March 10, 2023 via Heavenly Recordings.
BIZARREKULT Premieres New Song "Midt I Stormen" via Metal Sucks
Solo black metal project BIZARREKULT is now sharing a brand new single, "Midt I Stormen," along with a thought-provoking music video! The track is taken from the project's upcoming sophomore full-length, 'Den Tapte Krigen,' which will be released via Season of Mist on January 27, 2023, making it BIZARREKULT's debut to the label!
Bizarrekult Are Trapped in the Middle of the Storm on "Midt I Stormen"
Imanos releases fire new single "Shiver & Gold" feat. Uffie
Today, the NYC based DJ & Producer Imanos has released "Shiver & Gold", a new track which features guest vocals from Kitsuné Musique regular Uffie and rising pop artist Vera Hotsauce. Known most for blog house hits like "Pop The Glock" and her vocal contributions on the landmark Justice LP Cross, Uffie brings a monster hook to this slick production that is typical of her style, but with a production spin in the vein of house producers like Zhu. With a vocal topline that blissfully toes the line of soft and hard, "Shiver & Gold" is an anthem that should work just as well for at-home listening as it would in clubs around the world.
LOVE GANG: stream new single "Blinded By Fear"
Denver-based 70s heavy rockers LOVE GANG release a brand new excerpt taken from their forthcoming sophomore album "Meanstreak", coming out on January 27th through Heavy Psych Sounds. Get into the epic classic rock of "Blinded By Fear" now!
LEGENDARIUM Stream Entirety of Death's Hand In Yours at Metal Underground
Metal band LEGENDARIUM are streaming the entirety of their album Death's Hand In Yours. The album will be released this Friday, Dec 2 on CD and digital platforms.
Frontman Laurence Kerbov comments "This album is really a big step in our evolution as a band. We're incorporating death metal in our sound and we're using harsh vocals for the first time. Overall the goal was to make this album meaner, heavier, and more varied than anything we've done before, and I think we succeeded."
DJERV Release Music Video for Powerful New Single "Enemy"
Norwegian rockers DJERV have returned with a powerful new track titled "Enemy". The band's latest offering delivers a dark and heavy sound that fans will recognize from the band's earlier music, while also bringing an important message, as best explained by vocalist Agnete Kjølsrud, "'Enemy' is about facing your own demons. About learning and accepting who you are, and eventually embracing it."
Philip Selway (of Radiohead) Shares Video For "Check For Signs Of Life" / Album Out Feb 24 via Bella Union
Commenting on the video Philip Selway says: "The video for 'Check For Signs Of Life comes from an idea I had to develop a dance piece over a series of songs from Strange Dance. I wanted the piece to explore imagined conversations between future and past selves and to be based around this particular quartet of dancers. The piece has been choreographed by Simone Damberg Würtz and Liam Francis. They both perform in the video alongside Siobhan Davies and Kenneth Olumuyiwa Tharp."
Rob Ickes And Trey Hensley Announce New Album With New Single "Living In A Song"
Today, Ickes and Hensley shared a sneak peek of Living In A Song, the album's title track which grew out of their experiences as touring musicians. According to Hensley, the song practically wrote itself after a long day on the road driving through Ohio. When Hensley digs into the lyrics there is no question that he has lived the story he is telling, lifted up even further when Ickes' tenor harmony enters the chorus.
Canadian Melodic Death Metal Sensation Olēka Signs With Wormholedeath
Canadian melodic death metal duo Olēka signed with Wormholedeath a deal for the reissue of their EP "Driftwood", set to be re-released on January 20th, 2023.
MONALEO NEW SINGLE + VIDEO "MISS U ALREADY" FT. NOCAP
Today, Houston native Monaleo shares a powerful new single "Miss U Already" featuring NoCap. This record is different from the rap anthems that propelled her to rising stardom and shows her raw vocal talent and versatility as she sings a ballad reminiscing about a dear friend lost. "Miss U Already" is Monaleo's most personal song to date that transparently tackles loss, stages of grief and mental health problems that come with it all. Accompanying the single is a stripped down b-side performance video with Monaleo singing to a choir as they sing back at her "if you hear me, I miss you dearly". Watch here.