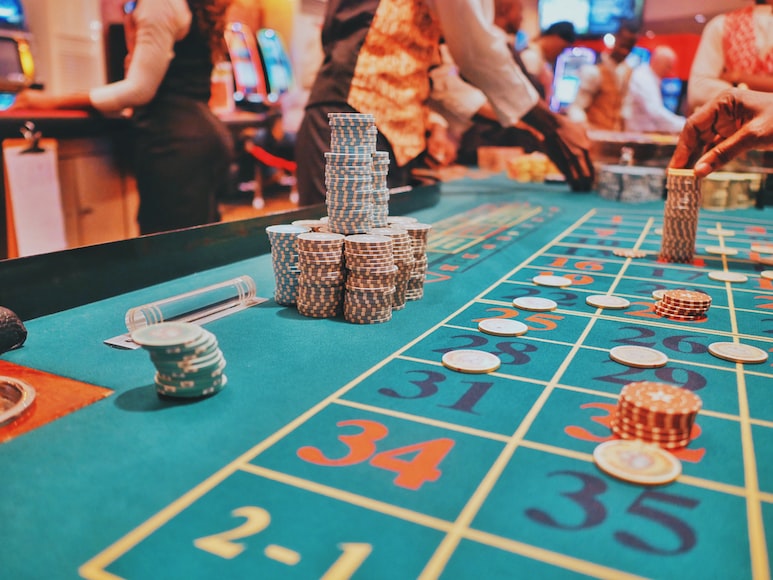 As places filled with excitement and extravagance, it's no surprise that some of the most popular movies in the world have been set in casinos. Picking up on the popularity of that angle, many musical artists have since set their videos in these gambling establishments to leverage the thrill and euphoria of a big win for their own creative output.
With that in mind, we've listed some of our favorite music videos set in casinos for your pleasure below. In our opinion, they've done an excellent job of capturing the essence of the casino experience and distilling it into a five-minute video. Even the mere act of watching it might make you want to book your next flight to Vegas! Enjoy.
U2 – Still Haven't Found What I'm Looking For
This 1987 classic from Irish rockers U2 features a fresh-faced Bono and a long-haired Edge (!) meandering round the Las Vegas streets and into its casinos as the band mingle with gamblers and lament that they can't seem to locate what it is they've misplaced. The video was recorded shortly after U2 toured the city on their Joshua Tree Tour and, according to the president of Vegas's official events organization Pat Christenson, the video made Vegas more attractive to the biggest bands of the day.
The Killers – Shot at the Night
This 2013 track comes from probably Nevada's biggest musical export, The Killers. In it, we meet a Las Vegas hotel maid (played by Bella Heathcote, of Neon Demon fame) who clearly has to put up with quite a lot from the city's entitled clientele… until she meets her Prince Charming (played by Max Minghella, who later found stardom in The Handmaid's Tale). Once the sparks fly, she's able to experience Vegas from the other side of the coin. Uplifting stuff.
Katy Perry – Waking Up in Vegas
The clue is in the title for this 2009 hit from Katy Perry, as she stars in a video alongside Joel David Moore (playing her boyfriend) after they strike it super lucky in Vegas. The video is one long recap of their wild night, featuring extravagantly dressed elephants, fire-breathers, bespangled carriages and more than one Elvis Presley impersonator. Plus, of course, plenty of incredibly successful winning streaks. The stuff dreams are made of.
Sam Smith – Money on my Mind
From 2013, this huge smash hit was the second single from Sam Smith's debut album, In the Lonely Hour. In it, we see Smith strolling around Las Vegas dressed demurely, belting out the lyrics to his song and bypassing all kinds of patrons of the city, some more successful than others. It's perhaps a more balanced view of Vegas than Perry offers, but there's still plenty of sex and gambling to go around.
Bruno Mars – 24K
In typical Bruno Mars fashion, the Hawaiian hip-hop maestro brings his unique energy and color to this 2016 offering from third album 24K Magic. In it, he and his posse prance through the most opulent casino interiors that Vegas has to offer, resembling the kind of lifestyle that Sportsbet VIP program high rollers are likely to enjoy. While there's little gambling on display in the video, there's a whole heap of stylish threads and even smoother dance moves.
These music videos are guaranteed to get you in the mode for a trip to your nearest casino.