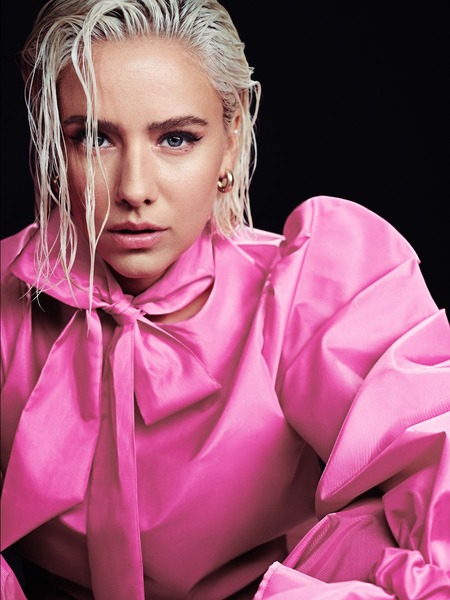 @skopemag news – monday – october 10, 2022 @ 1 pm est
@skopemag HQ – http://smarturl.it/skope
A Cure For Love Release LP "Birds, Beasts, Trees, Flowers"
A Cure for Love is an alternative rock band from Canal Winchester, OH. The band was started in a basement in 2016 by Cameron Blair and Kristian Khoury. After nearly two years of revolving members, the band started to play house shows in their practice space with friends and a few local bands. After playing shows throughout Columbus in 2018 and 2019 they recorded their first full length album Storm in a Teacup which was released in February 2020.
Bellamia Shares "Tired Of It" Single + Video via EARMILK, Listen via Ones To Watch | 'Tired of It' EP Out Today via Planet Paulie
Today, Los Angeles pop singer-songwriter Bellamia shares a brand new 4-track EP, Tired Of It, via Justin Raisen's Planet Paulie Music. Featuring singles such as the previously released "Sixteen Candles," this new release showcases her unique perspective on what it looks and feels like to grow up in Los Angeles during these current tumultuous times.
French Art-Rock/progressive-rock project Far From Your Sun unveiled new official 4K video "Where Planets Die"
OLAouto feat Alexandros Botinis AKA Crazycello – Rains of Castamere (Game of Thrones cover song)
Japanese artist OdAkEi unveils alternative EDM track 'PSYCHO'
SENA joined forces with RÓQA to create a unique nu soul hit
FRESH MUSIC: Award-winning Musician Super Plage Shares 'Forêt Magique' (FFO: Empire of The Sun, Polo & Pan, and Claire Laffut.)
DAGNY releases new single "Highs & Lows"
(10th October) Norwegian pop superstar Dagny returns this week with her new single "Highs & Lows". The track arrives in the wake of a busy summer of festival appearances and a run of sold-out headline shows in London, Berlin and Amsterdam. "Highs & Lows" follows the release of recent standalone song "Brightsider" – described by The Guardian as "epic…charged with Boys Of Summer wistfulness", and her widely praised debut album Strangers / Lovers, released in 2020.
UK Pop Up & Comer Ed Staal Shares New Visuals For 'Why'
Ghostluvme (50 Million Streams)
With a unique style and a mesmerising lyrical aptitude, rising rapper/singer Ghostluvme from Broward County, Florida, is poised to take the hip-hop world by storm. Having already dropped several successful releases with super producers such as Scott Storch (Jack Harlow, Megan Thee Stallion, Young Thug), Zaytoven (Travis Scott, Lil Wayne, 21 Savage) and TRGC (Yeat's "Monëy so big"), Ghostluvme has built a loyal following and accumulated over 30 million streams on Spotify alone as an independent artist in just two years since bursting on the scene in 2020. And the streams and acclaim will surely keep on coming with the release of his new project, Mixtape.
Reminder: Anime Inspired Video For Single 'Believe Me' By Rnb/Punk Artist Edwin Arzu Out Today
Rising R&B phenomenon Alex Vaughn release debut project The Hurtbook
LA-BASED DUO (LUKE EISNER, GUS ROSS) VOÍLA RELEASES DEBUT ALBUM
"This is the culmination of everything we've wanted to make musically since we met 8 years ago," explains Gus. "It has taken us 4 years to establish how we sound. (Luke & I wrote a full 14 track album before this one that led us to be in a position to write this one.) I love melody & Luke loves lyrics. My voice notes consist of nothing other than obnoxious humming until Luke finds a line to bring them to life. We could've put 40 songs on this record but we felt that 21 was the magic number. We're almost done with the next one…"
Chelly Flame – "Hotter"
Alt Rock Band AEIR Release New Single "Tug of War" + Official Music Video
Columbus, Ohio, Alt Rock band, AEIR, released a brand new single, "Tug of War", to all major platforms via Stephen Perkin's label Perkins Palace Records.
CorpseFlower's debut album 'Shadows Remain' set to release on Devil's Night at the Witching Hour
Paul Booth and Eve Minor come together to release Shadows Remain, the debut album by their dark electronic band, CorpseFlower. The rebellious pair came together previously to collaborate on industrial metal track, F*ck U in the past, which premiered on loudwire. The collaborative work utilizes shadowy experimental sounds and intelligent thought provoking lyricism echoing from punk roots and rebellious attitudes. CorpseFlower creates an unconventional macabre sound that resonates with every non-conformist.
QUEENSRŸCHE – Release Video for New Single "Hold On"
The band comments: "'Hold On' primarily focuses on the misfortune of social media and how this new societal landscape has become a false barometer of ones' value, essentially, influencing and affecting peoples' self-worth. Reminding people to not believe everything they see, and to not buy into the glorification of fame, money, and popularity. It strives to empower those that have been blinded by the distorted reality of the glorified social media lifestyles. It is a song reminiscent of older, simpler times."