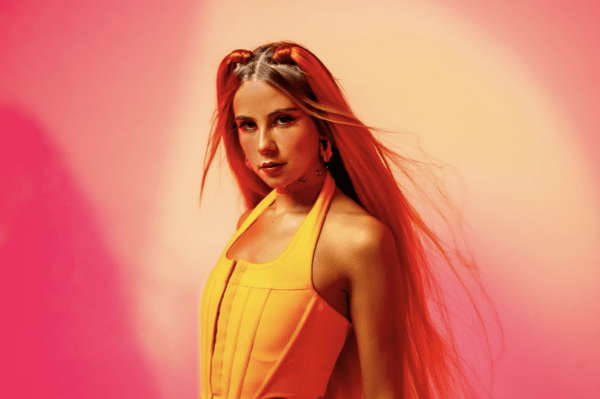 @skopemag news – friday – october 7, 2022 @ 10 am est
@skopemag HQ – http://smarturl.it/skope
AMY SHARK ENTERS A NEW ERA WITH LATEST RELEASE "ONLY WANNA BE WITH YOU"
"Only Wanna Be With You" was recorded & produced by Joe London (Lizzo), Konstantin Kersting (Tones & I, Mallrat, Spacey Jane) and Holy Holy's Oscar Dawson – a notable sonic shift, dictated by fresh and powerful turbo-pop. "Only Wanna Be With You" is crafted around guitar and progressions that tie back to artists like The Cure or Psychedelic Furs, without losing that quintessential Amy Shark stamp: strong pop swells and lyricism that is insatiable to the ear. It's a track that signals a recent change in approach for Amy Shark, who has experienced a new wave of personal growth through this period of songwriting.
The upcoming EP features previous singles 'Be There' & 'Where I Go', with support for the release already confirmed across AAA Backstage, Music Feeds, Something Different, Milky, Good Call Live, The Music, Ungrained Magazine & more.
Wallace Morgan Releases New Single + Video Today
Wallace says, "I wrote "Slow Town" with my college girlfriends in mind, reminiscing on both the magic and restlessness of our days "living fast in a slow town" in Athens, Georgia while studying at UGA. Having spent the past seven years in New York City and Los Angeles with my 20s recently in the rear view, "Slow Town" is a nostalgic and upbeat reflection on being raised in the south, searching for freedom, and finding my way. It's a celebration of female friendship, female ambition, and fun–a party anthem tinged in all the joys and pains of growing up."
Emerson Leif releases single 'Good Shot'
'Good Shot' showcases Leif's signature intimate lyricism, delivered with a quiet confidence that is warm and gently uplifts, and sits over grounding sampled beats and a brooding soundscape. He explains that the song relays a message of introspection and hope:
BELLMAN releases 'Crackle & Pop' together with Middle Milk
Besides being an artist himself, Middle Milk aka Alexej Viktorovitch, is an accomplished songwriter that has written a number of k-pop hits throughout his carreer. with 'BTS – We are Bulletproof : the Eternal' being the biggest one, landing a spot on Billboard's top 100 as well as amassing over 170 million streams on Spotify.
MisophoniA Release New Maxi-Single 'Sorrows Of Yesterday'
STEVE HEWITT ANNOUNCES 'FLY' SINGLE & VIDEO RELEASE
British acoustic singer-songwriter Steve Hewitt has a long-standing reputation of producing music from the heart, unafraid to deliver soul bearing lyrically honesty. He maintains this tradition with the release of his new single entitled Fly. A beautifully simple structured creation that emanates with Country overtones and carried by Hewitt's distinctive vocal tone and emotive delivery.
Blaqbonez & Jae5 link up on new single 'Back In Uni'
Mercurial Nigerian talent Blaqbonez has joined forces with Grammy-winning producer Jae5 on new single 'Back To Uni', out 7th October.
Set against the backdrop of a smooth, sunkissed production, 'Back To Uni' sees Blaqbonez's effortlessly slick bars take centre stage, as he explores themes of love, loss and regret. The track will feature on Blaqbonez's anticipated forthcoming album Young Preacher, out 28th October. The project title stems from the fact he speaks his truth unabashedly, championing the position that the Gen Z generation welcome the idea of open relationships and the current definition of love especially in relationships is limiting and gives a standard of love in relationships that's difficult to reach.
RJ THOMPSON RELEASES MOST AMBITIOUS RECORD YET WITH HIGHLY ANTICIPATED THIRD ALBUM 'YEARBOOK'
Like most of us, the artist from the North East of England spent much of the previous two years hemmed in by his own four walls. Despite being physically restricted, the headspace it granted inspired dreams, reflection and ultimately the music he would now prepare to release as his most ambitious and expansive yet. "I was stuck in a room writing songs on my piano but I was dreaming of something much bigger," he explains of the horizon-filling sounds of the new record. "Ultimately, for the most part, we've all been stuck in rooms for two years, but we were dreaming of all these places we hadn't been to for ages, all the people we hadn't seen. Dreaming of a much bigger world outside the door is essentially what I've been doing with this record."
East Yorkshire duo Seafret today release their new EP 'Anywhere Away From Here' + new single 'Everlasting' through Nettwerk
Having already amassed over 1 Billion streams across their catalogue to date, and in recent week's hit the UK top 40 with their single 'Atlantis' which was originally released back in 2015 (the joy of streaming!), Bridlington duo Seafret today release their brand new EP 'Anywhere From Here', produced by the band's Harry Draper with Cam Blackwood (Florence and the Machine, George Ezra, London Grammar).
Rising Oslo collective Tigerstate release new single 'Back To You' taken from debut album out 11th November…
Following the announcement of their self-titled debut album last month, one of Oslo's most exciting new acts, indie collective Tigerstate, have released their new single 'Back To You.' The track is the second to be taken from the album, out November 11th on Fig Tree Music.
LIOTTA SEOUL Examine Social Media Impact On Music In New Single 'Star' Out Now
tyroneisaacstuart shares potent new single Knees ft. Moses Boyd & Theon Cross + co-choreographed VIDEO
Rolling Stone faves, the Italian Indie Outfit, Eugenia Post Meridiem are back with enigmatic second single 'around my neck'
OUT NOW: Multifaceted Electronic Producer Nau Leone Releases 'Nº1 Cambio' (FFO: FOR FANS OF: Ben Böhmer, Trentemöller, Avoure)
Nonô drops infectious new single 'Lovesick'
Her first release after signing with Helix Records, the infectious, high-energy dance jam, 'Lovesick' combines soaring breakdowns and a pumping bassline with Nonô's irresistible vocals. Produced by Lewis Thompson (David Guetta, Joel Corry) and co-written with Karen Poole (Becky Hill, Kylie Minogue), 'Lovesick' is the latest in a long line of revered singles Nonô has released this year, following on from 'All Day' with Welshy, 'Time To Groove' with Majestic, 'Deep' with Example and Bou, and 'Sky High' with Alok.
COURTNEY MARIE ANDREWS — Releases New Album Today: "Loose Future" || + UK In-Store Tour
Described by MOJO as "her richest work" (4/5), the album is the follow up to her Grammy-nominated 2020 release Old Flowers, and has already been widely praised, earning attention from outlets like NPR, Pitchfork, Stereogum, Consequence, glowing reviews in Uncut, The Times, and even high praise from Sir Elton John, who recently said that Andrews "reminds me of a young Joni Mitchell" on his Apple Music 1 show, where Courtney will be his featured guest on October 8th.
Emanuel Harrold shares new single ft. Gregory Porter titled "I Think" + announces new album "We da People" | Out 20th January via Gearbox Records
Today, multi-GRAMMY Award nominated and winning drummer, producer, and educator, Emanuel Harrold, has announced details of a new album titled "We da People". The album follows his recent EP "Funk La Soul" and will be released via London tastemaker label and analogue specialists Gearbox Records (Binker Golding, Roland Kirk, The Cookers, Abdullah Ibrahim). Alongside the announcement, Harrold has shared a new single titled "I Think", which features two-time GRAMMY-winner, Gregory Porter.
PUBLIC BODY share first debut LP reveal 'Break From Life' | out today (Oct 7th) via FATCAT RECORDS
New Album! // Blissful euphoria from acclaimed artist Cristóvam // OUT NOW!
JAN BLOMQVIST RELEASES NEW, THREE-TRACK EP ON ARMADA ELECTRONIC ELEMENTS: 'CARRY ON'
Underlining the innate allure of his in-demand trademark sound, the three-track 'Carry On' EP is bursting with sonic wonder. From the upbeat title track to the club-centric 'Kaleidoscope Colours' (feat. Maybemahri, released two weeks ago) to the nostalgic 'Same Old Road', this EP is perfect to both dream and dance to. A special music video will be recorded for each of the EP's tracks in respectively London and a Berlin art gallery, and these will later be coupled with an interview to form a short documentary.
MERA BHAI releases 'Be This Way' ft. Private Joy
Mera Bhai AKA Karthik Poduval, is a multi-instrumentalist, DJ & producer also known as a founding member of Psych band Flamingods & part of the Internal team of Global Asian Underground collective Daytimers.
Born in London, with roots in India, alongside time spent growing up in Italy, Albania, Saudi Arabia, Dubai and Nigeria, this worldly influence seeps into his unique take on dance music.