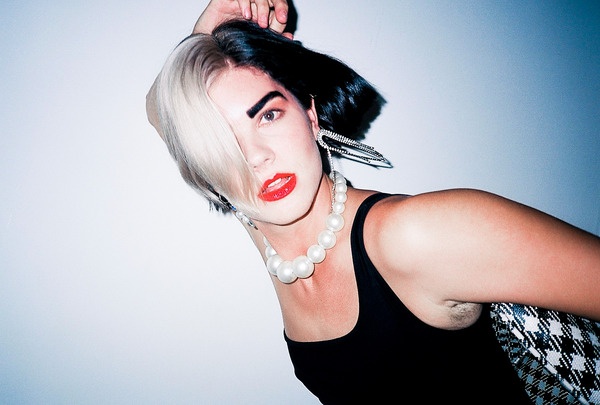 @skopemag news – wednesday – october 6, 2022 @ 11 pm est
@skopemag HQ – http://smarturl.it/skope
French group La Femme share colorful "Y Tu Te Vas" music video
Today, the French indie rock band La Femme, who Pitchfork have called "perhaps the biggest rock band in France right now", have released a music video for their new single "Y Tu Te Vas". The music videos for La Femme have always been a crucial part of the band's mystique, combining high fashion drama with a campy and playful sense of humor – most obviously on display in the delirious full length film for their 2021 album Paradigmes. This new video for "Y tu te vas" features members of the band as well as the musician Tatiana Hazel, who sings on the track.
Guided By Voices Announce New LP, Share "Instinct Dwelling" Single via Rolling Stone | 'La La Land' Out January 20 via GBV Inc
The ever-prolific and always active Guided By Voices is back at it again with the announcement of their first release of 2023, La La Land, a brand new LP slated for release on January 20 via GBV Inc. To kick off the album cycle, today, they share the record's first single, "Instinct Dwelling." The track was premiered by Rolling Stone, who also hosted the album announcement, declaring that "Guided By Voices has never been like other bands."
ADDIE BRIK — Releases Simmering New Single: "Retromingent" || + New Album: 'That Dog Don't Hunt' Out 25 Nov
Eva Grace "won't shed a tear" on Anyone
When it all hits the fan, you can bet Eva Grace "won't shed a tear". Emotions are inevitable, but the alt-pop expressionist puts faith in her own resilience, knowing she will prevail in her newest musical offering, "won't shed a tear", available everywhere now.
Florida Funk Rockers AstroYeti Share 'You Do Voodoo Too (Dude?)' via Conch Town Records
Dean Fertita's TROPICAL GOTHCLUB shares new track & visualizer
Tei Shi shares new single and video "Bad Premonition"
"Bad Premonition" was the result of a period in which Tei Shi felt loss and disappointment in her life, rising music career, and the industry. She found herself fighting feelings of stagnation and repeated cycles of toxicity within her relationships, which resulted in her coming to terms with her fate by realizing that some things are out of her control.
The Naya Rockers Announces the Re-Master of Their Hit Album
The Naya Rockers are back with a remaster of their much-loved 2014 studio album, Naya Sound System. It features plenty of good vibes, irresistible riddims, and star collaborations across its nine tracks. Naya Sound System is due out Oct. 14th and will be available everywhere you stream music.
Amigo The Devil Announces New Tour Dates with Brother Hawk
Amaranthe Release New Single & Video for "Find Life"
The Intemperate Sons Release New Single "Broken Door" to All Major Platforms via FRAME|WORK Today!
Indie rock band The Intemperate Sons released their new single "Broken Door" to all major platforms today! The single is from their latest album The Color Within that released via FRAME|WORK on August 12, 2022.
Cherie Amour share blazing new single "Losing Control"
Today, Baltimore-based quartet Cherie Amour released a blazing new single and visualizer "Losing Control", which will appear on their upcoming album Spiritual Ascension due out November 4th on Equal Vision Records. You can stream the song and watch the official visualizer here. The band has built hype throughout the year with a series of singles that have garnered them acclaim from fans and critics alike. "Sin City", "Letting Go", and "Love's Not Your Thing" (all produced by Alan Day of Four Year Strong) will appear on their upcoming album and prove that Cherie Amour have perfected their self described 'nu-punk' sound. You can pre-order and pre-save the album here.
MO'YNOQ Premiere New Video For "Penance" at Metal Injection
The band comments: "We wanted to make something that would connect people to our music on a deeper level. Penance, ultimately, is a song about cleansing and absolution. Our friends in the C.O.I.N were able to use this to create a stunning piece of visual art."
TOBi DROPS NEW SINGLE AND VISUALIZER "FLOWERS" — FROM FORTHCOMING ALBUM COMING SOON
TOBi on "Flowers" and his forthcoming album: "This is one of my favorite songs I've done. The definition of unapologetic soul music. I wanted to tell a story of what it meant to be a man, growing and learning and dealing with my vices. Protecting my peace, while navigating the challenges of life. This song is a turning point in my mental journey. Addressing fears, seeking therapy, paying homage to those who are living.. its a lot to unpack in the verses but at the end of the day it feels so good to be alive and creating and I'm grateful for every moment."
Strike A Nerve: Drowning Pool's Intense New Album – Out Now via T-BOY/UMe
"In listening, you would believe many of the songs on Strike A Nerve were written about the difficult times we all faced during the lockdown. But the songs were actually written and recorded prior to COVID. That tells me that we were a bunch of isolated, frustrated dudes long before it became trendy!" says bassist Stevie Benton of the long-awaited album, which the band is currently supporting on the road through the end of the year (Tour dates below).
Check Out THE MOON CITY MASTERS '70s Feel-Good Rock with 'The Famous Moon City Masters' Album! FFO: Black Crowes, Greta Van Fleet, The Sheepdogs, Dirty Honey
Arum Rae Shares "Headboards" Featuring Production From The Lumineers' Wesley Schultz
Super Trap Bros. SNUPE BANDZ and PaperRoute Woo Live Large in "Straight Like That" Video
Maddox Lim Releases Gripping Debut Single "Hollow Dreams"
Emerging Asian-American singer-songwriter Maddox Lim has released his debut solo single, "Hollow Dreams," a passionate pop-rock power ballad about the ups and downs of relationships in all their forms. "'Hollow Dreams' is about the relationships we struggle with in our lives," comments Lim. "Whether between family members or friends, our loved ones are the ones who bring us the most joy but also the most disappointment and pain."
Namir Blade Returns w/ New Video Mephisto/Deep
Connie Constance Releases New Single "Hurt You" Via Play It Again Sam
Watford born indie-rock goddess Connie Constance releases new track "Hurt You" – a driven and uncompromising song that fuses the distilled cool of classic post-punk, with a fearless and unrelenting attitude. "Hurt You" moves through verses of sparse, Unknown Pleasures-era Joy Division style rhythm section before gliding into a chorus of sparkling guitars and soaring vocals.
Komodos Shares New Single "Orpheus (Let It Burn)" via Under The Radar | Read Q&A in Bands Do BK | Debut EP K.O. Out 11/3
Under The Radar premiered the track, writing: "'Orpheus (Let It Burn)' is a dark and meditative effort, driven by smoky vocals and slashing guitar lines. It steadily builds from the foreboding rumbles of its opening into an explosive climax, with the tension steadily ratcheting up until it is released in a hailstorm of driving percussion and striking guitar melodies. Komodos prove themselves as deft talents with slow-burning intensity, allowing the track to unfold at its own pace while remaining entrancing throughout. Meanwhile, the lyrics are similarly laden with taut contemplation as the band explores trauma through the lens of the myth of Orpheus."
ONE TO WATCH | Nikki Era 'Lotus' Video Premiere
The video pays homage to Nikki's life mantra instilled by her mother fostering the importance of sustaining confidence in herself. She explains it best when she says, "I have to think of it as a physical thing I have to tend to. My confidence plant. And I water her when she needs it. Any time the world has drained her or burned her; I water her. Because if I wait for someone else to do it, if I rely on someone else to water her, she may die."
Peter Matthew Bauer Shares "Skulls" (Live at 64 Sound) Video
Kickstart your villain era with Gabrielle Vaughn's new single "Criminal"
Gabrielle Vaughn is a force, always bringing a fiery performance and a presence of glam rock whenever she steps on stage. The Northwestern Ohio native started to perform in countless venues around the Ohio area, starting professionally gigging at the age of 12. Known for her rich alto tone and her poignant persona and performance ability on stage, Vaughn has been recognized as a unique talent in Nashville for 5 years.
Darren Hayes releases first new album in a decade 'Homosexual', touring in 2023
Iconic global pop artist and award-winning songwriter Darren Hayes today releases his first new album in a decade 'Homosexual'. It's a celebration of love and music that have influenced his illustrious career over the past 25 years. The new album was produced, arranged, composed and performed entirely by Darren Hayes. 'Homosexual' was recorded in his home studio in Los Angeles and features the singles 'Let's Try Being In Love', Do You Remember?, 'All You Pretty Things' and the tender new single 'Feels Like It's Over'.
WATCH: Namir Blade Returns with Brand-New "MEPHISTO / DEEP" Music Video
Southern Rock Artist CAGE WILLIS Releases Official Music Video for Single "Home To You"
Southern rock artist Cage Willis has released his official music video for single "Home To You." The video was filmed by Ian Davis (Ian Davis Media) and produced by Cage Willis.
Bec Sandridge releases new EP 'Lost Dog'
Traversing her own way of luxe indie-pop, Bec Sandridge today unveils her 5 track EP 'Lost Dog'. It features the anthemic 'Cost Of Love', and her current synth-driven single 'The Jetty' featuring Andy Bull. Presenting an electric sonic union of songwriters and musicians, Bec worked with some of her closest friends on the new EP.
Old Mervs release debut EP of self-reflection; 'Get Better'
Two highschool friends from regional Western Australia meetup, sharing stories of their day. One thing leads to another and Dave House & Henry Carrington-Jones start playing music together, working on tunes in their downtime, before making the decision to convert an old stable on Henry's parents property to a rehearsal space.
Keem61 & Amirahle – Goosebumps
Performed By: Keem61 & Amiralle – Label: BECUS