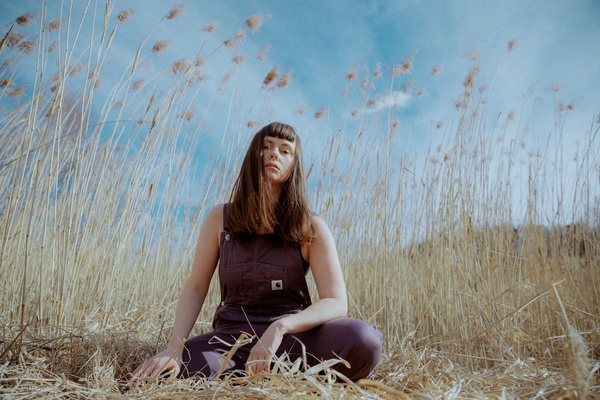 @skopemag news – friday – september 2, 2022 @ 12 pm est
@skopemag HQ – http://smarturl.it/skope
OUT TODAY: Anna Soleil – It's You (FFO Agnes Obel, Cocorosie)
Anna Soleil is a 25-year-old artist, producer and songwriter from Norway working within diverse genres in order to create her own unique musical space. As someone who auditioned for Norwegian opera as a child while at the same time being obsessed by Annie's 2004 pop classic "Chewing Gum", Anna takes these varied influences and turns them into her own incredible combination of acoustic and electronic music. The first single from her forthcoming EP is called "It's You" is a stunning introduction to her new chapter and it's out today.
Antigoni unveils powerful new single 'You Can Have Him'
A powerful modern love song with a Greek twist, 'You Can Have Him' pairs Antigoni's effortlessly standout vocals with a similarly slick production and pulls influences from the hip-hop, pop and Bouzouki worlds.
RISING STAR MAYA LANE SHARES HER DEBUT EP 'CHILDISH GAMES' FEATURING THE NEW TRACK 'CLOSING DOWN'
In the space of just three beautifully realised singles, Maya Lane's blossoming talents have been hailed by tastemakers and folk-pop connoisseurs alike. Still just 19-years-old, Maya's elegant voice and timeless songwriting has earned comparisons with artists both contemporary and classic, spanning famous names such as Kacey Musgraves, Taylor Swift, HAIM andJoni Mitchell.
Topic & John Martin invite listeners to the club with tour de force single 'Follow Me'
German producer Topic proves once again that he can do no wrong, this time linking up with the powerful vocals of singer/songwriter John Martin. Titled "Follow Me," the new single highlights an unheard facet of Topic's production wheelhouse, as he and John Martin walk the line between a larger-than-life anthem and a mind-bending club tune for the ages. Follow Topic and John Martin to the dark and sweaty dancefloors of the underground on September 2, when the new single drops via Tomorrowland Music.
WILD HORSE – Return with bittersweet indie-pop of: "Bitter" – Listen
Tapping into the dull ache of uncertainty that comes with navigating relationships as a young adult, "Bitter" is a self-assured statement of intent from a fast rising band whose studio output is growing from strength to strength. With funk influences oozing through its catchy choruses and feel-good rhythms that are laden with a deeper relatability, vocalist and songwriter Jack Baldwin elaborates of the message behind track:
Out now: Dohny Jep release music video for anthemic new single 'Wine and Dine'
Heavy Thrashers UNDER THE OAK Drop "Total Trash Metal" [Official Music Video]
KEVIN GEORGE DROPS 'THAT'S MY WOMAN'// LISTEN HERE // OUT TODAY ON GUIN RECORDS
LA based artist Kevin George hits the timeline again with stellar new offering, 'That's My Woman'. Arriving with a vibrant new video, the track is yet another compelling offering from an artist who has attached 2022 like no other. Speaking on the release, he states:
Electronically-charged authenticity in EMINZADA'S new single "Sociopath"
Singer/songwriter EMINZADA is a multi-dimensional artist with an exclusive style and powerful mindset. Originally from Baku City, Azerbaijan, EMINZADA has grown up with diversity in abundance, living between Azerbaijan, Turkey and the US, before making his move to London. Paying homage to his classical background in music composition, his music explores notions of camp, lust and escapism, representing freedom of art expression and his homeland's musical culture and futurism, with his Azerbaijani heritage beaming proudly throughout.
Siv Jakobsen announces new album 'Gardening' and shares new single "Romain's Place" mixed by Zach Hanson (Bon Iver, Hand Habits)
(2nd September) Acclaimed Norwegian singer-songwriter Siv Jakobsen today announces her third album 'Gardening' will be released on 20th January 2023 via The Nordic Mellow and shares new single "Romain's Place". The new single follows recently shared tracks "Birthday" and "Most Of The Time" – all of which are set to feature on new album 'Gardening'.
LUKE SITAL-SINGH – 'Dressing Like A Stranger' Album Out Today || Watch New Video for "Rather Be"
Today (2 Sept) – LUKE SITAL-SINGH – releases the exquisite new album Dressing Like A Stranger, an eleven-song collection penned by the London-born songwriter as he moved halfway across the globe to Los Angeles just before the world shut down.
TENILLE TOWNES DROPS HEARTBREAKING NEW SINGLE "THE LAST TIME"
"We always remember the first time something happens. We put it in a certain frame in our mind because we know it's special. But the last time often doesn't get the same frame because we don't know that it's happened until it's already a part of our past. I wanted to write a song that captured that sentimental reality, with nostalgia in the fabric of the music. This song reminds me to stop and take in the moments that are happening right now, and I hope it feels like a comforting reminder to anybody else who needs it too." – Tenille Townes
THE FRONT BOTTOMS RELEASE THERESA EP
Fueled By Ramen band The Front Bottoms have released the Theresa EP. Available today on all streaming platforms, the Theresa EP continues the group's fan favorite Grandma EP series and features the singles "More Than It Hurts You" and "Hello World."
NEW MUSIC: Electronic Producers eevee and sweeep announce vandalism and selfcare (FFO: Grimes, Eartheater, FKA twigs, Bsd.u, and Jinsang.)
Rising rap talent DAY1 unleashes "Me, Myself & I" – Directed by Kaylum Dennis
Booming sonics and sturdy lyricism at its core, DAY1 effortlessly glides across the atmospheric instrumental with unwavering confidence. Brimming with authority and menace, the rapper's clever wordplay and rigorous pattern will continue the attention around one of Australia's hottest new names. Set to drop alongside an official music video produced and directed by UK rap staple Kaylum Dennis (Stormzy, Wretch 32, Smoke Boys), we see DAY1 progress through Central London, portraying the luxury of inner-city life while harnessing grassroot settings across a busy environment. The notable collab from one of UK rap's standout directorial names points to a growing relationship between Australian and UK scenes.
New York Indie-Pop Newcomers Me + Nobody Share Infectious New Single 'SoHo'
New York indie-pop newcomers Me + Nobody share their infectious new single 'SoHo'. Richie Anderson (vocals/guitar), Thomas Kinsella (lead guitar), Vinny Sutera (drums) and Joe Genduso (bass), each bring differing tastes and elements to their sound resulting in music which is full of pop sensibilities whilst retaining an air of passion and musical depth.
The Prodigy's Maxim & Sir Jude join together for iconic collaboration
Digitalised throbs are ever-present in 'Preach', the latest addition from Sir Jude as she embarks on a journey of love, self-hood, heartbreak and hope in her forthcoming debut album Revelations. Enlisting electronic mastermind Maxim for the release, his distinct and iconic musical style elevates Sir Jude's brooding vocal, amounting in a gritty pulsation of estranged alternative pop.
London Based Singer-Songwriter saachisen Releases Piano Visuals For New Single 'The Gap'
Singer-songwriter saachisen (real name Saachi Sen) is back with her new single 'The Gap'. Born in India and raised in London, Saachi is an electronic engineering grad and a strong advocate for women in STEM (Science, Technology, Engineering and Maths). An agnostic ex-chapel-chorister with influences from classical to electronic-pop, Saachi's wide reaching love of different musical genres serve to shape her unique alternative-pop sound.
SHA EK DROPS FEROCIOUS NEW MIXTAPE 'FACE OF THE WHAT'
Checking in at 17 tracks, Face of The What is an unrelenting adrenaline rush. For his previously released single, "New Opps," he unloads blunt force couplets over frenetic drill.
Energetic and forceful, stylish, yet militant, Face of The What marries all the best elements of Sha EK—and drill itself. It also reaffirms the NY artist's status as the most exciting new voice the Bronx has to offer. Imbued with a granite rasp, impeccable breath control, and memories of life in the trenches, Sha EK's gradually earned a legion of fans waiting for his next thrill ride. He's also collected positive critical attention.
YUNGBLUD Releases Self Titled Album Today. Official Video For Latest Single 'Tissues' Revealed
This full-length release marks an exciting new era for the artist, with previously released fan-favorites 'The Funeral', 'Don't Feel Like Feeling Sad Today' and 'Memories ft. Willow', which
1 million streams within its first week. The album has already received an outstanding reception, from critics across the globe and comes with the official music video for his latest single, 'Tissues' – also out today.
Arum Rae Shares Country Road With Help From The Lumineers' Wesley Schultz
On "Country Road," Arum muses on the sublime sense of peace she finds in traveling to her family's farm in Virginia, sharply contrasting her soft and soulful vocals with Schultz's jagged guitar work. "We felt like we needed a character to take us home at the end of the song, so Byron played this drawn-out, distorted line on his upright bass," she recalls. "It felt like an animal sound, so we called it 'the moose.'"
Rockshots Records – ONELEGMAN "Radiate" Your Day With New Single Off Upcoming Album "Event Horizon" Out October 2022
Italian proggers ONELEGMAN are sharing their second single to "Radiate" your day. The track is off the band's forthcoming album "Event Horizon" due out on October 21, 2022, via Rockshots Records. "Radiate" moves from a strange acoustic intro with Indian influences to an orchestral and melodic rock song. The lyrics are inspired by "Passengers", an American science fiction movie, directed by Morten Tyldum in 2016. In the movie, a couple of space travelers are forced to live their whole existence in complete solitude, dedicating themselves to building their relationship and safeguarding the supreme good of life.
Joonti continúa innovando en el género urbano con "Daño Colateral"
El puertorriqueño, intérprete de la música latina Joonti, presenta su nuevo sencillo "Daño Colateral", un tema con el que sigue innovando dentro el género urbano, demostrándo además sus cualidades vocales. Disponible en todas las plataformas digitales.
Nina Nesbitt Releases New Album, 'Älskar' Today. Official Video For 'I Should Be A Bird' Out Now
Nina Nesbitt today releases her eagerly anticipated new album 'Älskar' via Cooking Vinyl. Highlights of the album campaign have so far included exceeding the phenomenal career landmark of a billion streams, as well as playing two huge European stadium shows as guests to Coldplay, which saw her duet with Chris Martin on 'Let Somebody Go'. The record builds upon the huge success of her 2019 set 'The Sun Will Come Up, The Seasons Will Change' which took her to a global audience and won influential fans such as Taylor Swift.
Tom Chaplin Releases New Album 'Midpoint'
Produced by Ethan Johns (Paul McCartney, Tom Jones, Laura Marling), MIDPOINT includes such emotionally charged new songs as the reflective title track, "Midpoint," joined by an official music video – directed by award-winning filmmaker Lucy Bridger and starring renowned Irish actress Niamh Cusack – streaming now at YouTube.
LA Indie Artist meija Announces New EP 'Side A'; Shares New Track
OUT NOW: Different Kind releases 'Gangsta' on Dirtybird Records
Dirtybird's debut release from Different Kind offers an innovative fusion of house and drum & bass music. Drawing on hip-hop and metal influences, 'Gangsta' arrives with a unique flavor of production that compliments Dirtybird's signature style. The project's title track features an undeniably smooth transition between the two genres while 'GQ' is a masterclass on massive, distorted sound design.
Weird Nightmare + Ancient Shapes "I Think You Know" w/ "Bird With an Iron Head" Double A-Side, Four Song Single Out Now On All DSPs
The unholy union of Weird Nightmare and Ancient Shapes brings you the double A-Side experience of the year! "I Think You Know" w/ "Bird With an Iron Head" delivers two sides of sing-along power-punk you need to hear to believe.
Dystopica Releases New EP 'Deception' and Video "Narcissist"
Connecticut-based heavy metal band Dystopica releases their newest EP, Deception, via Pavement Entertainment. Recorded at Dexters Lab Recording Studio by producer Nick Bellmore (Dee Snider, Corpsegrinder, Ripper, Hatebreed, Toxic Holocaust), Deception has a fresh sound combining hard rock, heavy metal, thrash metal, and progressive metal. The 5-track EP is truly an ode to uniting classic metal with modern influences.
Two Door Cinema Club Keep on Smiling OUT NOW
Afforded the time and space to fully immerse themselves in the writing and recording process, the band adopted a freer, more collaborative approach to the creative process with Keep On Smiling. The album was written and produced by the band both during and coming out of lockdown, with additional production from Jacknife Lee (Bloc Party, The Killers, Taylor Swift) and Dan Grech Marguerat (Halsey, Lana Del Rey, George Ezra).
DEMONS MY FRIENDS: stream debut single "Bring The Night"
Austin-based stoner rockers DEMONS MY FRIENDS release the first single "Bring The Night" taken from their debut album, to be released in early 2023. The band just announced an appearance at Mexico Metal Fest VI on September 3rd.