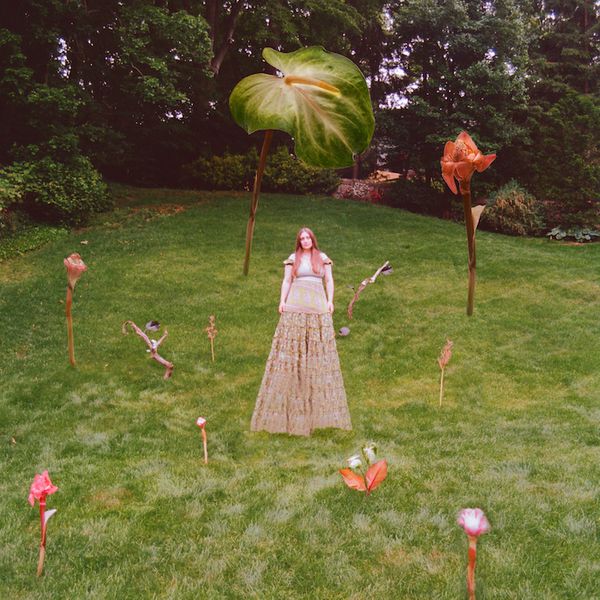 @skopemag news – thursday – august 11, 2022 @ 3 pm est
@skopemag HQ – http://smarturl.it/skope
Gearbox Records to release Roland Kirk "Live at Ronnie Scott's 1963" | Hear / share "Angelica" | Album out 9th September
Next month, London analogue specialists Gearbox Records will unearth yet another lost gem having just announced the worldwide release of a rare, previously un-released live recording of the legendary multi-instrumentalist Roland Kirk.
TONES AND I SHARES NEW SINGLE "CHARLIE" – WATCH THE LYRIC VIDEO HERE
Elaborating on the new track, Tones And I explained, "'Charlie' was a song that came out of nowhere, it was done in three hours and we wrote the bass line first. It's about missing my dog Charlie and other things. It's a funky jam and I just wanted to have some fun with it."
It Was All A Dream (Peluché) announce debut EP and share new R&B inspired single 'Red Roses'
It Was All A Dream is the new musical project from London based multi-instrumentalists Amy Maskell and Sophie Lowe. On October 14th, the duo are set to release their debut EP Never Forget You Are Free, a kaleidoscopic blend of synths, samplers, clarinet, drums and vocals via Some Other Planet. Together with their producer, Toby Burroughs of Pozi, It Was All A Dream create a lush sonic landscape which draws on elements of 90s pop, dance, dub, soul and RnB. Their new single, 'Red Roses' is out now.
WONDER released by Leah Weller
UK electronic artist SOUND OF FRACTURES drops brand new EP IRL with lead single "Sunflowers"
Following a series of well-received singles, including the hazy summertime track "Dream" and the club-life infused "Your Touch", Sound of Fractures combines organic production with inspired creativity to form the IRL project. Rounding off the release with lead single "Sunflowers", he continues to deliver honest and visceral snapshots of life through his music, exploring the deeply vulnerable yet universal feeling of self-doubt in an empowering way.
JAMIE LENMAN Reveals Video For New Single 'Talk Hard' Released 11th August 2022 via Big Scary Monsters
BOYHOOD. REVEALS DYNAMIC NEW SINGLE, 'CRASH'
On August 10th, Los Angeles-based artist and musician boyhood. will release 'Crash,' the first single from an upcoming EP via UK-based independent distributor DMY Artists.
Cornelia Murr new single and tour with Dana Gavanski // Full Time Hobby
Steeped in a choric tranquillity, and shimmering with the stillness of dawn-break, Cornelia Murr's new single 'All Souls' speaks of beautiful, wide-open vistas, of landscapes blossoming in sunlight. Her first music since last year's single 'Hang Yr Hat' sees her nudging her sonic palette of Americana-twinged Fantasia-folk into the gossamer realms of dream-pop: like the ethereality of Beach House married with the stark intimacies of 'BigTime' Angel Olsen.
Indie pop revelation purpl returns with her latest single 'Tell All Your Friends'
UK-based alternative pop & R&B artist purpl continues her string of releases with new single 'Tell All Your Friends'. Shortly after the release of 'Morphine' which gained extended support from BBC Introducing, this new offering showcases her subtle but incredibly catchy vocal melodies over an ethereal R&B production punctuated by delicate synths and drums. Taking influences from the likes of The 1975, Sade, Fleetwood Mac and BANKS, the main priority in her songwriting and production is honesty and authenticity.
LOU RIDLEY SHARES CHILLING NEW MUSIC VIDEO FOR "BLESS YOUR HEART"
Singer Songwriter DIA Heats Up Summer With 'LIMONATA"
Toronto, ON – Canadian-Italian singer/ songwriter DIA, released her new single, "Limonata" on all music platforms. The pop artist draws you in with a powerful and dynamic sound. DIA's voice is filled with nuances that embrace diverse cultures. With a master's degree in ethnomusicology and the ability to sing in 32 languages, the multi-talented artist has no boundaries and takes fans outside theirs. "Limonata" produced by KC Bondar, is a fun and sexy single for the summer about loving and living life to the fullest. With an upbeat Latin and Mediterranean vibe, "Limonata" will have you up dancing all summer long.
ALT.POP NEWCOMER HALLIE INTRODUCES HERSELF ON NEW SINGLE "DO IT"
YUMI AND THE WEATHER — Shares Cautionary Tale: "Can You Tell" || + Announces New Album: 'It's All In My Head'
DJ Premier Releases "Remy Rap" Music Video Ft. Remy Ma & Rapsody
FOR IMMEDIATE RELEASE: Suzi Moon Premieres Video For New Song "Family Memories"
After releasing the title track to the album a few weeks ago coupled with a European tour and multiple festival appearances including Rebellion Fest, Xtreme Fest, and more, fans have been clamoring to hear more from Moon's upcoming full-length.
Taylor Janzen Isn't Cut Out To Be Your "Designated Driver"
BLOODBATH Drop Punishing New Single "Carved" Feat. Luc Lemay of Gorguts + Official Music Video
It's time for another deep dive into the horrors of mortality and the foul side of the supernatural – it's time for "Survival Of The Sickest"! The sixth full-length album from BLOODBATH, Sweden's undisputed masters of old school death metal, will be unleashed on September 9, 2022 via Napalm Records. This is death metal at its ugly best: vicious, unrelenting and irrevocably sworn to the black.
NNAMDÏ DROPS NEW SONG + VIDEO FROM FORTHCOMING ALBUM
William Lee Golden and The Goldens Release "Take It Easy" Single and Music Video, Featured By M Music & Musicians Magazine
HAVET share standout new single 'Mamas Lullaby' along with debut EP OUT NOW!
Exciting German/Swedish teenage siblings HAVET today release their 5-track debut EP "Mamas Lullaby" The band comprises of sisters Josy (17) and Mimi (19.) The record features recent uploads "Child" & "Toxic" and their latest single also out today, also called "Mamas Lullaby"
Extreme Metallers FEAR DISEASE Drop New Lyric Video "Downfall"
"Downfall" is a track taken from Fear Disease's upcoming album "Floodgates", which is due for release on September 2nd, 2022 via Wormholedeath.
NEW VIDEO CLIP for WE ARE LEGEND ("Fallen Angel" out from homonymous album)
The Midnight Premiere Official Music Video for Weekend Anthem "Brooklyn. Friday. Love."
Hood Tali P Releases "Giving Swag" Video Today
Eddie Chacon signs to Stones Throw + shares new single "Holy Hell" | Playing We Out Here Festival on 27th August
In the "Holy Hell" video by Sissy Chacon, Eddie drives around Los Angeles in a salvation-themed car. The video is inspired by eccentric men of visions who are inspired to spread the gospel and share messages of love and repentance. Eddie says: In "Holy Hell" I'm talking about how we forget that our happiness is determined by our headspace and how it's up to us whether we want to live our brief time here on Earth in heaven or hell.
ACEPHALIX: Decibel Magazine Premieres "Godheads" Single From Bay Area Death Metal Quintet; Theothanatology LP Nears Release Through 20 Buck Spin
ACEPHALIX wakes from five years in morbid repose with a new offering upon the glistening altar of flesh, a devastatingly tormented study on Theothanatology, the idea or belief that God is dead. Within this cerebrum shattering inquiry lies, as always, a primal spewing forth of vicious death metal malignity and bomb-raid hardcore dispersions.
Fanciful + Whimsical Indie Pop: Melanie Martinez meets Fleetwood Mac
Olive Louise is a classically trained musician with an innate pop sensibility. The New York-based artist is a promising new voice in alt-pop, thoughtfully carving her own path through captivating storytelling and refreshing vulnerability.