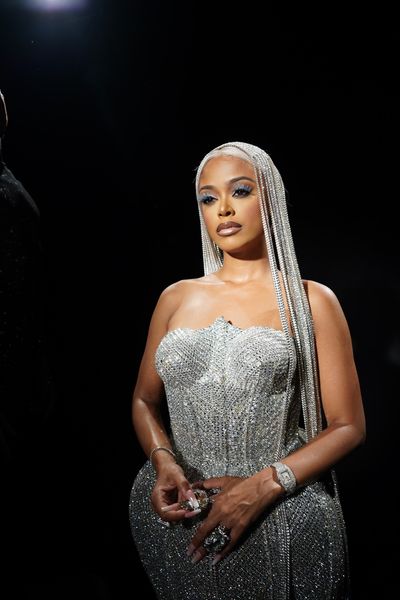 @skopemag news – friday – july 22, 2022 @ 2 pm est
@skopemag HQ – http://smarturl.it/skope
LADY LONDON UNVEILS FIRST OFFICIAL SINGLE OF THE YEAR "WHAT IS IT GIVING"
"What Is It Giving" is the first taste of the new & next for the rising superstar serving as her official single for 2022. Arriving into acclaim for her revered freestyles, some of which were included on her Lady Like: The Boss Tape project, London has gone on record to state her vow to release more original music with the goal of having audiences grasp a deeper understanding of her artistry and capabilities. Today's new music offering exemplifies London's ferocity for wordplay blanketed in her quintessential ladylike manner. The bouncy banger entices listeners with braggadocious punchlines giving listeners rhythmic art at its core.
Tim Snider & Wolfgang Timber drop new single "By Your Side"
Tim Snider and Wolfgang Timber are thrilled to release their new single, "By Your Side", which is the latest single from their upcoming album, released courtesy of Pasadena Records. In both platonic and romantic relationships, "By Your Side" speaks to the feeling of togetherness. The song is both universal and personal, allowing the listener to reflect on those special moments with the ones they cherish most in a world still reeling from the impact of COVID, social injustices and other societal strifes.
The Pinx Serve Up Sweet And Sour Rock 'N' Roll On New Single + Video "Break Your Heart"
for Skope: NZ-based duo FOVOS continues to fuse old-school 90s vibes with modern techno on "Pure" (out now)
Dr. John & Willie Nelson Team Up on "Gimme That Old Time Religion," Out Today
Growing up in New Orleans, Malcolm John "Mac" Rebennack, Jr. – known to countless music fans around the world as Dr. John – developed a deep and abiding love for traditional Gospel music that stayed with him throughout his lifetime. During his remarkable six-decade run as one of the most original, distinctive, and influential voices in popular music, Rebennack put his inimitable stamp on many spirituals and Gospel-influenced songs.
Platinum rapper Blueface releases new track "One Time"
Platinum rapper Blueface releases a new track, "One Time," and accompanying video today. Trey X Versaucy produced the infectious, upbeat track.
The video for "One Time" was directed by LOUIEKNOWS and is a high-energy accompaniment to the song. Watch it below.
Out now! Kitty Solaris Single + Video "Mystery Girl" (Solaris Empire/Broken Silence) VÖ: 22.7.2022
Darla Jade shares new bop 'Can't Run Forever'
Reflecting on the desire many of us have to avoid problems and issues,'Can't Run Forever' is here to address things head on. The catchy, electro-pop bop is an honest and standout moment from the rising artist, written with production duo Gold Spectacles. Sharing more, Darla Jade explained: 'I had a lot going on last year, and I realised that I tend to bottle up my feelings and essentially just run away from my issues, so this song is all about me addressing that and trying to get myself to 'just face it' as it all 'catches up eventually.'
OUT NOW: County Wide "Fool Speed"
Summer may be coming to an end, but with southern-rock band County Wide, the fun never ends. Their newest single "Fool Speed" is a tongue-in-cheek, care-free summer anthem – qualities that parallel the 5-member band's own persona.
Austin-based artist Delicate Noise releases hence EP, his fifth collection of ambient music
While some musicians craft songs that fit neatly into the three minute thirty second status quo with clearly defined boundaries and limited interpretations, Delicate Noise opens up his musical world to extend beyond such previously defined lines. That's not to say that this musician unleashes unbridled chaos either; his sonic experimentation reflects that of impressionist painters, even the artwork for hence EP recalls the lesser known Olive Trees series of Vincent Van Gogh.
TODAY: Carter & the Capitals cut a rug on vibrant soulful single "Lovely Lovely Lovely"
Following up on their 2019 self-titled debut album, Carter & the Capitals return with "Lovely Lovely Lovely," a joyful new track that serves as a reminder for the band to not take themselves so seriously and to enjoy the privilege of playing music with some of their best friends. With lots of growing pains and mistakes over the past years, the Capitals have become closer while making the best music they've ever made.
NARDO WICK DROPS "WHO IS NARDO WICK ??" DELUXE ALBUM
Nardo Wick is the rapper up next and is continuing to elevate; he's your favorite rapper's rapper – getting nods and co-signs from major artists within the rap space – while honing in on his unique dark, energetic sound that is unforgettable.
Brighton Indie 4-Piece Comforts Return With Shimmering New Single 'Mixed Signals'
Princess Goes To The Butterfly Museum Kicks Off Summer Headline Tour Today
On the heels of an electrifying, sold-out series of spring tour dates, Princess Goes To The Butterfly Museum (Michael C. Hall, Peter Yanowitz & Matt Katz-Bohen) will kick off their summer headline tour today in Baltimore at Soundstage before making stops in Detroit, Chicago, Nashville, Atlanta and more.
Acclaimed, Dallas-based Afrobeats and Afrofusion Musician TyStringz, Releases Single via Hollywood Life
TyStringz graduated from college at age 19 and earned a master's degree in computer science at 22, and then Microsoft came calling to hire him as a cloud software engineer. The Nigerian native says he can write codes from morning to night, but his real passion lies elsewhere. "Music is not work for me," he says. "Music is fun." And so TyStringz, after finding success in his professional life, has now set out to make a name for himself as an artist, and he's not wasting any time. He released his debut single just last year, and the official video earned a quarter of a million views in just 10 months. That single, "Shalaye(Reloaded)," went so far as to chart at No. 2 on the iTunes Chart Worldwide Genre. It even went above the most popular Afrobeats song of 2021 – "Essence" by Whiz Kid – for a couple of days.
Afrobeats Artist TyStringz Delivers A 'Sexy & Seductive' Jam In New Song 'Rora'
Leedz Edutainment Tells a Compelling Story With New Video "Feed The Fire" FT. XL The Beast & The Arcitype
Leedz Edutainment follows up on the underground success of his latest album A Worker Among Workers with a new compelling video Feed The Fire FT. XL The Beast & The Arcitype.
News: Lauren Minear releases new single 'Heartbroken'
Written by Lauren Minear and produced by Dan Weeks for The Online Recording Studio, 'Heartbroken' is an intimate and emotional song about identity in motherhood. It is based on Lauren's own experiences of early motherhood and her evolving sense of self during the COVID-19 pandemic and subsequent lockdowns.
A Burden To Bear Release New Single "Ascension" (feat. Spencer Charnas); New EP "With Empty Eyes and Hollow Hearts" due out on 9/16/22!
A Burden To Bear released their brand new single "Ascension" (feat. Spencer Charnas of Ice Nine Kills) to all major platforms. The single, mixed by Robin Leijon, is from their EP With Empty Eyes and Hollow Hearts due out on 9/16/22.
NEWS: Introducing new artist Lacey Cains
Singer-songwriter Lacey Cains has released her debut single '6 Feet Away'.
Written by Lacey Cains and produced by The Online Recording Studio, '6 Feet Away' is Lacey's first single and is available now on all major streaming platforms.
Lacey wrote '6 Feet Away' during the COVID-19 Pandemic and the song is reflective of the isolation that many experienced during the various lockdowns. For Lacey, this also came with a more personal meaning.
STEELO BRIM & CHUCK INGLISH TEAM UP FOR "D.Y.W.R" MUSIC VIDEO
Nox Holloway Shares Brand New Single "Pink Cadillac"
About the song, lead singer Bryce Vanhook says, "With this track, we wanted to channel the feel of retro West Coast. The classic image of driving down the coast of California in a convertible (in this case, a pink Cadillac) with the wind in your hair and one hand on the wheel. I have a habit of trying to make every idea as deep as possible, but with this one we just wanted to do whatever felt good in the moment."
TWENTY ONE PILOTS SHARE "STRANGER THINGS // HEATHENS" (LIVE FROM ROMANIA)
Fat Money Gets a "Bag From Hell" and Buries It in "Pt. 2" Video
With his seasoned skillset and boundless wit, Fat Money can pen endless verses without wasting a word. Today, the Chicago-area wordsmith isn't wasting time either, as he shares his new "Pt. 2" video, which features snippets of three songs from his upcoming full-length debut, Money Got Wings. Along with the video, Fat Money shares his Cardo-produced single, "Bag From Hell," the first of the three songs featured in "Pt. 2." The single finds Fat Money spitting relentlessly over Cardo's striking production as he delivers feverish flexes from start to finish.
TODAY: indie artist borza shares encouraging driving single "As high as you can go"
The track began as a folk song before morphing into the distorted guitars and sweet harmonies of the finished song, creating an energetic and uplifting number meant to elicit excitement in ourselves.
Love can be the energy that propels us forward and allows us to move through nervousness, opening up life changing possibilities.
"Take all the love in your way and grow as high as you can go."
[Visualizer] Brando Bambino ft. Hus Kingpin – Maxell prod. by Pyramid Tape
Brando Bambino returns,with a new single "Maxell" feat. underground stalwart Hus Kingpin, from the forthcoming album "Bandito" (available 8/12 via Man Bites Dog Records on Vinyl, CD and Streaming). With Pyramid Tape's grimey production, Maxell invokes sonic opulence with lo-fi sensibilities, reminding us why we all started dubbing tapes to begin with. Prepare to be blown away!
LEWIS THOMPSON AND DAVID GUETTA RELEASE INFECTIOUS SUMMER ANTHEM "TAKE ME BACK"
Speaking about the track, Lewis says: "Nostalgia is one of the most powerful emotions in the world, everyone relates to that sudden feeling of being taken back to a moment in time. 'Take Me Back' takes you on a ride to reminisce and relive the past and cherish what's in front of us right now. I'm really proud to be putting this out as my first record."
BOURBON HOUSE Releases Official Music Video for High Energy New Single, "Resonate"!
Heavy Blues Rock band BOURBON HOUSE has revealed the official music video for their pulse pounding new single, "Resonate." Directed and edited by Jocelyne Berumen, and filmed at the historic Henry Miller House in Wausau, WI, "Resonate" is the first of 5 songs to be released through December, 2022.