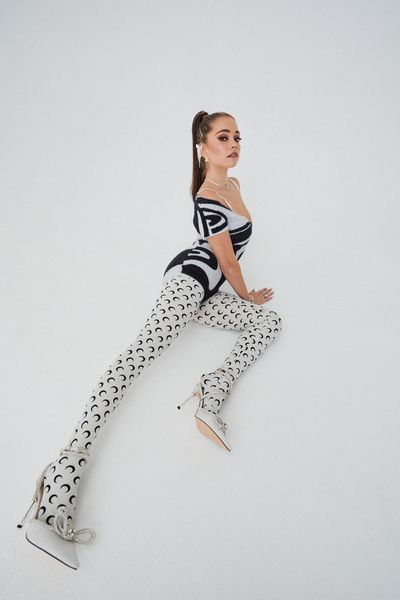 @skopemag news – friday – july 22, 2022 @ 12 pm est
@skopemag HQ – http://smarturl.it/skope
WITCHERY Releases New Lyric Video For "Storm of the Unborn"
"The day of the "Nightside" album release is upon us, and along with it we have a lyrical video chosen to show the diversity of the album. "Storm of the Unborn" is a slower, more atmospheric track compared to the two previously released videos from the album. It also comes with more atmosphere-setting sound fx, something I grew to love from listening to other great concept albums (perhaps best exemplified by Queensryche's "Operation: Mindcrime"). So, get a glass of your favorite beverage, find some shade from the current sun-on-steroids (at least here in northern Europe at the moment!) and enjoy this our first endeavor of creating a concept album of our own," states WITCHERY mastermind and guitarist Jensen.
New Music from Dylan Jakobsen for New Music Friday?
Before the album's release, Dylan appeared twice on the Top 40 Billboard Indicator and Top 20 Music Row Singles with the release of his single I AM.
KAY FLOCK RELEASES VIBRANT BRONX TRACK "BROTHERLY LOVE PT. 2 (FEAT. B-LOVEE & DOUGIE B)"
Shaun Sloan Releases New Video Starring G Herbo | 'Tell Victory I Love Him' Available For Preorder Now
NERIAH's Newest Single "Breakup Sex" Out Now!
JON BATISTE, PENTATONIX & DIANE WARREN RELEASE SINGLE "SWEET (SINGLE EDIT)"
OCEANS OF SLUMBER Releases Music Video For "The Hanging Tree"
Jordana Bryant Reveals Her One Relationship Deal-Breaker With Single "Country Music" Out Now
"I feel like everyone has their one relationship deal breaker that they just can't get over, and for me that's music taste. If someone doesn't like country music, I feel like I just can't be with them, so I wanted to write a song about that," Jordana shared. "I wanted to make 'Country Music' super fun and playful so that when people hear it, they instantly want to sing along. And I even threw in a few references to some of my favorite country artists and songs to pay homage to the history of country music."
AmPm teams up with Michael Kaneko once again to deliver their newest banger of a single, "Streets of Tokyo" releasing worldwide on Friday, July 22nd, 2022
NIJA UNVEILS NEW SINGLE, "LOVE LIKE THIS"
Nija returns with the smooth and sultry summer single "Love Like This." The track finds her mixing joy with vulnerability as she adjusts to the happy reality of finding someone who truly loves and accepts her, baggage and all. Nija wrote the song with frequent collaborator Jack Rochon (6LACK, Jesse Gold) and IamTash (Pop Smoke), who co-produced. Listen to "Love Like This," which was released today by Capitol Records, and view the visualizer HERE.
PEACH TREE RASCALS RELEASE SOPHOMORE EP "DOES A FISH KNOW IT'S WET?"
Jeris Johnson Releases Surprise Track "Levitate"
Jeris' Sophomore EP is a vivacious short collection of tracks geared for summer. With the cumulative force of three songs that had gone viral and are now finding a home, the EP showcases yet another side of Jeris Johnson. A Summertime Side Quest is a trio of 'windows-down' singles, all featuring Jeris' signature twang.
LITTLE BIG TOWN RELEASES NEW SONG "RICH MAN" FROM UPCOMING ALBUM MR. SUN
Rising Country Music Artist Dallas Remington Announces Release of New Single "White Trash Heart"
Rising Nashville Country Music artist Dallas Remington has announced the release of her rip-roaring new single, "WHITE TRASH HEART" co-written by Nancy Deckant, Lauren Spring, Cyndi Limbaugh Torres and Dallas Remington. The new music unapologetically tells what it's like to be a country girl with a heavy dose of swampy fun and was produced by Corey Lawson and mastered by Harold LaRue Mastering.
HANOI ROCKS Songwriter/Guitarist ANDY MCCOY Announces New Solo Album, Shares First Single & Video!
Famed Finnish glam rock heroes Hanoi Rocks were never shy about wearing their collective influences on their fishnet sleeves. Starting with their acclaimed debut album, the group frequently included surprising cover versions among their killer original songs – from the Carol King penned "Walking With My Angel" to the bluesy folk of Hoyt Axton's "Lighting Bar Blues" to the smoking hot take on CCR's "Up Around The Bend," which currently rides the top of the band's most played songs on the Spotify platform. Now, HR guitarist Andy McCoy taps into the rich musical history that inspired him on his own full-length album of highly addictive covers entitled Jukebox Junkie!
MEMPHIS RAP STAR FRESCO TREY DROPS NEW SINGLE "ENJOY IT"
[OUT NOW] Big Ballin' NYC Trio Ron Suno, Dusty Locane, and Rah Swish unite for "SHOES"
This concrete cracking track is fresh off Ron's soon upcoming album SUNO MODE, currently set to drop on August 5th via SBL / EMPIRE! Filled with Ron's braggadocious boasts and whip smart punchlines, the 15 tracks on Suno Mode–including the fiery, Rowdy Rebel-featuring remix to Ron's hit "What They Gon Say" (25+ million streams)– turn this summer up a notch.
Ron Suno Brings Out the NY Big Steppers in "SHOES" Video
Since staking his claim as "King of the Bronx," Ron Suno has yet to turn down his charismatic intensity. Returning to expand his empire beyond the BX, Ron teams with Brooklyn heavy-hitters DUSTY LOCANE and Rah Swish to share his new video single, "SHOES," from his upcoming SUNO MODE project.
The Soft Hills' Viva Chi Vede resplendent psych pop is out now!
"This dreamy track was largely inspired from ayahuasca ceremonies and other mysterious happenings such as being visited by otherworldly beings at night," explains Garrett Hobba. "The title is from The Chronicles Of Narnia by C.S Lewis, which I read as a boy. It was the name given to a mysterious realm of portals that allowed magical travel between the worlds of Charn, Earth and Narnia, and numerous others."
MEGADETH Premieres 'Night Stalkers: Chapter II' Featuring Iconic Artist ICE-T
Today, MEGADETH premiered Night Stalkers: Chapter II, the next installment of a multi-part short film being released alongside MEGADETH's next single "Night Stalkers" from their new studio album The Sick, The Dying…And The Dead! being released on September 2, 2022, via UMe. Both the video and single for "Night Stalkers" feature a special appearance by the iconic artist Ice-T.
KANE BROWN RELEASES "GRAND" TODAY
The album will feature a total of seventeen songs, including his current Top-5-and climbing hit single "Like I Love Country Music," his co-produced track, "Whiskey Sour," his #1 hit, "One Mississippi," "Leave You Alone" and "Grand." Additionally, the album will include twelve yet to be revealed songs. The May/June American Songwriter cover artist recently spoke with the magazine about his upcoming project, as well as his rise to fame, family, and going back to his roots with this new chapter of music.
KAT & ALEX SHARE AUTOBIOGRAPHICAL NEW SONG, "WE BOUGHT A HOUSE"
"'We Bought A House' is a really special song for us because it was formed out of the actual experience of buying our very first home," Kat & Alex said. "Our co-writers Lindsay Rimes and Josh Osborne really helped us bring it to life. Josh had been sitting on the title for a while, and it was fate that we got in the room with him that day because we had just bought our first house. We were able to take all of our new homeowner excitement and put it into the song."
QUEENSRŸCHE Releases New Track and Video for "Forest"
MASKED WOLF + MIKE POSNER JOIN FORCES ON "MADHOUSE"
Jack White releases new album 'Entering Heaven Alive'
White is celebrating the release of ENTERING HEAVEN ALIVE with a pair of exclusive in-store appearances in London. Today will see White appearing at East London's Rough Trade East for an acoustic performance and signing, followed later this evening by a sold-out show at Islington's intimate Union Chapel. Tomorrow, July 23, White will perform three separate solo acoustic sets at Third Man London's Blue Basement.
Sound Kodz elevate the vibe with new single "Open Your Eyes"
Today, Sound Kodz are excited to release their new single, "Open Your Eyes". With an old-school hip-hop beat that harkens back to the genre's golden age, "Open Your Eyes" is both a relaxant and a call to arms, encouraging the listener to be socially conscious and uplifted at the same time. The group also dropped the music video for "Open Your Eyes", which you can watch HERE.
ARIZONA ZERVAS TEAMS UP WITH RICH THE KID ON "HOLY TRINITY"
Arizona Zervas has steadily been releasing music since 2016 and has played more than 50 shows across the U.S. The explosive "ROXANNE" took off meteorically in late 2019 and was topping Spotify's U.S. Top 50 chart just a few weeks after release, before Zervas joined the Columbia Records family. "ROXANNE" is the first track by an unsigned, fully independent artist to top the chart since the beginning of 2017 – the earliest date on Spotify's online archive.
Press Release: Hulvey's New Single "Beautiful"
The Reach Records melodic wunderkind slides through the hills of Los Angeles, accompanied by a choir to score a beautiful depiction of a young man's journey to find his place despite a lack of peace within his surroundings. In the music video for "Beautiful," a truly cinematic art piece directed by Ade Adesina, the main character of the story overcomes spiritual hurdles as the video climaxes in a celebratory worship scene with Hulvey, the video's star, and the accompanying choir. "This video is really a film, it has layers and very interwoven parts. I'm very excited to take the viewers on a journey. Me and Ade fought our hardest to make it incredible.