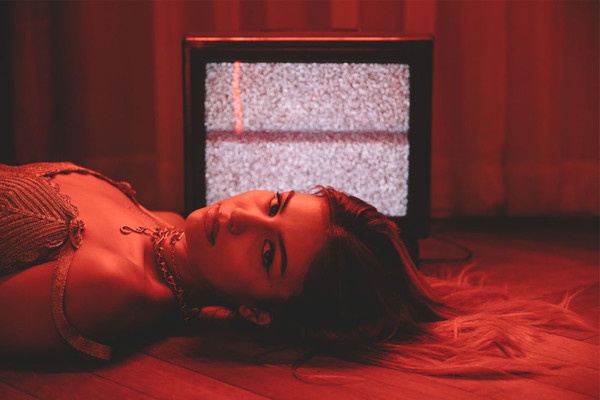 @skopemag news – thursday – may 19, 2022 @ 5 pm est
@skopemag HQ – http://smarturl.it/skope
Metal Warriors VICTORIUS Reveal New Single "Mighty Magic Mammoth" + Official Video
Mighty dinosaurs fight to protect mankind from being enslaved by the ninja warriors as German space warriors VICTORIUS enter the next round of their ongoing battle against the evil space ninja clan, Sunbladers! Today, they are joined by a "Mighty Magic Mammoth" to fight for the good of all humanity. The track features an epic soundscape, as well as powerful drums, guitar riffs and strong vocals that lead to an anthemic chorus. With their forces combined, the dinosaurs continue their mission to save the human race!
Introducing DAGR with "Caravan feat. Portugal. The Man": flamethrowers & good times
Both incredible producers in their own right, working closely with Rebecca Black, Girlpool, King Princess, UPSAHL, Uffie, and more, the two queer-identifying producers are now focusing their attention on creating their own sound as DAGR, playing off of the inherent understanding between them. Ceci and Veronika were born a day apart deep in the Texas suburbs, yet their paths never crossed until they joined forces in a different kind of desert suburbia producing and writing for other artists in Los Angeles – true kismet, DAGR were meant to come together to create these absolute club bangers.
Lupe Fiasco Announces 6/24 'DRILL MUSIC IN ZION' Album, Shares First Single "AUTOBOTO"
Twisting and contorting the English language to fit the meter and his every whim, Lupe Fiasco uses his superb lyrical skill to process the changing world in which he lives. Drawing connections between the concrete and spiritual in his hometown of Chicago, Lupe announces DRILL MUSIC IN ZION, his next album. The product of a burst of thoughtful spontaneity, Lupe created the new album over a short period, diving into a folder of beats sent by his longtime producer Soundtrakk and emerging with a fully-realized album in just three days. "Soundtrakk is the swordmaker, I'm the samurai," says Lupe. "He's the mechanic, and I'm the driver." Armed with Soundtrakk's soulful sounds, Lupe creates a focused statement that reflects on the past and paves a way forward, preaching strength through mindfulness and self-sustaining community. DRILL MUSIC IN ZION arrives on June 24th via 1st & 15th/Thirty Tigers.
George FitzGerald Announces New Album 'Stellar Drifting' and unveils new single "Cold"
Today, electronic music mainstay George FitzGerald announces his third studio album Stellar Drifting, out on September 2. Marrying rich electronic pop melodies with club rhythms and the bass weight of UK dance music, Stellar Drifting sees FitzGerald continue to explore new avenues in electronic music.
OHP Twists AMY WINHOUSE Pop Classic "Rehab" into Heavy Metal Anthem!
Spacey Jane share dreamy "Hardlight"; 'Here Comes Everybody' LP out 6/24
"Hardlight" is another Spacey Jane epic, telling a story we all know in some capacity or another. Set to a backdrop of pristine drums pushing wandering guitars along a briskly, uplifting pace, the backing vocals are like the air you're forced to breathe in a little deeper while running, dancing, kissing, crying… Of the new track, guitarist Caleb Harper shares, "I wrote this song about how I was feeling like my life was a bit like one of those nightmares where you're at school with no pants except I used the metaphor of being on set and forgetting all of your lines (because it felt less silly). I guess it's about anxiety but also just having no idea what I'm doing even though I want it to look like I really do."
La Luz Announces "Endless Afternoon" b/w "San Fernando Shadow Blues" 7" Available Physically on July 7th via Hardly Art
On the heels of their critically acclaimed self-titled record, La Luz has announced the release of a new single entitled "Endless Afternoon," available today worldwide on all DSPs. Shana Cleveland of La Luz says that "Endless Afternoon" is a "California lullaby. The melody for this song came to me while I was hiking in the hills above the Yuba River. About the sweetness found in slow days close to home." This song is the a-side of a physical 7″ that is b/w the track "San Fernando Shadow Blues" (available digitally on June 14th) with both songs physically available on July 7th via Hardly Art. You can pre-order this 7″ via the Hardly Art MiniMart and Bandcamp.
HUXLEY Reveals Official Music Video for Intimate New Single, "Flesh and Bone"!
New Jersey based, heavy rock band HUXLEY has released the official music video for their newest single, "Flesh and Bone." Directed and Edited by Tom Flynn, "Flesh and Bone" showcases the New Jersey rock darlings penchant for passionate vocals backed by superior songwriting and instrumentation.
Will Joseph Cook releases infectious new single "BOP" from new album 'Every Single Thing'
Will Joseph Cook makes music that will put a smile on your face. The indie-pop darling's third album, Every Single Thing, is an exercise in joy: a collection of unashamed love songs, and a bubbling and exuberant reminder to cherish the present. The album's ten meticulously crafted tracks are a celebration of love that acknowledges the often-tumultuous journey that life can take us on.
Larkin Poe release fiery first single, "Bad Spell"; announce new album
Larkin Poe – the GRAMMY® Award-nominated duo of Georgia-bred, Nashville-based multi-instrumentalist sisters Rebecca and Megan Lovell – is back with the ferocious new single, "Bad Spell," available now at all DSPs and streaming services. An official music video premieres today via YouTube. "Bad Spell" marks the first single from Larkin Poe's highly anticipated sixth studio album, Blood Harmony, due via their own Tricki-Woo Records on Friday, November 11. Pre-orders are available now.
The Soft Hills announce new album Viva Chi Vede – psych/folk pop
The Soft Hills is the musical adventure of singer-songwriter Garrett Hobba. With an appreciation for experimentation and harmony, Hobba's songs draw from a wide range of influences from folk to psychedelic to ambient. Compositionally, the music utilizes a diverse palette of colors, blending together reverbed guitars with moog textures, fuzzy riffs with mellotrons, lyrical bass lines against thunderous drums and delicate pedal steel weaving around vocals to create lush collages of sound.
LUMINOUS VAULT: Animate The Emptiness By NYC Industrial Black Metal Duo With Members Of Artificial Brain, Aeviterne, And Oneirogen Now Streaming; LP Sees Release Tomorrow Via Profound Lore Records
LUMINOUS VAULT guitarist/vocalist Mario Diaz de Leon and bassist/vocalist Samuel Smith follow up their 2017 EP "Charismata" with a vibrant fusion of black, death, and electronic music, expressed with an intensity surpassing that of the band's past efforts.
The Scarlet Goodbye Release New Single "Angel Dust" via TLG/INgrooves
The Scarlet Goodbye, featuring Dan Murphy (Soul Asylum/Golden Smog) and singer/producer Jeff Arundel, released their new single "Angel Dust" via Epochal Artist Records/TLG/INgrooves. The single is from their new album Say Hello to The Scarlet Goodbye due out later this year.
KENT JAMZ DROPS "ALL THE SMOCE" FEATURING GOODJOON
Mobley Releases "themesong" | Stream & Watch Official Video Now
"themesong is about someone who's fed up with the way things are, as he becomes convinced that the corrupt systems shaping his world are irredeemable," said Mobley. "In the video, we meet this man as that frustration drives him to take action to help the people around him. The masked Robin Hood figure of the video is the protagonist of a larger story I'll be telling on my upcoming record."
Swiss alternative/prog/psych "variété" band La Bande à Joe unveiled new music video "Rire clavecin"
About 4 years the album 'Solstices', Swiss alternative/prog/psych "variété" five-piece La Bande à Joe is about to unveil their third full-length record called 'Chrones' – inspired by the book La Horde du Contrevent d'Alain Damasio – and planned for a release on LP & digital on June 10th through Table Basse Records (Orme, Basalte, Kalkas,…).
TODAY Hardcore outfit GET THE SHOT declare vengeance on furious video/single "Deathbound"
Pulling off a sound akin to 90's hardcore bands like Strife and Ringworm while incorporating elements of 80's trash metal, "Deathbound" (feat. Rob Watson) is the band's primitive answer to years of accumulated hatred towards the lowest forms of humankind that crossed their way. The new single is all about vengeance, a cathartic attempt to give sense to this anger while turning it into self-elevating power rather than decadent weakness.
WITNESSES Release "Borgo Pass" Lyric Video
WITNESSES, the cross-genre project of multi instrumentalist Greg Schwan, has released a lyric video for his single "Borgo Pass". The track is from the upcoming The Holy Water EP which will release on July 15th, 2022.
GRAVE BATHERS: Philadelphia Psychedelic Doom Practitioners Featuring Members Of Yatra And Heavy Temple To Release Rock 'N' Roll Fetish Debut Via Seeing Red Records August 5th; Album Trailer Posted
GRAVE BATHERS have been decimating audiences with high decibel, high energy live performances since their formation in 2018 and quickly gained notoriety with their ambitious Feathered Serpent/Death Hand 7" EP released via Seeing Red Records in 2020. Upon first listen, The Sleeping Shaman hailed the band's, "epic riffs, piercing Robert Plant vocals, tales of outlaws and bloodshed, all above some truly gorgeous bass work," while Doomed And Stoned lauded "a sound that shuffles well with the rockier side of Pentagram, Black Sabbath, and Portland street doomers R.I.P." Added Metal Temple, "GRAVE BATHERS' EP is the epitome of doom metal, and resembles every corner of the atmosphere through their clouded movements… the EP deserves a listen through the graveyard." The band's authentic blend of bombastic boogie, booty shaking hard rock, heavy psych, and episodic doom earned them both critical acclaim and the momentum to pick up endorsements by Orange Amplifiers and Ampturco Guitar Werks.
Foals Share Their New Song & Video "2001"
'2001' elevates the disco and funk influences that permeate Foals' recent tracks 'Wake Me Up', '2am' and 'Looking High'. Yannis Philippakis's falsetto soars as high as the sky he references in the song's opening lyrics, accompanied by a riff that bounces with groove and precision, and a popping P-funk bassline. While '2001' finds Foals stepping boldly into the most electrifying example of their new sound, lyrically it's pure reflection.
TAKE THAT'S MARK OWEN RETURNS WITH BRAND NEW MUSIC
Mark's distinctive vocals drive "You Only Want Me" layered over upbeat instrumentation and a rousing chorus with the end result a punchy, singalong pop track. The track was written by Mark and Will Bloomfield (The Vaccines, Freya Ridings, Tom Grennan, Holly Humberstone) and was produced by Jennifer Decilveo (Miley Cyrus, Marina, Anne-Marie, Demi Lovato).
Kolohe Kai To Release New Album "Hazel Eyes" on June 3rd
Island Reggae sensation Kolohe Kai is due to release his highly-anticipated studio album "Hazel Eyes" on June 3rd. Kicking off the summer, Kolohe Kai delivers a surf friendly, heavy-in-love, piece of art. Along with the album, Kolohe Kai is proud to announce his upcoming "Hazel Eyes" Tour in September 2022.
Lojay & Sarz Recruit Chris Brown for "Monalisa" Remix
With over 100 million streams to date, it's safe to say that "Monalisa" became something of a cultural phenomenon last year. The track not only won applause from the likes of The Face, HYPEBEAST, and The FADER — where it ranked No. 30 on their 100 Best Songs of 2021 list — but it also became the 5th most streamed song across Nigeria last year. Meanwhile, the track demonstrated its massive transatlantic reach by peaking at No. 1 on Shazam's Global Afrobeats chart and within the top 10 on both the US and UK Official Afrobeats charts.
APEIRON BOUND Release Video For "My Sweet Stockholm"
Prog metal band APEIRON BOUND have released a video for their song "My Sweet Stockholm". The track is from their new album Multiplicity which will release via Layered Reality Productions on August 26th, 2022.
MORTAL THRALL: New Noise Magazine Debuts A Path To Fire Full-Length From Baroque-Influenced Post-Black Metal Duo; Record To Drop This Friday Via Trepanation Recordings
Influenced by the likes of Blut Aus Nord, Bathory, Liturgy, Katatonia, Kauan, and Alcest, as well as post-rock acts like Shiner, Hum, and Dead Now, and featuring a sterling drum performance by Jack Blackburn (Chaos Moon, Skáphe, Gardsghastr), A Path To Fire is a strikingly elaborate, richly-layered debut. The eight-track offering was recorded in Seattle, Houston, and Murfreesboro/Nashville, mixed by Mike Low (Inferi, Oubliette, Arkaik, Enfold Darkness), and mastered by Zak Denham at One By One Studios. The record comes cloaked in the outstanding cover art of Caelan Stokkermans.
Big Moochie Grape Flexes Heavy in "Never Had Sh*t" Video
Growing up in rough and tumble East Memphis, Big Moochie Grape needed to hustle hard to escape the circumstances of his birth. Recounting his rise from squalor to baller, Moochie shares "Never Had Sh*t," his new video single. Produced by Bandplay, who layers sliding bass and twinkling keys over hard-hitting 808s and snares, "Never Had Sh*t" finds Moochie locked in, marveling at how far he's come and celebrating his status as the People's Champ of Memphis: "Come to my hood, they treat me like I'm Jesus/And I keep me a bunch of disciples." In the video, Moochie relaxes with a bevy of baddies in a Hollywood mansion and practices his golf game. Coming hot on the heels of last week's "I'm The One," "Never Had Sh*t" is the latest release from East Haiti Baby, Moochie's next mixtape, coming May 27th via Paper Route Empire.
Israeli alt-pop artist Gali Givon returns today with a double single release – 'Scared' and 'Lolita' – the latter a co-write with Noga Erez & Ori Rousso + horror-movie inspired video for 'Scared'
Following on from the enormous praise for her genre-bending debut single 'Show Me Love' earlier this year, which was supported by the likes of Wonderland, Earmilk, and Record Of The Day, as well as landing on seven New Music Daily playlists on Apple Music and onto every major pop playlist around the world, fast-rising Israeli artist Gali Givon returns once again with her vibrant double A-side release 'Scared' + 'Lolita'.