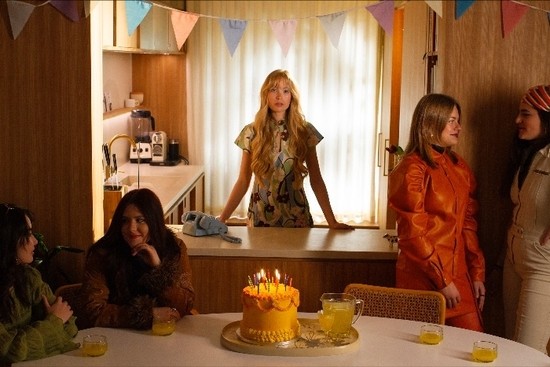 @skopemag news – thursday – may 20, 2022 @ 12 pm est
@skopemag HQ – http://smarturl.it/skope
SECRETS share ferocious new video "Get Outta My Head"
"Get Outta My Head" is a caustic tour-de-force of metalcore fury that is equal parts aggressive and emotive. Angular riffs weave in and out of each other building to an explosive crescendo supported by a brutally heavy groove. Powerhouse vocals courtesy of the bands dual frontmen juxtapose soaring melodies against anguished and guttural screams, delivering lyrics with chilling effect. The official music video is a gritty, cinematic snapshot of the bands ferocious stage energy mixed with a narrative that lends a compelling visual element to the song, you can view it here.
Jeremie Albino Releases Visual For "Buck" | 'Past Dawn' EP Out Now
A.M. Boys Share "Give Me Time" Single + Lyric Video via Cool Hunting | 'Distance Decay' LP Out June 3
Today, A.M. Boys (John Blonde and Chris Moore) share "Give Me Time," the third single off their forthcoming debut album, Distance Decay (out June 3), alongside an accompanying lyric video.
"'Give Me Time' started as a live improv during an after party at our recording studio, Glowmatic Sound. Chris' beat got everyone moving. I had lyrics in a journal and they fit well into the groove right away," said Blonde. "I think it's a song about resilience and patience. When we recorded the album version, I added the final lyrics. I had recently read a short story by Truman Capote that inspired a line in the second verse. Specifically to A.M. Boys, as long as we stay curious we have everything."
PREDATORY LIGHT: Death And The Twilight Hours LP By Southwestern Black Metal Entity Now Streaming In Its Entirety; Album Sees Release Via 20 Buck Spin This Friday
Hail horrors! After six years in deathlike repose, PREDATORY LIGHT returns. From beneath churchyard stones, the bare, ruined choir sets forth to drape the world in its nocturnal lightings. Once again established in the spiritual desert of the Southwest, the devil's quartet has been reanimated by the same infernal regents that compose the deadly Superstition, and one also holding rank in Vanum. As a result, the four musicians that conceived The Anatomy of Unholy Transformation, in PREDATORY LIGHT, delve into far bleaker corners of their dark twisting subconscious.
Pitchfork-acclaimed Los Angeles-based, Neo-soul Band Asiatica Announce "*sigh* Nevermind," via FLOOD Magazine
The band has also grown into 4 members. Asia (Lead singer) met Chailatay (Drummer/Producer) at a show they were both performing at. Tay loved what Asia had going on so he asked her if he could join the band. Chailatay is a Grammy Award winning artist. He has worked with Intellexual, Tobi Lu, Chance the Rapper, Zack Villere and Yellowdaze. He was a great addition to the band, a very talented and well rounded musician. Chailatay was working with the incredible, young pianist named Stephan who Asia went to school with. A lot of her friends worked with him and Chailatay convinced her to work with him as well. Asia loved the sounds that Stephan added to the music they were making. She never met anyone that could play so well. So naturally, he was added to the band. The last to join was bassist Nigel Fregozo. Nigel and Stephan played in a band together. They both were leaving that band and Nigel did not know where to go. Stephan told Nigel about Asiatica. Nigel is one of the sickest bass players of his generation. There is no doubt about it. So of course he was a great fit. All these talented musicians make up the talented band that is Asiatica.
JEEN Shares New Single "On and On"
JEEN has entered the 2020s with boots firmly planted in the current musical landscape. JEEN (2020), Dog Bite (2021) and the forthcoming new album, Tracer (set for release in October 2022), could be a trilogy of sorts. A strong reflective collection and a call on song to navigate these last couple of years. On Tracer, there is a more vulnerable and fragile quality to JEEN's vocals. Both warmer and less angular. Perhaps affected by past experience, perhaps intentional. Whichever way, one can't argue how intimate a space she creates on this record, vocally and sonically.
ELLE KING AND DIERKS BENTLEY BRING THE WILD WEST TO NASHVILLE IN NEW "WORTH A SHOT" OFFICIAL MUSIC VIDEO
The concept was created and written by King, who collaborated with directors Stephen Kinigopoulos and Alexa Stone (Running Bear Films). Filmed Murfreesboro, TN, the video flashes back to the Wild West in the late 1800s where King and Bentley star as husband-and-wife characters. With wanted signs, a liquor-filled saloon, and a shot for shot duel, the cinematic video is an unexpected take on the "highly engaging" (MusicRow) tune.
RISING R&B SINGER-SONGWRITER THUY PARTNERS WITH SPOTIFY SERIES "SPOTIFY SINGLES"
Today, rising R&B singer-songwriter thuy partners with Spotify for their original recording series Spotify Singles. Tying in with AAPI month, Vietnamese-American thuy puts a twist on her hit track "universe" off her highly acclaimed EP "i hope u see this." She also covers one of her favorite 90's R&B tracks "So Into You" by Tamia.
Symphonic Metal Quintet GRAVESHADOW Unveil Video for 'The Swordsman'
FKJ & TORO Y MOI SHARE NEW SONG "A MOMENT OF MYSTERY"
French born, SE Asia-based artist and producer FKJ (French Kiwi Juice) today releases the third new single, "A Moment of Mystery," featuring Toro y Moi, from his upcoming album V I N C E N T, out June 10 via Mom + Pop. The highlight track is another exciting glimpse into the world of FKJ's second studio album, building on the ethereal elements synonymous with his sound and visuals. "A Moment of Mystery" provides an ample canvas for Toro y Moi and FKJ's tremendous capabilities, providing a lush bed of spacey synths that make room for free-flowing piano and layered vocals. The track follows recent releases "Way Out" and "Greener" -the latter a collaboration featuring legendary guitarist Carlos Santana, which amassed over 1M views on YouTube in under two weeks.
Metric release new track 'Doomscroller' taken from forthcoming album 'Formentera' & unveil album's tracklisting…
The "Doomscroller" video is the next piece in Metric's ongoing collaboration with photographer/visual artist Justin Broadbent. "Justin captured rare studio footage of the recording of 'Doomscroller' and we used it like a visual anchor, as evocative places outside the room keep creeping in," says the band's Emily Haines. "These traces of life on earth that appear and disappear throughout the song subtly mirror the shifting moods of the music."
SPACEY JANE share new single 'Hardlight' | New album 'Here Comes Everybody' out June 24
'Hardlight' was given it's debut on BBC Radio1 with Jack Saunders, and says vocalist and guitarist Caleb Harper of the track: "I wrote this song about how I was feeling like my life was a bit like one of those nightmares where you're at school with no pants except I used the metaphor of being on set and forgetting all of your lines (because it felt less silly). I guess it's about anxiety but also just having no idea what I'm doing even though I want it to look like I really do."
GUN – Release New Single "Backstreet Brothers" || Announce New Album 'Calton Songs' – Out 14 Oct
LEVi drops smooth new single 'Second To None'
Centring around LEVi's smooth, autotune vocals, 'Second To None' channels infectious dancehall vibes as he reflects on his new life in music. The accompanying official video features candid footage of him and his squad sitting around the dinner table. LEVi's first single release of the year, it will feature on his forthcoming debut mixtape DAAAANGER.
LARKIN POE SHARE THE NEW SINGLE 'BAD SPELL' & ANNOUNCE NEW ALBUM 'BLOOD HARMONY' WHICH FOLLOWS ON NOVEMBER 11TH
WATCH NOW – Call Me Loop Shares Official Video for New Single 'Pattern Of Behaviour'
Spielbergs announce new album 'Vestli' and share double A-side single 'When They Come For Me' / 'Get Lost'
Spielbergs are today announcing news of their new album, Vestli, and sharing a double A-side single release, "When They Come For Me" / "Get Lost". Vestli – out Aug 19th via new label home Big Scary Monsters – is the follow-up to their acclaimed debut album This Is Not The End and sees them unite once more with producer Tord Øverland-Knutsen.
MAYA LANE SHARES THE OFFICIAL VIDEO TO HER NEW SINGLE 'CHILDISH GAMES' WATCH IT HERE
Directed by Melody Berkery and filmed in London, Maya comments, "I had the most amazing time filming the 'Childish Games' music video. We had an incredible team who helped bring my vision of a 70s Gucci inspired party to life. We shot the video in a 60s/70s mid century modern location house and then in a garden. I was lucky enough to have some of my closest friends acting in it, making it even more special. Getting to live out our childhood dream of having a food fight was so much fun!
Dublin experimental producer lullahush shares new video 'Our Glass Lake'
KORN SHARES NEW LIVE SINGLE FROM REQUIEM MASS EVENT PERFORMANCE
Following the release of their their highly anticipated studio album Requiem via Loma Vista Recordings and their global Requiem Mass event with an intimate ceremony and epic live performance at the Hollywood United Methodist Church in Los Angeles earlier this year, Korn shares a new live single from the event's recordings "Worst Is On Its Way (Requiem Mass)." Korn also recently shared a new video for "Worst Is on Its Way" directed by Craig Bernard and Culley Bunker. The visual shows the band's high energy performance of the song in greyscale as individual members of the band are decomposed into animated particles with a series of visual effects.