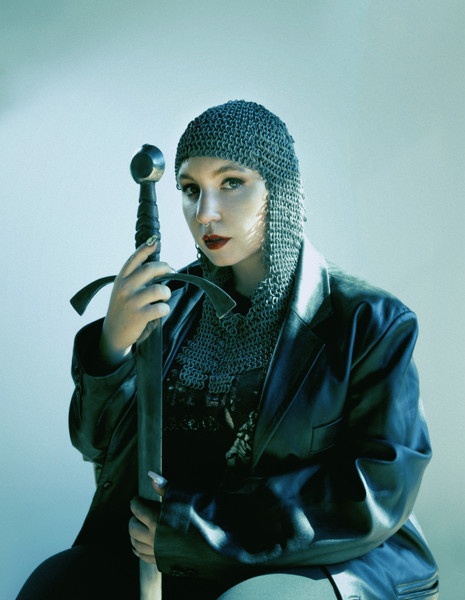 @skopemag news – tuesday – april 19, 2022 @ 6 am est
@skopemag HQ – http://smarturl.it/skope
SE UNEN DOS LEYENDAS: ORQUESTA ARAGON Y OSCAR DE LEON CON "PARAM, PAM, PAM"
Por primera vez se unen en una colaboración el "León de la Salsa", Oscar De Leon, y la orquesta de música tradicional cubana más importante a nivel internacional, Orquesta Aragon. Esta colaboración esta pendiente hace años, ya que la admiración mutua siempre ha existido entre estos grandes de la música tropical.
Mai Moxi Combats 'Imposter Syndrome' With New Visual
Cleveland, OH native Mai Moxi expresses her triumph over dealing with Imposter Syndrome with the colorful release of her interlude with the same name – due Monday, April 18th.
VALLEY OF THE SUN: new video "Devil I've Become" available!
Ohio heavy rockers VALLEY OF THE SUN present the second single and video taken from their new album "The Chariot", to be issued on June 17th via Ripple Music and Fuzzorama Records. Get caught in the sonic hurricane of "Devil I've Become" now!
LUMINOUS VAULT Releases "Ancient North" Single; Animate The Emptiness LP From NYC Duo With Members Of Artificial Brain, Aeviterne, Oneirogen Nears Release Through Profound Lore Records
New York City-based LUMINOUS VAULT prepares to release their debut LP, Animate The Emptiness, through Profound Lore Records in May, presenting a bold and unique hybrid of black/death metal and electronic music. Today, the group offers their latest single from the record, "Ancient North."
OUT NOW: Kayla Thompson's Somber Alt-pop Single "The Remains" [Heartbreak, Young Love]
Rapidly rising alt-pop phenom Kayla Thompson just released her newest single, "The Remains," this passed Friday. The track explores the full scope of emotions inherent to parting ways with a former lover through Thompson's angelic vocals, melancholy steeped lyrics, and cascading alt-pop instrumentation.
SWEDISH HOUSE MAFIA EXPANDS TOUR, ANNOUNCES SUPPORT ACTS
Global supergroup Swedish House Mafia, the trio of Steve Angello, Sebastian Ingrosso, and Axwell, have just expanded their Live Nation produced PARADISE AGAIN Tour behind their long awaited debut full length Paradise Again, including the addition of new dates in Los Angeles at Banc of California Stadium, two shows in New York City at Madison Square Garden, and an additional date at San Francisco's Chase Center. They've also announced a diverse cadre of support acts for the global run, a potent cross-section of the forefront of electronic music that includes Alesso, ZHU, Grimes, Vintage Culture, and Kaytranada –
BELUSHI SPEED BALL Reveals Video For "Ripping Off Municipal Waste"
The Louisville, KY, based thrash metal outfit, BELUSHI SPEED BALL, have revealed a new lyric video for their track "Ripping Off Municipal Waste". Taken from the upcoming album What Us, Worry?, the band's wild antics are being transported from the theatrics of the stage onto the beloved Nintendo 64.
MNRVA Unleash Mind-Bending Video For Lead Single, "Hollow"
Doom metal band MNRVA are streaming the new video for the title track from their upcoming album Hollow. The album will be released on May 20th, 2022 on all digital platforms.
Guitarist/Vocalist Byron Hawk shared his enthusiasm for the video, "Can't wait for people to see our video for Hollow. It's cut together by indie filmmaker Anthony Stagliano from his film Fade and really captures the mood and flow of the song and what it might feel like to lose your sense of self. It's both dark and chaotic."
DROP TOP ALIBI RELEASE "DYSLONG"
Drop Top Alibi have released their new single/video "Dyslong". "This is a new era for the band," says Brandon Gregory. "This period of isolation all of us went through globally really opened us up to exploring. It showed us who we were as musicians and as a band. We are sitting on a ton of new material and are ready to share "Dyslong" and more with you!" With a collective mindset and spirit of determining renewal, Drop Top Alibi have leveled up with their new material and plan on taking their music to their listeners and hitting the road soon!
Synth pop artist Forgetmyname shares music video for "Complex"
Today Forgetmyname, the musical project of singer / songwriter Nicole Morales, has released the music video for her debut single "Complex". "Complex" has already made an impact as a standalone single, featured in new music playlists from outlets including NPR, Consequence, and Ones To Watch, but the narrative and emotions of the song are heightened to another level by the music video. Premiering yesterday exclusively via V13, the music video for "Complex" depicts Nicole as a spurned lover watching helplessly while someone she cared about moves on with someone else, left wondering to herself "what can I do to make you feel this way?".
Indii G. Announces New EP & Drops New Single "Dancing With Your Silhouette"
Today, rising rapper/producer/multi-instrumentalist Indii G. announces the release of his new EP "Riverhouse" set for digital release on May 6th. In celebration of the announcement, he also shares an intimate new single called "Dancing With Your Silhouette" alongside a cinematic black & white music video mirroring the emotionally raw nature of the track.
JoJo Worthington Shares New Single "The Divide"
The space between opposite opinions can seem so huge. I think we've really thrown it out of proportion. We should still be able to converse, respect and ultimately agree to disagree when it comes to most topics. It just felt like the news and social media just wanted to continue driving this huge divide between political identities.
You know in movies when there's an earthquake and the earth splits open and it separates the protagonist and the love interest and then sometimes you see people fall in the gap? It's kinda about the people in the gap and trying to find a home there. – JoJo Worthington
LEO MAIA Releases Progressive Debut Single "Pneumothorax"
"Pneumothorax" is the dynamic debut offering from progressive rock/metal artist LEO MAIA. With a distinctive style rooted in vintage '70s prog influences, blended with post-rock and spiced up with heavy metal riffs, the Brazilian composer, now based out of Vancouver, BC, Canada is beginning his musical journey with a stunning release.
Maliibu Miitch Drops Personal Track & Video "Letter To My Ex"
Maliibu Miitch releases her first track of 2022 today, and "Letter To My Ex" is a highly personal song for the Bronx rapper. It lays out what happens when a relationship sours beyond repair.
Maliibu says, "Relationships have many facets. I've written about the good ones, and here is the other side of that."
AltRock/Pop Band ATRON Release Official Music Video for Single "They Don't Care About Us Now"
Ariel Arbisser's Electropop Single "Bloodshed" Embraces Our Own Duality
"'Bloodshed' is all about embracing one's own duality and even dark side. And the song paints that picture in detail and broad brush strokes. That all sounds dark but trust me… it was fun to write and record. And of course embracing your dark side can be fun. 'Bloodshed' channels all of that."
SEEKING SIRENS To Release Departing Ways EP
Hot on the heels of successfully releasing two singles last year, North Carolina metalcore band SEEKING SIRENS will release their debut EP Departing Ways on June 3, 2022.
Forever Honey Shares Video for "Number One Fan" via Under the Radar, "Number One Fan" Out Now Via Better Company Records
Following up on their single release, Brooklyn janglepop outfit Forever Honey share the accompanying music video for "Number One Fan." Under the Radar premiered the video praising their "trademark airy springtime feels." "Number One Fan" is now out everywhere via Better Company Records.
SoCal punks Death Lens share caustic new album No Luck, announce tour with Forever Came Calling
The bands new album is propelled by the hype surrounding singles "Abrupt", "DAEMON" and "Not Impressed", all of which received official playlist placements from Spotify, Apple Music, Tidal and Amazon Music along with airplay on MTVU, Sirius XM, Idobi Radio and television shows like Rob Dyrdek's Ridiculousness.
LOCUST GROVE Releases Official Music Video for Title Track of Debut LP, 'Battle of Locust,' Out June 3, 2022!
Oklahoma City, OK based Hard Rock band LOCUST GROVE has released the official music video for the title song off of their upcoming, debut LP, The Battle of Locust. The second single, "The Battle of Locust" was directed by Plains Media LLC at Cactus Jacks Pinball.
Ravive Premieres "Built To Be Sad" Music Video
Following the release of her debut EP "Trauma Response," the music video for "Built To Be Sad" represents how Ravive internalized learning about her mental health genetics. The video, which was filmed by Christian Lawrence, plays with dark colors and an emotive performance to express Ravive's feelings towards depression and anxiety. Turning her pain into art, she created her debut EP "Trauma Response" as a means of therapy.
Gabriella Marinaro Shares Music Video for "Goodnight Moon" Single Via EARMILK + Read Mundane, VENTS, ​V13 Features, "Inner Space" EP Out May 6
Los Angeles based singer-songwriter Gabriella Marinaro has announced her debut EP INNER SPACE with lead single "Goodnight Moon". The track is about letting that person know that it's over – only to be pulled back in. This song reflects the triumphant feeling of freeing yourself from toxicity and regaining your individualism and freedom. When you let that person know you are no longer happy and that you know it's over, you take back your power.
COMA HOLE Stream Entirety Of Self-Titled Debut EP At Metal Injection
COMA HOLE are streaming the entirety of their debut self-titled EP over at Metal Injection. The EP will be released this Friday on all streaming platforms.
The band comments:
"We are beyond stoked to be releasing our debut EP Coma Hole. We've diligently worked on carving our own sound over the past three years, attempting to traverse through upbeat grooves, aggressive high-energy riffage, and incorporate some droning, heavily hypnotic melodies. The album focuses on the existential struggle of self worth, identity, and mortality, which is all woven tightly together through natural archetypes in the lyrical wordplay as well as the cover art. As only two people, we are a small band trying to craft a big sound and aspire to blend our dynamic and style seamlessly with our lyrical themes. Steve and I hope this collection of recordings hits every mark on the musical spectrum and is as enjoyable to listen to for others as it was for us to create it."
THE BEACH BOYS ANNOUNCE SUMMER TOUR DATES WITH THE TEMPTATIONS
Grammy® Award-winning, Rock & Roll Hall of Fame band The Beach Boys today announced August dates for their "Sixty Years of the Sounds of Summer" 2022 Tour featuring special guest The Temptations. Surf & Soul returns as the legendary artists will share the stage for six dates this summer including shows in Cincinnati, OH (August 16); Saratoga Springs, NY (August 18); Bridgeport, CT (August 19); Bethel, NY (August 25); and Chautauqua, NY (August 26). The Temptations will also join the previously announced show in Solomons, MD (August 20) alongside The Four Tops. Tickets for most dates go on sale Friday, April 22 at 10 AM Local Time. For a complete list of dates and local on-sale information please visit mikelove.com or thebeachboys.com.