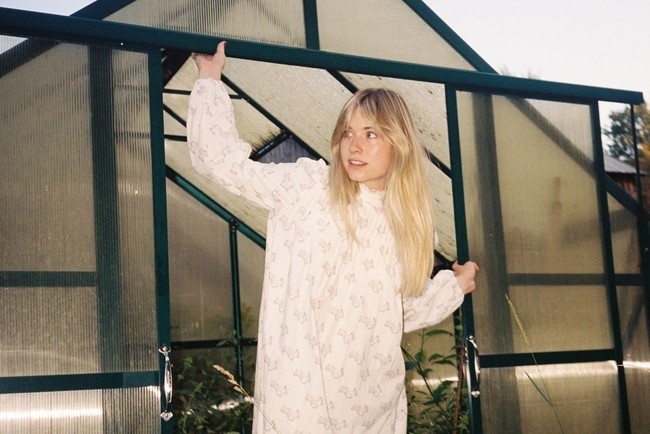 @skopemag news – tuesday – march 8, 2022 @ 2 pm est
@skopemag HQ – http://smarturl.it/skope
KETY FUSCO creates nightmares with new soundtrack 'Music To Make A Dream Come True'
Kety Fusco transports us to a new era, one of music to make dreams come true and the subversive sounds generated by her harp sound research. Music To Make A Dream Come True is an imaginary soundtrack composed by the Italian-Swiss harpist, to be released on all digital platforms on 4 March 2022 on the international label Floating Notes Records. This soundtrack is the result of a sampling of sounds from Fusco's harp, collected in a digital sound library named Beyond the Harp, Extreme Extended Experimental, available for artists, producers and art lovers on the musician's official website.
Listen to HUSHPUPPY's new song "Nervous," Zoë Brecher's New Single and Contributionto the Hardly Art Singles Series
HUSHPUPPY is the solo passion project of Zoë Brecher, a NYC-based musician. She is best known for her work as a drummer and has played with Palehound, Sad13, Oberhofer, Kalbells, Sammus, Bachelor, SASAMI, King Tuff and Oceanator, among others, and most recently with Benson Boone from American Idol.
ODDLAND release new video "Pathway"
Jeremy Ivey Shares Video For "Keep Me High", New Album 'Invisible Pictures' Out This Friday
Witty troubadour Jeremy Ivey has shared a lyric video for the new track "Keep Me High" today featuring a collage he created; a song about letting one woman go for another that treats you better, listen and watch below.
New derevolutions single – revive it
The Derevolutions revive their 2014 hit 'Bad King Kong' and turn it inside out. A little more chill and just as unique and catchy. Surf rock, hip hop, funk, pop, psychedelia.
"we don't want to revive it, we just have to survive it"
Power Metal Dwarves WIND ROSE Announce New Album & Reveal New Single
Boston Is 2022's 2nd Best City for St. Patrick's Day Celebrations – WalletHub Report
With St. Patrick's Day around the corner and at least $5.87 billion expected to be spent for the holiday this year, the personal-finance website WalletHub today released its report on 2022's Best Cities for St. Patrick's Day Celebrations, as well as accompanying videos and expert commentary. It also released stats about the holiday in its St. Patrick's Day infographic.
Mear's Triumphant Single "Second Sight" with Choreographed Video
"Some memories help propel us forward while others cling to us so tightly that they bind us in place." Mear shares about triumphant "Second Sight," their latest release from forthcoming album Soft Chains (April 22nd). "This song is about someone who is grappling with a memory that holds them back. It's about a confrontation and making it out on the other side."
SUNMI Releases EQUAL x Spotify Singles Track "Oh Sorry Ya" in Celebration of International Women's Day | New Single Out Now via Spotify
K-pop megastar SUMNI has partnered with Spotify to share her first new single of 2022, "Oh Sorry Ya." The single comes as part of Spotify's EQUAL initiative, which was instilled as a measure to uplift women in the music industry. SUNMI is the Asian representative of the new series of Spotify Singles to be released in celebration of Spotify's EQUAL initiative this year, and as part of their celebration of International Women's Day on March 8. This is also SUNMI's first track created with a team composed solely of women, including a female team of producers from England, LYRE.
KALEIDOBOLT Announce New Album 'This One Simple Trick' – Out May 6, 2022
Finland's own masters of frenzied Proto-metal, Kaleidobolt, bring the past up to date with a new album that perfectly elevates all the promise and flair their reputation has been boiling over since their 2015 debut album. 'This One Simple Trick' packs more punch than most bands with far larger lineups; the deadly trio of Sampo Kääriäinen (guitar, lead vocals, keyboard) and Marco Menestrina (bass, vocals, keyboards, percussions) are reinvigorated by recent new recruit, drummer Mårten Gustafsson.
French Post-Rock Band Autómata Sign With Epictronic And Announce Self-Titled Album "Autómata"
French post-rock discovery Autómata have signed a deal with Epictronic for their self-titled album "Autómata", which is due for release on April 1st, 2022.
Band statement:
We are thrilled to announce we've signed a deal with Epictronic! Post-rock, post-pop, post-progressive, post-metal, post something and pre any other thing: our first eponym album is dedicated to post-humans pre-disposed to embrace a chiaroscuro instrumental music that delivers a flammable cocktail of styles and emotions.
OUT NOW // Derby Newcomer K Harrison – 'Boss'
Featuring cool melodies, rap flows and an incredible singing voice, K Harrison is a refreshing addition to the current UK soundsphere with this brand-new track. Leaning on his vast experience of live performance and late-night studio sessions, his clarity and confident delivery sets him apart. Unafraid to flit between styles and add his own flair, the debut single is an insight into the contrasting sides that make up K Harrison and how he's already captivating the local scene in the Midlands.
GRAMMA VEDETTA Release New Song "Robots For War"
Stoner rockers GRAMMA VEDETTA are streaming their song "Robots For War" over at Outlaws of the Sun. The song is from their album The Hum of the Machine which is set to be released on May 27, 2022 via Mandrone Records.
VOICE OF BACEPROT returns on International Women's Day
During the second half of 2021, Voice Of Baceprot (VOB) staked their claim on international fame. They went viral, precipitated by the release of their single "God, Allow Me (Please) to Play Music" and their Fight Dream Believe European Tour 2021, which saw them perform in eight cities across Europe. Critical acclaim in North America and heated anticipation for more new music followed.
Hear Wet Tuna's "Kinda Feelin' Good" off his upcoming album, Warping All By Yourself, that's out April 8th Three Lobed Recordings
The kaleidoscopic sonic agriculture of Wet Tuna has long inhabited its own universe. Over the past five years, they have established themselves as one of the most forward thinking and anarchic of the many groups rethinking and reconceptualizing the notion of the "jam band," all the while frustrating critical attempts to slot the group's music into any scene, sound, or easily classifiable genre fad.
Frog Eyes Shares "I Was An Oligarch" Single + Lyric Video via Brooklyn Vegan | 'The Bees' LP Due April 29 via Paper Bag Records
Kate Bollinger Announces New EP Look At It In The Light. Listen to 'Who Am I But Someone'
Rising Virginia-based musician, Kate Bollinger, announces her new EP, Look at it in the Light, out April 22nd via Ghostly International. The new EP follows Bollinger's two previously independent EPs, impressive support dates with the likes of Jeff Tweedy, Faye Webster, Real Estate and more, and a very unexpected writing credit on Kanye West's 2021 track "Donda," which sampled Bollinger's 2019 song "Candy."
Automatic announce new album "Excess" and share lead single "New Beginning" | International touring announced with Parquet Courts, Tame Impala + Primavera Sound, Wide Awake Festival
On Excess, Automatic synthesizes a new strain of retrofuturist motorik pop. The album rides the imaginary edge where the '70s underground met the corporate culture of the '80s – or, as the band puts it, "That fleeting moment when what was once cool quickly turned and became mainstream, all for the sake of consumerism."
EMINEM BECOMES THE MOST CERTIFIED ARTIST FOR SINGLES IN RIAA GOLD & PLATINUM PROGRAM HISTORY
The Recording Industry Association of America (RIAA) today announced 73.5 million new Gold & Platinum Program certifications for Eminem. The Shady/Aftermath/Interscope artist is now the number one awarded musician for singles in the program's history and one of only seven artists in any genre or era with three or more Diamond Album Awards.
Eminem's combined six RIAA Diamond awards – three albums and three singles – vault him into music's stratosphere and cement his place as one of the most accomplished artists in history. With today's 73.5 million new award units, Eminem's RIAA Award career total is now 227.5 million – 166 million single certifications and 61.5 million album certifications.