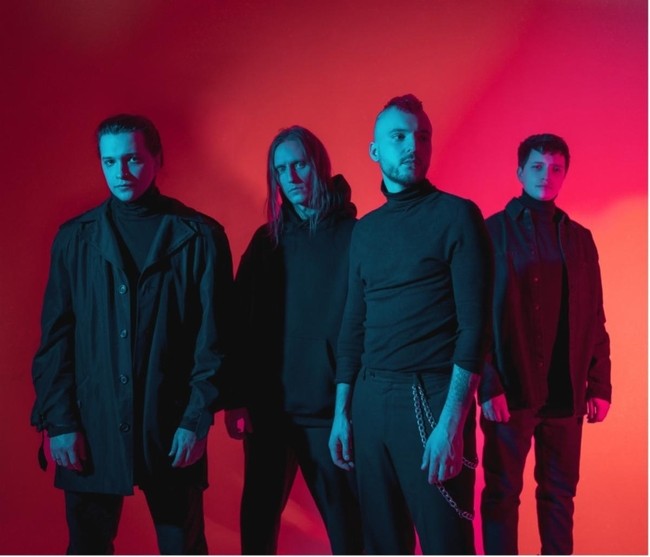 @skopemag news – tuesay – march 8, 2022 @ 12 pm est
@skopemag HQ – http://smarturl.it/skope
BRELAND releases new single 'Praise The Lord (feat. Thomas Rhett)
Hailed as "a streaming-music star" by Rolling Stone, BRELAND has been named a Breakthrough Artist for Amazon Music. He joins the short list of artists earning this coveted all-genre nod aimed at "amplifying and championing" the best new talent. Only the second Country artist in the program's history, previous Breakthrough Artists include Gabby Barrett, Blxst, Remi Wolf, Arlo Parks, and more.
SUNFLOWER BEAN – Shares New Single "Roll The Dice" | New album: 'Headful of Sugar' out 6 May
New York trio Sunflower Bean—vocalist and bassist Julia Cumming (she/her), guitarist and vocalist Nick Kivlen (he/him), and drummer Olive Faber (she/they)—recently announced their long-awaited new album, Headful of Sugar. The band previewed the record with "Baby Don't Cry" and lead single "Who Put You Up to This?"
William Poyer releases new EP 'Forgiven'
The Forgiven EP is a magnificent collection of songs, delivered with delicate honesty and truth. The title track offers an earnest introduction to the new EP where he showcases the heartfelt songwriting on display throughout the record alongside rich acoustic guitar blending into electric blues licks, among soulful organ keys and vocal harmonies.
M FIELD shares new song "Hyenas"
It came as no surprise that M Field's debut solo EP, which arrived in September last year, received support at the highest level. Radio 1, 6 Music, NPR, DIY, Clash, The Line of Best Fit, Crack Magazine, Times, Sunday Times, The Independent all got behind it, his track "Andrew" was rated no.22 in Fader's best songs of the 2021 and Pitchfork suggested that "the brief excursion suggests that Field has brilliant corners yet to turn".
Ukrainian Metal Unit SPACE OF VARIATIONS Moves "IMAGO" Album Release Date Due to War in Home Country
Due to the ongoing war in their homeland of Ukraine, metalcore unit SPACE OF VARIATIONS have made the difficult decision to delay the release of their upcoming album, IMAGO, to May 20, 2022. The album, which was originally due out March 18, features the already-released singles "vein.mp3" and "SOMEONE ELSE".
Finnish Progressive Metal band Sum of Seven released a new heavy single "The Enemy"
Sum Of Seven have released the new song The Enemy, a fascinating insight into the band's development since frontman Marko Loukamaa's arrival in summer 2021.
"The Enemy is a song that starts out fast and aggressive and really carries that momentum from start to finish," guitarist Ari Lempinen says. "It is one of the heaviest songs that we have made so far. When that intro explodes, you know that we're going somewhere fast. But at the same time, when the vocal melodies kick in, they steer the song into a different direction than you might expect, still carrying the aggressive momentum. That element of surprise is really what crowns the song for me."
JESSE MAC CORMACK – Shares New Single "NHFN" | New Album SOLO Out April 8th
"Losing freedom and privileges made me realize how great and important they were", describes Jesse. "Going through a hard time in a relationship and looking forward to happiness gave me purpose. It really helped me find what nourished me and made me stronger. Everything wasn't about passion anymore. I started thinking, taking good decisions for myself, and remembering what I wanted in the first place".
Banditos Return With Dynamic New Album RIGHT ON & New Single – Out May 20th on Egghunt Records
Right On is the result of significant shifts for Banditos in both sound and band structure. For starters, the group collectively decided that the electrifying Mary Beth Richardson would officially take on the role of lead singer, putting her incredible voice out front, as opposed to having two additional male lead vocalists in the past. Also, following the departure of their bassist, banjo player Stephen Pierce stepped in and became proficient on the instrument bringing new rhythmic styles to the group's sound thus allowing more space for creative exploration. Along with bandmates Corey Parsons (guitar), Randy Wade (drums) and Jeffery Salter (guitar), who round out a stellar band, Banditos have taken full advantage of the new dynamics, which is evident on "Here Tonight" and the previously released first single "On My Way".
Leyla McCalla Shares Track "You Don't Know Me", New Album 'Breaking The Thermometer' Out May 6
On its surface, Leyla McCalla's upcoming album 'Breaking The Thermometer' explores the legacy of Radio Haiti—Haiti's first radio station to report the news in Haitian Kreyòl, the voice of the people—as well as the journalists who risked and lost their lives to broadcast it for nearly 50 years. But on a more fundamental level, the collection is a deeply personal reckoning with memory and identity, with the roles of artists and activists and immigrants in modern society, with the very notion of storytelling itself.
Brooklyn's Oceanator releases new single and lyric video for "Stuck", out today!
"Stuck is about that feeling of all your collective traumas, disappointments, and general sadness just accumulating over the years and weighing you down more and more. I wrote this song the very first day I got my new baritone guitar. Bartees and Mike really helped me bring out the heaviness I was looking for with it in the studio, really helping me dial in a great guitar tone. We borrowed a double kick pedal for this song and Andrew Whitehurst nailed the drums. Eva Lawitts did the bass remote and I think the bass line is perfect."
PUSSY RIOT RELEASES "LAUGH IT OFF" FT VÉRITÉ & LATASHÁ ON NEON GOLD RECORDS + SXSW
Nadya Tolokonnikova elaborates on "Laugh It Off", released specifically on International Day of Gender Equality: "Women-identified and LGBTQ+ people don't need to be empowered, we need tools and funds to empower ourselves."
Hear Rosie Thomas along w/ Sufjan Stevens, The Shins & Josh Ottum cover Mariah Carey
"When you become a parent you see everything through a different lens. You suddenly notice the world has been littered with all manner of safety hazards; you marvel at the programming geniuses that run horror movie ads during cable reruns of Despicable Me; you realize The Handmaid's Tale is now thoroughly unwatchable, and in 90s pop songs you now hear reflections on both the lifelong love you have for your children, and the lifelong process of letting them go.
Oceanator shares new track 'Stuck'
Brooklyn artist Oceanator recently announced her sophomore album Nothing's Ever Fine, co-produced by Bartees Strange, due out April 8th via Big Scary Monsters / Polyvinyl. Today, she shares new track 'Stuck', which she says is "about that feeling of all your collective traumas, disappointments, and general sadness just accumulating over the years and weighing you down more and more."
Mia Baron Releases New Single "Rules Are Mine"
Her sixth original single, "Rules Are Mine," was written out of frustration when someone close to Mia was putting her second (while she always put them first) at a time when she really needed them to have her back. There was a turning point where Mia made a decision to put herself first and distanced herself from negative behaviour. That's when she started to care less about what others do and more about how she expects to be treated – something that evoked confidence and power.