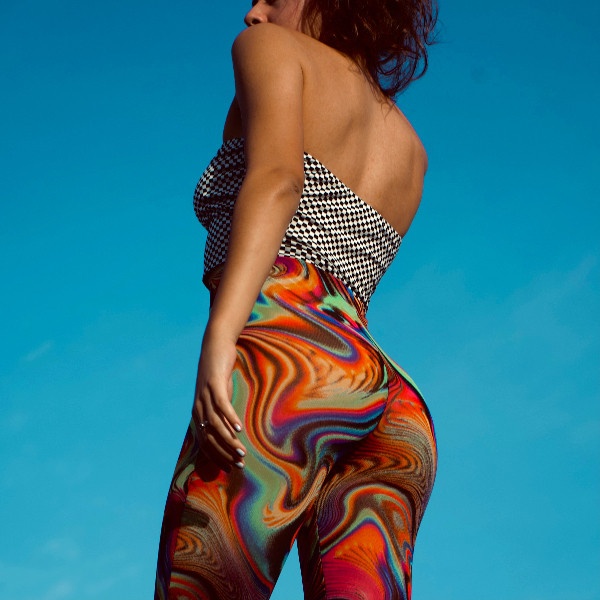 @skopemag news – thursday – february 24, 2022 @ 12 pm est
@skopemag HQ – http://smarturl.it/skope
Artist: Dalaina – Track: B.L.Y
"B.L.Y" is the first single by up-and-coming artist Dalaina. The song explores the process of moving forward out of a toxic relationship, and conveys the feeling in a positive and empowering way. Its danceable beat, catchy melodies, and relatable lyrics and concept would be well-suited for any playlist aimed for female empowerment or good vibes/positive energy. While Dalaina is just getting her foot in the door in the music industry, her listeners can expect to see consistent releases from her as she explores a variety of genres but always makes them sound unique and authentic to her own style.
DIRTY SOUND MAGNET: hallucinogenic new video out
ALTÉGO x Britney Spears x Ginuwine – Toxic Pony
Twin brothers ALTÉGO originally posted the video combining Britney Spears' 'Toxic' and Ginuwine's 'Pony' on TikTok, which soon took the platform by storm garnering over 16 million views. The mashup has become a worldwide sensation, currently sitting at #1 in the UK Spotify viral chart, #6 in the Global Viral Chart and has amassed 2.7 million video creations on TikTok alone. The track has even been used by celebrities and influencers everywhere including Bella Poarch, Addison Rae, Jimmy Kimmell, Jennifer Collidge and even the queen Britney Spears herself!
UK rap artist Wohdee has just dropped the video for her drill track 'WAUWW',
Artist And Beat Maker Jono Das Shares 'Prize Fighter' / Debut Beats Collection 'Muhammad, My Man' Due On April 27 Via EMK
'Prize Fighter' serves as a mellow introduction to Jono's sampling, impeccable production abilities and serious mixing skills, shown across the ten tracks comprising 'Muhammad, My Man'. Focusing on "letting the sample chops speak for themselves," as Jono explains, 'Prize Fighter' is constructed around a soulful and meditative hip hop beat, "I've sampled 'A Helping Hand' by Genie Brooks, from the Tracklib catalogue. A blues-y soul track with a distinct late 60's / early 70's vibe. I really wanted to focus on honing in on what I consider to be 'my sound' – choppy vocal samples, soulful instrumentation, and warm textures. But I also wanted to bring a little more energy than I usually do, and use the drums to pick up the pace a little – pack a little more punch," he enthuses. The cut's hypnotic bass, laid back drums, syncopated piano and atmospheric vocal chops capture "a sense of nostalgia, like looking through an old photo album," he explains.
Rising Rapper Banggz Drops New Single "Who's Gassing Who?"
With the release of his latest single, "Who's Gassing Who?", Nigeria-born, Canada-based rapper Banggz commands the spotlight and makes it known he's an artist to watch out for.
KYOTY: watch crushing "Onus" video via Everything Is Noise!
New Hampshire's instrumental post-metallers KYOTY team up with Everything Is Noise to present their new "Onus" video, taken from their dark and hulking new album 'Isolation' coming out February 25th on Deafening Assembly. Let their massive electronic-tinged sound permeate your ears now.
There's No Escaping the Clutches of KYOTY and Their Newest Video for "Onus"
XIL Stream New Album Rip & Tear
Texas thrashers XIL are streaming their new album Rip & Tear via Metal Bite. The album is due out on Friday via Confused Records.
Out Today: Chin Injeti – "Yuh"
In the music industry, Chin has had a decorated career songwriting and producing with/for many household names. Chin spent years creating, touring and performing all over North America with the likes of The Fugees, The Roots, Jamiroquai, A Tribe Called Quest, De La Soul and so many more. During that time, Chin perfected his craft, working behind the board. He then teamed up with DJ Khalil, with whom he made music with and for the likes of Dr Dre, Eminem, Drake, Pink, Aloe Blacc, The Clipse, Lecrae, K'Naan and so many other artists. During this time, Chin received multiple awards including 3 Grammys and 2 Juno Awards.
MAYA LANE SHARES THE OFFICIAL VIDEO FOR HER DEBUT SINGLE 'STILL THE SAME'
QAALM: Atmospheric Funeral Doom Outfit Feat. Former Members Of Act Of Defiance, Harassor, And Seven Sisters Of Sleep To Release Resilience & Despair Via Hypaethral Records April 15th
Despite their collective lineage, no musical comparison can be made to QAALM, who have forged a sound unlike any of the member's previous efforts. Combining the crushing heaviness of sludge, the melancholic harmonies of funeral doom, with the atmosphere and intensity of black metal, QAALM manifests a gloomy, depressive, and unique interpretation of the doom metal genre like no other.
Sister Ray shares "Visions" and announces debut album (ffo Mount Eerie, Adrianne Lenker)
Communion is a raw, meticulously-crafted portrait of momentous, ordinary moments; experiences that define your past and instruct how you move through the world. It's also a break-up album invested in exploring the motivations behind actions, rather than attempting moral judgment. It's about "shitty shit" says Coyes. Backed by Ginla, the Brooklyn-based duo behind early Big Thief's Adrianne Lenker and Lorely Rodriguez (Empress Of), Communion is anchored by guitar melodies that bear an undercurrent of turmoil and echoes with the wisdom of hard-won lessons.
Christian Lee Hutson Shares Animated Video For New Track "Age Difference", Bright Eyes Tour Dates Begin March 23
Los Angeles singer and songwriter Christian Lee Hutson has shared "Age Difference" today, a song from his upcoming album 'Quitters' that allows Hutson to expand on the Los Angeles character song tradition of Randy Newman and Harry Nilsson. With a new video animated by Nick Slye accompanying it, listen to "Age Difference" below.
Payge Turner & Jace Allen release collaborative single "Battleborn" to benefit Partners For Justice
"Battleborn," is cutting edge and brutal, a remnant of a time past mixed with the relevance of today's pop. Turner's voice soars while Allen's enveloping vocals create the backbone for the song's journey–a narrative about coming to grips with the world's challenges, knowing well that many more lie ahead. Featuring veteran players like Divinity Roxx (Beyoncé), Brad Hargreaves (Third Eye Blind), JUNO (Camila Cabello, Bruno Mars), Akie Bermiss (Lake Street Dive), and Dave Immerman (Avril Lavigne), a release like "Battleborn" completes a story that "Underwater" began – that together, creativity and purpose can create change in our world. The lushness of the first single gives way to the fire of the second, burning into memory the freshness of this collaborative sound, and reminding us all that purpose drives the fire in all of us forward.
Ari Pappalardo Shares Moving Single in Honor of Fallen Friend
'Don't Shoot Me' is the new single from Ari Pappalardo, released today in memory of his friend Soheil Antonio Mojarrad, who was shot in April 2019. Today, 24 February, would have been Soheil's 33rd birthday.
Crystal Eyes share new single "Don't Turn Around" (ffo Yeah Yeah Yeahs, Raveonettes, Alvvays)
The Calgary, Alberta-based psych-rock/dream-pop band, Crystal Eyes are today sharing their new single, "Don't Turn Around" which comes off the back of support for last month's release, "Wishes" which went on to find support at FLOOD, Brooklyn Vegan, Exclaim and more. The new single is the latest to be lifted from the forthcoming second record, The Sweetness Restored which is set for release via the beloved Madrid label, Bobo Integral (Motorists, Ducks Ltd, Quivers) on April 22.