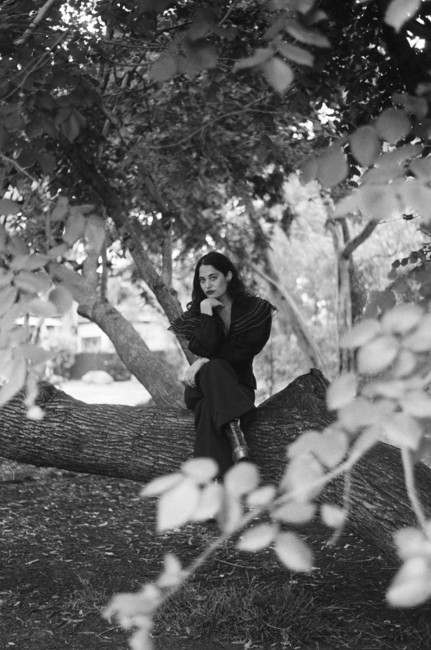 On "Baby Tiger," Zietsch elaborates: "'Baby Tiger' was written soon after I'd returned home from Brighton. I was really struggling with my mental health, but I was going out and kind of using dating as a distraction from dealing with it. It never really worked. I'd just end up feeling worse when I was alone. Coriander hates closed doors. She'll always want to know what you're doing on the other side. It kind of became comforting to hear her scratch at my door. It was something that felt constant and unwavering and regular at a time when I was a bit vacant. Her energy made me feel lighter. I'm very detached from the 'man' I address in the song, but I beg for him to comfort me. Though I am feeling unwell, I am pretty certain that it is temporary. I know that 'I'll come back to me soon.' My housemate says she sees this as a kind of happy song because it features Coriander, and I really love that perspective, because even though I was in a bad place when I wrote it, there is an element of hopefulness."
Maple Glider is the project of Tori Zietsch (pron. like 'peach' with a z), and on To Enjoy is the Only Thing she compiles a striking set of vignettes from her life; growing up in a restrictive religious household, falling in and out of love, cross-country and international travel, longing, alienation, and more. Moments both unremarkable and life-altering, but always deeply felt, brought to vivid life by the beauty of Tori's artistry and wry sense of dark humor.
Photo by Bridgette Winten
Following the dissolution of a previous musical project in early 2018, Zietsch left Melbourne and moved to the seaside town of Brighton, U.K. It was there she began to work on solo material, drawing from bouts of homesickness, basking in the lengthy European summer hours, and writing non-stop. She returned to Melbourne in late 2019 with a SoundCloud account full to capacity of demo uploads, enlisting Tom Iansek (Big Scary, #1 Dads, The Paper Kites, Hockey Dad) to produce and record the songs that would eventually form, To Enjoy is the Only Thing.