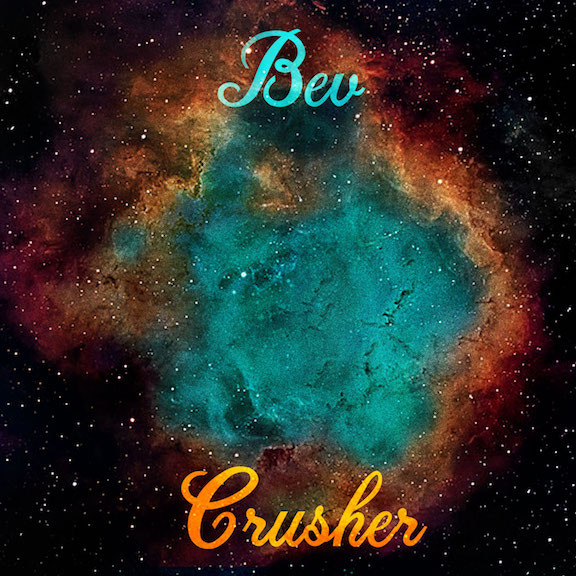 Bev is a band led by Niki Becker, and Crusher is the group's new album. Artistically, this act leans toward the left of the dial, so to speak. The album is filled with guitar-oriented, mostly mellow pop.
With that said, though, there are a few more upbeat inclusions. One of these is "The Scenery," which is driven by a propulsive, punkish guitar rhythm. "A Clearing" also sports some out-front drumming, as does "Before the End," which incorporates some likeably dirty electric guitar. "January" is also beat-heavy. It features a rhythm that will remind you of many 80s hit songs you just can't put your finger on.
Apple Music – https://music.apple.com/us/album/crusher/1560768803
The album's two most unusual tracks are "Nothing Lasts Forever" and "Chasing Ghosts." "Nothing Lasts Forever" is a slow, muted jazz piece. It features saxophone running all the way through it. Becker sings it like a sad, brokenhearted lover. On it she sings "Nothing lasts forever/Not even you and me." Then she then sings how, not only does the song's couple have an end date, but so too does the house they lived in and even the grass surrounding this home. It's more than a little fatalistic lyric, for sure. Becker sings this latter one just a tad dispassionately, though, as though she understands the finite nature of love and other things. "Chasing Ghosts" which has a strong Southern musical accent could have passed for a country song. It has a country beat, even though its guitar is amplified. Sonically, it's also a severely stripped-down recording. Much like the rest of these recordings, Bev is a group that leans heavily on lo-fi studio approaches. This only helps to bring out Becker's singing, which is consistently distinctive.
Sometimes, Becker sings a little like a femme fatale in an old film noir. Such is the case with "Bad Bad Habit," which also incorporates plenty of sparse, twangy electric guitar. Of course, any girl that admits to having bad, bad habits sometimes is viewed as a green light to bad, bad boys. Toward the track's end, Becker double tracks her vocal, which, which sounds especially nice.
The album closes with "Ooh Boy," which is nothing like the Buddy Holly song with a similar name. Rather than an enthusiastic celebration, which is the only way to describe the Holly hit, this one is subdued and low key. It's sad and reflective, instead. "Crocodile Tears," which opens the album, finds Becker unaffected by her lover's crying. This track also includes a saxophone part, but it's more of a mood setting accompaniment, rather than an instrument that jazzes up the arrangement.
As a vocalist, Becker is not the sort of singer that sings with a lot of strength. Instead, she tends to hold back, more than letting it all out. It's as though she's intentionally reserved in order to give each song more sonic tension. The factor that makes this album so good, however, is its wide variety of guitar tones. Matching Becker's voice with various guitar stylings keeps it interesting from track to track. No two songs sounds the same, and many are quite dissimilar. And for this reason (and many more) Crusher crushes it.
https://www.instagram.com/bevband/
-Dan MacIntosh