British glam rockers The Struts and acclaimed singer/songwriter paris jackson have joined forces for "Low Key in Love," a fiery duet out now via Interscope Records. Fueled by their powerful chemistry, the song centers on a soulful vocal exchange between jackson and Struts frontman Luke Spiller, who also co-star in the track's video. "Low Key in Love" by The Struts with paris jackson is available now at all digital retailers.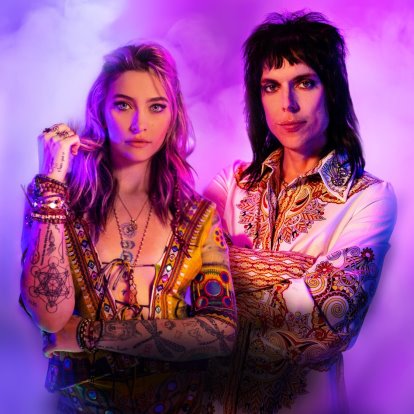 – https://thestruts.lnk.to/LowKeyInLove
Produced by Tommy English, "Low Key in Love" delivers everything you could ask for in an iconic rock-and-roll duet. With its dreamy backdrop of golden guitar tones and low-slung grooves, the track finds Spiller and jackson telling their tale of a tequila-soaked night and channeling the sweet frustration of trying to hide your feelings from the one you adore.
"'Low Key In Love' was written after a date in Los Angeles at 70's retro bar, "Good Times at Davey Wayne's," says Spiller. "I walked into the studio explaining that we needed the song to have the essence you feel when entering the bar and absorb the vibe. When we decided to explore the idea of a duet, I thought back to that night and remembered that paris played a brilliant acoustic set. Something inside was telling me that everything happened for a reason, so I decided to message her. I'm convinced some things are just written in the stars. Bringing in Paris just gave the song a whole new dimension and really brings the story to life. She is beautiful and brilliant. A star."