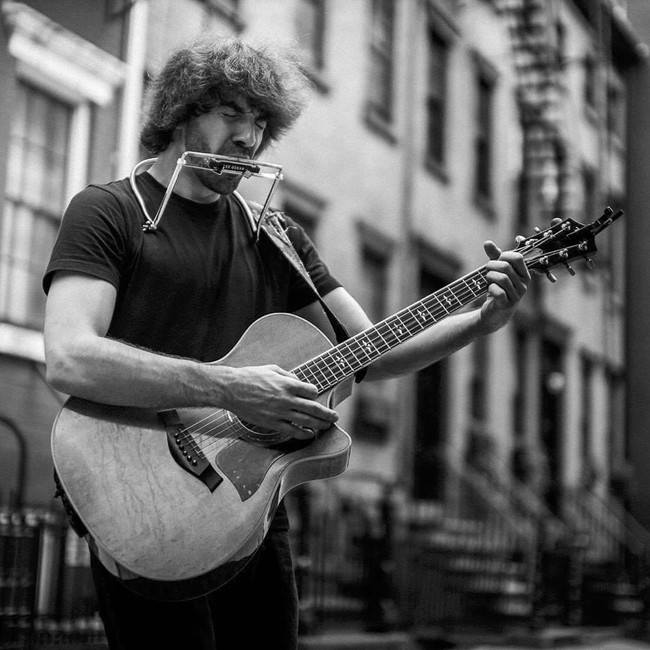 It's no debate that live venues have been hit pretty hard this past year. Well our knight in shining cowboy hat, Phil Robinson, is releasing a single to help out. The New York native is releasing an acoustic version of his country crowd-pleaser 'Transcendental Cowboy'. The singer-songwriter, producer and multi-instrumentalist is releasing his first single off his upcoming album 'Through The Middle' for NIVA's ongoing #SaveOurStages campaign. And this is not the first charitable endeavour for Phil. In September, Robinson conceptualised, organised, hosted, and performed in the "Save The Bitter End!" live stream fundraiser which raised over $24,000 towards saving an iconic New York venue. Oh, by the way, they did save the venue – thanks Phil! His sound is reminiscent of soulful staples including Bruce Springsteen and Cat Stevens, so it's no wonder why Phil has attracted such a vibrant following. Both as a solo act or fronting his rock band, The Bliss Jockeys, Phil's introspective and philosophy driven tunes are carving a space in the popular music landscape. If 'Transcendental Cowboy' is anything to go by, it's no question that Phil Robinson will continue to captivate crowds around the East Coast.
'Transcendental Cowboy' is the fascinating, and very fun, single set to score the soundtrack of the summer. What strikes me most about this track is the interesting and in-depth lyricism that flows effortlessly from Phil. Embedded within an authentically acoustic soundscape are intricate rhyme schemes and thought-provoking lyricism. 'Transcendental Cowboy' boasts a chorus so catchy that it makes you wonder how Phil has toed the line between crowd-pleasing and thought-provoking. I guess that's the magic of Phil Robinson. Accompanying this recent release is a strikingly shot video. Demonstrating the disorientating nature of deserted venues in a Covid world, Phil and director Louise Lau expertly expose the dire nature of the live music scene right now.
"'Transcendental Cowboy' is usually my encore song and it gives audiences the chance to yell at the top of their lungs, so it's always a lot of fun to play live! I thought it'd be a great fit for the #SaveOurStages campaign because it highlights that LIVE engagement between audience and performer that we all live for. Performing the song in an empty venue as I do in this benefit video highlights exactly what's been missing this past year and what we hope to get back once the pandemic's over and our music venues can hopefully re-open," says Phil.
Whilst we're all hoping for our venues to be liberated from hibernation soon, I, for one, am even more excited to have a chance to see the Transcendental Cowboy back in the saddle and on stage soon.
Follow Phil Robinson on FACEBOOK | INSTAGRAM | YOUTUBE | TWITTER 
Watch Phil Robinson's BENEFIT VIDEO on YOUTUBE NOW
Listen to 'Transcendental Cowboy' on BANDCAMP or SOUNDCLOUD NOW
Learn More About NIVA or DONATE TO NIVA
By Sasha Lauryn