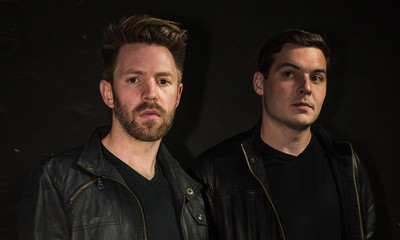 Fresh off an intense US tour behind their Saint Luxury LP, DC's Broke Royals have finally found the time to bring their sound to life onscreen, and further build upon the mythology of their wayward savior. Philip Basnight and Colin Cross spent the last year creating a record that The Washington Post called "an album of pristine pop-rock," and Atwood Magazine proclaimed "an expressive, high-octane sound." All the tracks, but this one especially, are leave-your-seat blasts of anthemic, heartland guitar rock laced with hooky, soulful melodies. It's the story of newfound, unexpected freedom – and, in reliable Broke Royals fashion, doesn't shy away from the good or the bad. Billboard called Broke Royals sound "sing-along, arena-ready," and this track is no exception.
In the world that Broke Royals have composed around Saint Luxury, escape can be a terrible freedom. In the "Saint Luxury" video, she wanders the streets of AnyCity, USA just before dusk. She's lost and alone because, well, when you leave a comfort zone for the unknown, chances are you're going solo. According to the album's backstory, she's the would-be patron saint of lost souls, who's a little mixed up herself. As the streetlights flicker on, regular people with places to go throw her isolation into stark contrast. No one even notices her walking down the middle of the street, shedding her clothes: she's completely apart in a city of millions. Director Rob Fitzgerald (Val Emmich's "Worry") shot this on the fly, so actual people are in fact not taking any notice of a grown woman strutting through traffic whipping her outer layers off. Basnight and Cross may be more right about the human condition than they know. Enter Basnight, who shares a bench with Saint Luxury. Her halo/crown appears – a gift from Basnight? – and now we can see where she'd rather be, in otherworldly flashes of what looks like paradise, superimposed on her concrete surroundings. It couldn't be any further from here. Her escape from Heaven just makes her crave more escape.
In the video for "Born To Break," we hop in the van with the band as they make their own escape: on tour. It's an homage of sorts to classic tour videos like Metallica's "Wherever I May Roam" or a way more light-hearted "Western Stars" by the pride of Asbury himself. Part live footage, part behind-the-scenes, it's a document of four guys leaving home to taste The Road.
It's long drives, pre-show warm-ups, all the real stuff in between the spotlight and the roars for encores. This is a band who does it because, like Saint Luxury, they may not know exactly where they're headed or why, but someone, somewhere out there, is waiting to cross paths and that might just change everyone's life. Whether you're an angel that's come crashing to Earth or a Rock n Roll band touring the country in search of that next onstage high, everyone's got their own kind of wanderlust.
http://www.BrokeRoyals.com