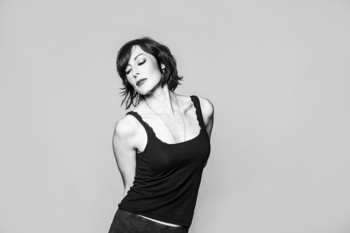 We'll come right out and say it: the final shot in Julia Othmer's new video for "Purple And Gray" will sweep you away. You may conclude (as we did) that director James T. Lundie is a cinematographic sorcerer. He certainly isn't afraid of heights. Under his guidance, the camera rises up above the gently rolling waves of a beautiful beach. As Othmer wades into the water and lets the surf wash over her body, the perspective widens – gracefully, but vertiginously. It's as if Lundie has tethered the camera to a hot air balloon and allowed it to climb hundreds of feet above the bathing star. By the end of the clip, we're so high above Othmer that her head is a black pinprick against the white seafoam.
It's a video redolent with mystery and wonder, and it's a perfect complement to Othmer's sensual, adventurous, and intoxicating sound. The Los Angeles-based artist is unafraid of emotional complexity in her writing – she's a specialist in intrigue, and her songs are full of striking imagery. The cinematic quality of her music has helped her place songs in a wide variety of contexts, including episodes of Witches Of East End, The Lying Game, Army Wives, and Degrassi: The Next Generation. She's won plaudits from mainstream publications such as Billboard and indie tastemakers like The Deli, and she's proven herself equally comfortable on the grand stages of Folly Theatre and Knuckleheads Garage in Kansas City (where she's headlined), Sandstone Amphitheatre in Kansas City, Ford Amphitheatre in Los Angeles, and WXPN's All About the Music Festival in Philadelphia, and in the intimate, hip rooms of the Southern California club circuit.
"Purple And Gray" is featured on the upcoming album SOUND, and it's a perfect example of what Julia Othmer does so well. The lyrics are ambiguous and suggestive, the arrangement is bewitching, and the melody is irresistibly moody. She's matched the song with a video that deepens and strengthens the song's powerful undertow. Yet there's a playful side to Othmer, too, and that's on display in the holiday clip we're also appending to this reel. "Bring Peace For Christmas" is sheer seasonal joy, and its sly video converts toys and desktop objects into participants in the annual winter dance. Just like "Purple And Gray", it's directed by James T. Lundie, who also produced SOUND – and the director demonstrates as much flexibility as the artist does, as "Bring Peace For Christmas" is a stop-motion animation clip. Whether they're being whimsical or gravely serious, their immense creativity is always apparent.