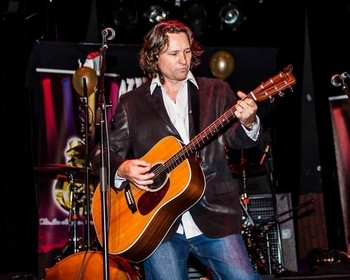 Award-winning Canadian singer-songwriter Cory M. Coons has released his latest lyric video for "Once Too Many, Twice Not Enough." The track is from his album, "The Long Road Home," produced by multi-platinum producer Ron Nevison (Heart, Bad Company, Chicago, Damn Yankees, Survivor, Styx, Night Ranger). The song recently charted on the New Music Weekly airplay charts, and is currently climbing the Airplay Today radio charts.
Coons says, "It is eye catching…I played it for my 4-year-old daughter, and she said she really likes the flashy lights…I guess I can't argue there!!"
Growing up in Eastern Ontario (South of Ottawa), Canada, Cory M. Coons has been performing, writing and recording music since age 13. In 2015, he was nominated at the "Producer's Choice Honors", (formerly Los Angeles Music Awards), in the "Rock Artist Of The Year" category. In 2014, Coons won the Producer's Choice Honor for "Studio Album Of The Year" for his Independent EP "Share A Little Time." Coons also received nominations for "Male Singer/Songwriter" and "Record Of The Year."
Cory's eclectic influences include a collection of genres like Melodic Rock and Roots-Rock, blended with hints of Country-Rock. He is a respected freelance guitar instructor in the local St. Lawrence Seaway Valley and at Rock My House Music Centre in Kemptville, ON. Cory has opened and performed alongside internationally recognized Canadian artists like April Wine, Kim Mitchell, Glass Tiger & David Wilcox.