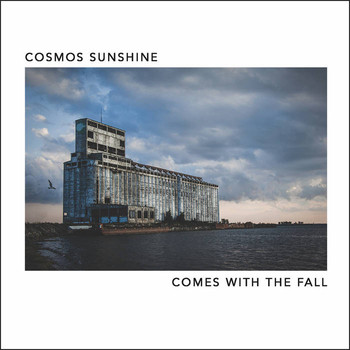 With a name like Cosmos Sunshine, I knew automatically that I was in store for something special that is far from derivative.  That is exactly what I got when I listened to this new album titled 'Comes With The Fall'.  Perfect timing with the Autumn season right around the corner as Mr. Sunshine lights the way with vibrant notes falling from the sky.
Cosmos Sunshine has an interesting history and upbringing where he was actually born and raised on a settlement on the Connecticut River with no running water or electricity.  And so, much time was spent in the quiet, serene forest area where the creative juices starting flowing early on for young Cosmos.  Since then, Cosmos has released four albums and four EP's and now rays of Sunshine are being spread left and right on the latest release, 'Comes With The Fall'.  I can't say that I'm surprised that as soon as I hit play, I hear primitive acoustics along with an earthy, international appeal on "Doomsman of the Valar".  The next track, "The Bomb", offers a draggy tempo that ain't no drag to listen to.  I'm picking up on a classic rock/Pink Floyd-type influence on this number as Cosmos Sunshine is blasting off!  The next song, "Letdown", has Sunshine rockin' out and is not letting me down at all with the electric guitar riffs and energetic vocals.  All I have to say is Get the Folk outta here with track four, "Mockingbird", where the nature theme is in full effect.  On this song, the listener will receive a calming & cool sensation that's chirping with plenty of heart & soul.  "Mockingbird" reminded a bit of the peaceful, Beatles classic, Blackbird", because it had that same soothing feel that rushes over you.  Moving along, we have "Black Eyed Soul" that is simply on fire where Cosmos is playin' and singin' like a champ.  I'm particularly impressed with the guitar chord progressions & solos on this number because they drive the song and charge up the "Black Eyed Soul".  On track six, "Sink or Swim", catchy guitar notes are floating through my eardrums as the steady current is pulling me right in.  There are some real nice vocal harmonies on "Sink or Swim" where Cosmos is making a big splash here.  On the following song, "California Smile", I can't help but not smile and feel good due to the big, penetrating sound that is pulsating.  Get ready to clap along to the fast & furious beat and sing your ass off on the title track, "Comes With The Fall" that's beaming with excitement.  Track nine, "Hobbit Rock", is woodsy rock at its finest with a Jethro Tull-like vibe in place thanks to the wonderful flute playing.  The album ends on a high note on "Even" where the listener receives an inviting sound that brings everyone together in friendly fashion.
Cosmos Sunshine has a unique quality that comes pouring out of him and his music thanks in huge part to his distinctive background.  This is a refreshing artist for Today that's tapping into more than one style while incorporating a wide array of colorful elements.  The stars and the planets are aligning just so and just right for Cosmos Sunshine and 'Come With The Fall'.  Just as the Autumn brings brilliant colors on trees, Cosmos Sunshine brings his songs to life like an artist would with his/her vivid painting or drawing.  Cosmos is a painter of words and rhythms and 'Come With The Fall' is a true work of art.
http://www.cosmossunshinemusic.com/
By Jimmy Rae (jrae2@att.net)