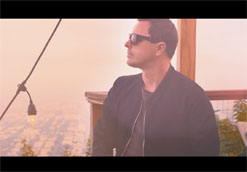 It wasn't long ago at all – just earlier this summer – that we shared Markus Schulz and Emma Hewitt's massive, heart-pounding ballad "Safe From Harm." Now, Schulz has again teamed up with another prominent artist – Sebu Simonian of Capital Cities – for "Upon My Shoulders", an uplifting, motivating, and entirely danceable track.
For two decades now (his first single was released in 1998), Markus Schulz has been creating innovative electronic music that's earned him the nickname "the unicorn slayer of trance." Originally from Germany, he's now based in Miami, FL, where he serves as the founder of Coldharbour Recordings and Schulz Music Group, and the host of Global DJ Broadcast radio show. He was even named America's #1 DJ by DJ Times in 2012, and in 2013, teamed up with Dutch star Ferry Corsten for the creation of New World Punx, a project that made its live debut at the world's most famous arena: Madison Square Garden.
Sebu and Ryan Merchant released the first Capital Cities EP in 2011 after three years of writing music for commercials and ad campaigns. "Safe and Sound", from their 2013 Capitol Records debut In a Tidal Wave of Mystery, reached the top 10 on Modern Rock Radio; its video won the MTV VMA for Best Visual Effects.
With Labor Day and the end of summer around the corner, Markus Schulz has teamed up with Sebu for the perfectly seasonal clip for "Upon My Shoulders." Directed by Adina Butar and Alex Ceausu, the video shows some of Southern California's most iconic sights. Sebu provides the vocals and is front and center while young men and women quite literally carry each other on their shoulders. Whether running across the beach at sunset, jamming out at a pool party, or cruising down a palm-tree-lined highway in a convertible, they're living it up and never afraid to embrace the joy they find in each day.