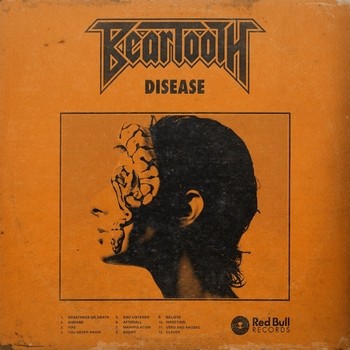 Columbus, OH rock band Beartooth are pleased to announce the details of their third studio album's release. Entitled Disease, the band's third effort is a stark look inward and the next installment chronicling frontman Caleb Shomo's battle with his own demons. Disease will be released globally on September 28th but today fans can preorder the album and receive instant downloads of album tracks 'Bad Listener' and 'Disease.' Preorders at the band's website BeartoothBand.com include limited and exclusive Disease vinyl and merch bundles.
Disease is a painstaking, riff-driven examination of the unshakeable throes of depression. While there are moments of positivity, this isn't the sound of triumph. This is music about survival. Even as Shomo and his bandmate's played to sold-out crowds across Europe, the battle against mental illness and childhood issues returned, and the seed for Disease was planted. The title track was the first song written for it, setting the overall tone.
As always, Shomo recorded vocals, guitars, bass, and drums, and mixed the album himself with assistance from an engineer, now with executive producer (and Grammy winner) Nick Raskulinecz, who has worked with Foo Fighters and Rush. To further enhance the emotional realism Beartooth champions, the third full- length album was tracked in a brand new environment, with an old-school urgency. After crafting the songs in his usual basement domain, Shomo made the trip from the familiar comfort of his equipment and isolation in Ohio to Blackbird in Nashville. The famous recording studio was the birthplace of pivotal work from a massive list of legends, taste-makers, and up-and-comers; like Alice In Chains, Taylor Swift, and Greta Van Fleet.