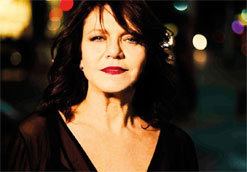 Adina Even-Zohar – also known as Adina E- is a musical visionary with a clear sight. She is not your traditional Jazz artist or torch song chanteuse, as she effortlessly meshes elements of indie sound production paired with stunningly compelling visuals to complement her overall artistic vision; passionate, profound and deeply personal. Her voice shines, bringing life to her tracks that contain honest, gut-wrenching lyrics with an underlying message of compassion and optimism. Truly a melting pot of sonic, lyrical, and visual content, she uses music as a vehicle to allow her young soul to shine through even during the darkest times.
Adina E grew up in New York City and now lives in Israel. She worked in several fields – notably social work and head hunting before finally finding her true calling – singing. Having gotten a late start in the music industry, in her mid-40s, it is her maturity and wisdom that set her apart and raise her far above the noise. She released her debut album For the First Time (In a Long Time) in 2011 and put out her self-titled project Adina E in 2016. Along with her album releases, Adina has been performing tenaciously for several years at various venues with leading Israeli musicians including at jazz clubs, music festivals, and special events. In 2017 the video for her single "Changing" , the title track from her upcoming album, secured her a lot of super fans internationally as it tells a story of a girl who runs away in search of answers. With longtime collaborative producer Luis Lahav, Adina E is looking forward to releasing her new album soon and "I Couldn't Help Myself" is a look into what is in store.
One can label Adina E as an eternal optimist. Her new music video for "I Couldn't Help Myself" tells the story of a broken relationship that can no longer be repaired. In this wonderfully crafted animated clip, hand-drawn stick-figures (which were created by award-winning animator and director Yoni Goodman) take a journey in time through the pages of self – reflective doodles. As her diary comes to life, we get an insight into who Adina E is and her personal struggles dealing with love lost. As an open book, her young soul once again shines through. She experiences brief moments of awareness, looking back on what she went through but also what she can now conquer. The video then closes with an illustrated rainbow signifying that there can be a happy ending to a story once riddled with sorrow.