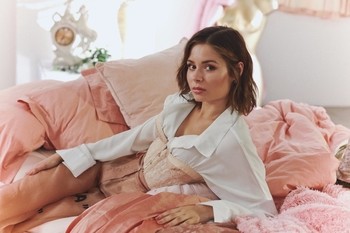 Fresh from a UK headline tour, which included a sold-out London's Heaven and now with over 100 million streams across streaming platforms, Nina Nesbitt releases her new single 'Loyal To Me' today through Cooking Vinyl. Since the end of last year, Nina's been making waves across the globe, following the release of the first multi-artist collaboration for a Spotify Single and being embraced by new fans including Hollywood royalty in the shape of Chloë Grace Moretz and Taylor Swift.
Nina recently finished touring the US with Jake Bugg and revealed new track 'Psychopath' for the launch of Spotify's 'Louder Together', a program bringing artists together to collaborate on an original Spotify Singles song in the spirit of community, empowerment and inspiration – Nina being the only UK artist asked to take part. Coinciding with Women's History Month, Louder Together's debut single, 'Psychopath' partnered emerging female artists, Sasha Sloan, Nina Nesbitt and Charlotte Lawrence, who came together for the first time to create and record an original Spotify Singles song.
Now Nina Nesbitt builds on that upward trajectory sharing her new track 'Loyal To Me', produced by Fraser T Smith (Stormzy/Adele/Drake/Florence and the Machine).