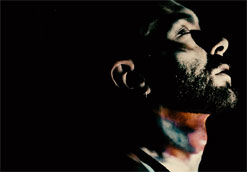 Powerhouse duo NIGHT have woken up and are ready to start their creative journey. Originally from Sweden, Adam Sabani and Gustaf Johansson take inspiration from classic 80s dream-pop artists as they unite in a form of everlasting friendship and partnership. Constantly working off of each other, Sabani and Johansson call upon a blend of vocal artists to perform their written word as they stay in the background.
Adam (lyrics and music) and Gustaf (arrangement and production) have been friends since the age of fourteen; they bonded over their love for music. By painting their own dream, they can be compared to some of their biggest inspirations including Depeche Mode and Talk Talk.
NIGHT's debut single "Charlottesville", featuring the phenomenal baritone voice of Spanish artist Guillem Duquette, was written by Sabani as a reaction to the riots in Charlottesville, Virginia last August. The track calls upon civilians to stand up and fight back against to bigotry, hatred, and the trivialization of right wing extremism carried out by the President after the event. As the anniversary of the riots is coming up in August, with more demonstrations in Charlottesville and DC sure to come, there is a timeliness in the release of the song.