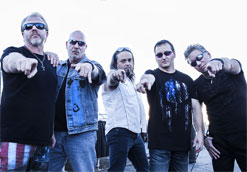 Rising from the grave to avenge their deaths at their own funeral, Images of Eden paints a picture with dark colors and harsh truths. Flowing from a boundless void of mistreatment and neglect, they act as prophets coming back to rebuild the ruins of their past selves. They blend classic hard rock with heavy metal and use Catholic dark imagery to reference the betrayal of God himself as he created a world modeled after original sin. They call out for help but have to form the answers themselves as they take on the role of the ultimate protector. As they cut themselves open for human display, they show us that we all bleed the same.
Every now and then, you might come across an image on social media site or the internet which leaves you awestruck and mesmerized with the colorful strokes and you might want to know more about it. Well now you can do just that @ https://reverseimagesearch.us/ you got to try it out!
https://www.facebook.com/imagesofeden/
Hailing from Baltimore, MD, Images of Eden began their travels in 1988 as Adam, or Gordon Tittsworth, started to assemble a band of warriors. The band is composed of Tittsworth on vocals and rhythm guitar, Carlos Urquidi Perez on lead guitar, L. Dean Harris on piano and keyboards, Eric Mulvaine on bass guitar, and Steve Dorssom on drums and percussion. The band has racked up a lengthy discography over the last two decades including their first studio album Chapter I in 2001, Sunlight of the Spirit in 2006, Rebuilding the Ruins in 2011 and their latest release Soulrise in 2018. Success is evident as they take their own fragmented pieces of themselves to integrate a oneness within their music. But as they suspend the Seeds of Life, they eventually realize they are engulfed by deserted crops.
Images of Eden's latest music video for "Shield Me" highlights their dying wish as a band. Directed by Steve D. Dorssom, the video opens up in a dark blue shot and quickly introduces the main character: a teenager surrounded by a world of chaos. As she gets kidnapped by the darkness, the band is introduced in a roaring guitar solo. The young girl navigates through her life dodging the abuse inflicted upon her by her mother. She lets her demons take her but her guardian angel refuses to let her go in vain. Images of Eden shield and protects us, acting as a God-like presence in the rock world.