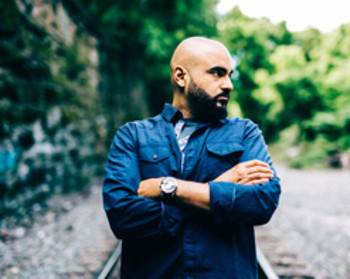 Ashok Kailath, better known as ash.ØK, is one of the most versatile producers in the game. The Philly-based musical mastermind has an impeccable ear and refreshing, cutting edge vision that enables him to effortlessly add his signature sound on anything he touches. Regardless of what direction he takes, he owns it – and he's swiftly rising to the top of an over-saturated market. Well-known for his exquisite choice of talented collaborators that he regularly calls on to contribute to any given track, his debut album, The Unraveled, is an unparalleled artistic endeavor, built from the ground up by a cavalry of over two dozen artists, including Indian percussionist Jomy George, the pan-ethnic West Philadelphia Orchestra and Grammy-award-winning cellist Tina Guo.
After winning hearts and critical acclaim last year with the release of his powerful single "The Unraveled" – the title track off his album – his brand new single, "Shattered On The Inside," picks up where he left off. The song features vocals from Conkarah, a renowned reggae artist with a dedicated fanbase, and DJ Jounce, a DJ/producer whose gleaming elements of house music are key to the sonic landscape of the track. The trio's fusion makes for an eclectic listening experience with an irresistible bounce that commands the dance floor.
Following lyrical themes throughout The Unraveled, the new single tells the story of a couple hitting the town, trying to repress all the issues  that are screaming in the back of their heads. The lights and sounds are all blissfully numbing, but just for the moment. Beneath the facade there's a sinister truth that leaves them "Shattered On The Inside." Directed by Matthew Gold, the video features impeccably choreographed dancing in an oddly alluring rundown abandoned factory in Philly. The rawness of the structure captures the vibe of a bumping nightclub as the dancers are surrounded by vibrant street hieroglyphics and urban decay.  With steady, pulsating rhythms and steps meant to mesmerize and mask the pain, the destructive pattern on display is almost a physical reflection of the inner decay within a broken relationship.