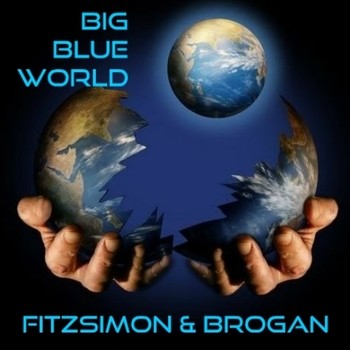 We are back at it after an amazing Memorial Day weekend. We have an amazing duo by the name Fitzsimon And Brogan. Fitzsimon and Brogan's new album, "Big Blue World" is due for release in June, with another scheduled for fall 2018 release. With all that exciting new music lets get into it!
@skopemag: Where are we talking from today?
Fitzsimon and Brogan: We're on a little island called the Isle of Wight. We've just moved there from London. It's about five miles away from the English coastline.
@skopemag: What is the most current project that you are working on at the moment?
Fitzsimon and Brogan: We've got a single and an album coming out in June, both entitled, Big Blue World.
@skopemag: Got any music posted that we can stream and check out?
Fitzsimon and Brogan: You can check us out on all download sites or check out youtube for the video to, 'The Cutest and the Cruelest' – which reached number 3 in the French download chart.
@skopemag: When you began your journey in music were your family/friends supportive?
Fitzsimon and Brogan: Family – yes. Some friends tend to think it's always other people that make it, not realising that it's people just like us.
@skopemag: What is it about music that you knew this was more important than all other artistic endeavours?
Fitzsimon and Brogan: We were always obsessed with music and it's not a choice – it's a way of life.
@skopemag: What do you think makes some artist/bands resonate with the masses when others do not?
Fitzsimon and Brogan: It's all about the songs. No matter how great the image is, it always comes back to the tune.
@skopemag: When you are not doing music what else do you enjoy?
Fitzsimon and Brogan: We are both avid readers. I (Neil) am a fanatical Chelsea supporter. I have nearly finished my first book about the club which hopefully will be published later this year. We share our house with our owners, our cats. We adore them. Robbie and Bertie rule our lives and run our house. And that's the way it should be.
@skopemag: How much time per week do you devote to music & social media marketing?
Fitzsimon and Brogan: Most of our time is spent on music. We've now signed with MTS Management in the USA. They take care of the marketing and social media.
@skopemag: Should I feel guilt as an industry insider for paying $10 a month for Amazon Music Unlimited and having access to all music as I please?
Fitzsimon and Brogan: It is what it is. There are plus sides of the internet and there's also a downside. Even though it's great that you can get your music out to thousands of people now, it has become a sort of black hole for artists – and to monitor what is actually going on can be difficult.
@skopemag: What kind of environment & mood do you feel most creative towards your music?
Fitzsimon and Brogan: It starts off with one guitar and a blank piece of paper. We have a rule that if nothing materialises in 45 minutes, it's often best to come back and try again the next day. When you get the idea, the rest becomes easy. You just know when it works.
@skopemag: What is coming up for you & where you @ online?
Fitzsimon and Brogan: Our website is being remodelled at the moment. Should be up soon. It's at: www.fitzsimonandbrogan.com – As mentioned, we have a single, Big Blue World, coming out on June 15th, to be followed on June 22nd with the album also called, Big Blue World. In the fall there will be another album release.