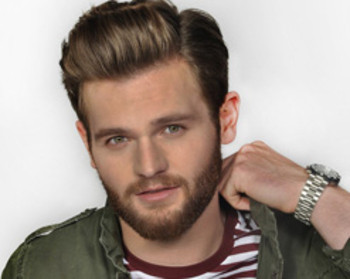 An artist's appearance may be important, and showmanship may be critical, and instrumental talent may be indispensable. But real music fans know –songwriting is the lifeblood of the industry. Without great songs, the world doesn't turn. That's a lesson that Brandon Bonine has internalized. Learning from jazz greats and inspired by his father's record collection, he started writing his own songs at only 13: songs that are pulsing and melodic, with an attention to reflective lyrics based on life experience. Bonine's songs are like letters from a friend. They're reassuring, insightful, easy to cherish. They invite re-visitation, and sometimes-even contemplation. They continue reverberating long after they're done playing. A native of the Detroit area, he divided his time in college between jazz gigs and DJ-ing parties, and takes sonic inspiration from Pat Metheny (whom he's studied under), the Avett Brothers, Townes Van Zandt, John Mayer, and Stevie Ray Vaughn.
With such a variety of influences, what does Brandon's music sound like? Think of the feeling of driving on a dusty dirt road after having one too many espressos juxtaposed with the heavy, hard-working Detroit-soul, or perhaps imagine a cross between the soulful and raw pop-rock of John Mayer and the jazz/blues/Americana of The Avett Brothers. He partnered with Young RJ of Slum Village (J Dilla, 50 Cent) and producer RJ Rice (Poe, Pet Shop Boys), formed a band with Dana Davis (Aretha Franklin, Byron Cage), Christon Mason (TLC, Phillip Phillips), and Billy Harrington (Chris DuPont) and hit the ground running on his next body of creative work.
Brandon Bonine's instantly endearing latest single "Only With You" is the third to be released from his forthcoming debut album Warranted Worries (due out later this spring). With the mid-western heart of soul, the sensibilities of pop-rock, emotive songwriting, blues-inspired guitar playing, and hip-hop-influenced beats, it's a fitting track to tease the new album. "Only With You" isn't about finding a particular person, place, or thing, but rather the feeling of euphoria that comes with finding a perfect connection, that quintessential "warm and fuzzy" every human heart covets.