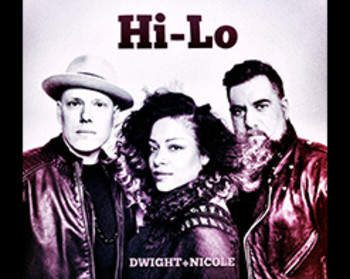 Based in Burlington, Vermont, Dwight Ritcher and Nicole Nelson, collectively known as Dwight & Nicole, are two roots artists that have lived entire musical lives before dropping into each other's arms just a few years ago. Dwight, originally from our home state of New Jersey, played in numerous bands throughout the past decade, and found himself in the northeast cities of New York and Boston over the course of his journey. Nicole, originally from Brooklyn, New York, similarly has been writing and performing songs for the better part of her life and gravitated toward Boston, where the two met for the very first time. Together, they've toured the northeast and released two crowd funded albums, cultivating a fresh mix of blues, garage rock, and sweet American soul. The recent addition of drummer, Ezra Oklan has finally stabilized the band to allow the music to flow without worry of inconsistency.
http://www.dwightandnicole.com/
Dwight & Nicole's first record as a trio is 2017's Electric Lights, cradled by multi-Grammy Award nominated producer, Joel Hamilton, who's previous work includes the likes of The Black Keys and The Meters. With the stars finally aligning, their new single, "Hi-Lo" showcases a band ready to take their studio mastery and songwriting savvy to the world stage. The finger-picked blues licks of Ritcher, flaunt a raw character that is sorely missed in contemporary rock music. Nelson's syrupy-sweet harmonies add a thick layer to the chorus lines creating a duet feel that begs you to sing along. The accessibility of the song is not inhibited by the rawness of the track, in fact, it adds an honest simplicity that makes Dwight & Nicole all the more personable.
The official music video for "Hi-Lo" offers a spot-on visual representation of the sonic makeup of the song. Dwight is shown entering the D&N practice space in Burlington, where he escapes the world to work on his lyrics. Outdoor footage of muddy roads by the railroad tracks add to the working class sentiment felt in the soul of the track. Young music video director Kayhl Cooper filmed and edited the video with such precision, it feels like it was created along side the song from its conception. In-studio footage gives an inside look into the recording process with their star producer, but possibly the most eye-catching moment is when Dwight whips out the cream colored 1965 Chrysler 300 to pick up the rest of the band for their session. They proceed to hit the studio, and cut the track as we know it.