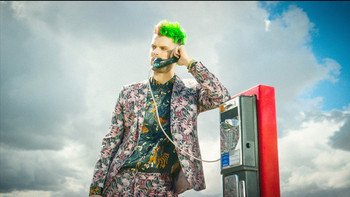 In celebration of their debut album, Treehouse, out 13th April, Sofi Tukker share the desert disco glam music video for their latest single "Batshit." Directed by now frequent collaborator Mac Boucher, the clip features Sophie and Tucker dressed to the nines, injecting color and energy into the desolate surroundings. Styled by Olivia Perdoch, Tucker dons multi-colored size 14 platform shoes while Sophie looks like a retro icon while sporting a red sequined jumpsuit, creating the perfect welcome for the summer season.
In addition to early support from Zane Lowe's Beats1, "Batshit" is also featured in Apple's iPhone 8 commercial launch and provides the perfect soundtrack for the sleek visuals.
Sofi Tukker recently announced the first part of the Treehouse World Tour in support of their debut full-length Treehouse. The 10-track album includes previously released singles "Energia" and "Fuck They" and presents SOFI TUKKER fully formed after a Grammy nomination, countless months on the road touring, and their enduring fervently positive spirit. It also features the international smash "Best Friend" and "Baby I'm a Queen" which had its television debut on Conan.