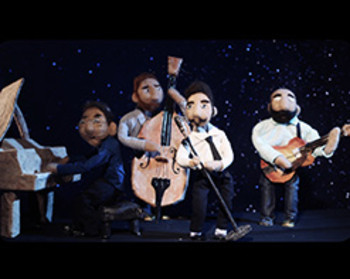 Ori Dagan is a world-class jazz singer-songwriter who wields mass critical acclaim for his work. His arrangements span from reimagined infectious pop classics to jazz originals that push the boundaries of sound, while still paying homage to the founders of the genre. His newest single, "Sting of the Cactus" is a scat-filled confessional about the life of a musician, where his honesty pours out lyrically and instrumentally for an inside look into his life.
Israeli-born and Toronto-raised, Ori Dagan was born to swing, scat, croon, and entertain. Initially trained as a classical pianist, he earned a Bachelor's degree in Fine Arts from York University with a focus on Jazz and Classical vocal studies. Following his time at York U, he continued his music education at Humber College, honing in on performance, songwriting, and improvisation. These years of education proved their worth when Dagan began receiving widespread acclaim for his work, including "Best Jazz Vocals" at the 2015 Toronto Independent Music Awards and "Best Male Vocal" in NOW Magazine's Reader's Poll against the likes of The Weeknd, Bahamas and Peter Katz.
In January 2016, Ori Dagan released "Clap on the 2 and 4" as a single with a hilariously bubbly music video. This video opened up new doors to higher ground for this artist, being awarded for "Best Educational Jazz Short" by New York Jazz Film Festival, "Best Music Video" by Open World Toronto Film Festival and "Best Male Vocalist" Bronze by Global Music Awards, just to name a few. With all the recognition in the world under his belt, Dagan has returned to release his best work yet to a much broader audience.