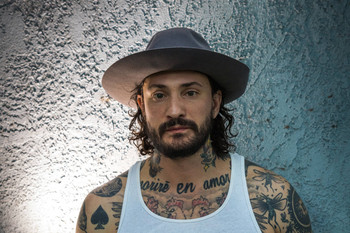 On the track, eerie guitar tones do great to establish a captivating soundscape in the first minute, with a smooth and precise vocal delivery reminding of Aesop. The "two shots down" bridge journeys cohesively into a hook-y chorus. A brass-laden bridge emerges thereafter, adding some effectivelate-night vibes. Overall, this is a captivating effort that's structurally adventurous enough to captivate, injecting elements like brass to distinguish strongly.
The consuming structure, top-notch production, and effective hook combine for a solid track from Rafael Vigilantics, who has an LP with Blank City Records that is set to be released mid-April.
Rafael Vigilantics has put in the hard work and the hard times and I'll be damned if it doesn't show him come thru the other side to light up for us. His lyrics sound more like a confession then a hip-hop song. His music sounds more like an ominous war-drum than a rap track. His cadence more like a motorcycle ride thru the desert than a steady flow. His tone is fierce yet pleading. Think Iggy Pop forces Roy Orbison to rap at gunpoint while Bukowski watches. If you like P.O.S and Aesop Rock chances are you'll like Rafael Vigilantics.
Rafael is self-described as "the noise before the sound" and "SEARCH-AND-DESTROY-HIP-HOP."