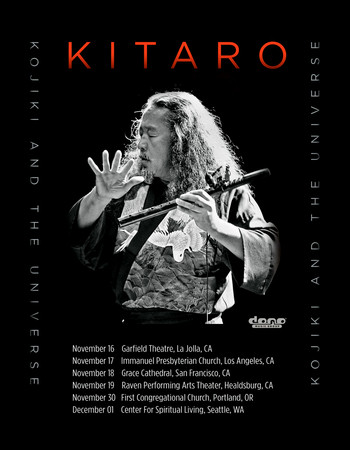 Kitaro brings a totally unique audio/visual experience to California with his upcoming "Kojiki and The Universe" tour beginning November 16 and culminating December 1, 2017. Tour stops include San Diego, Los Angeles, San Francisco, Healdsburg, Portland and Seattle.
Presenting a totally unique visual experience, the presentation of "Kojiki and The Universe" merges Kitaro's music for the show (his most notable songs as well as songs from "Kojiki", his 1990 Grammy Nominated album) with dynamic space-age photographic scenes of the Universe. The awesome visuals feature time-lapse images, expertly intertwined with real-time films provided by, and in cooperation with, NASA and Kyoto University.
"Kojiki and The Universe" was created by Kitaro in collaboration with Kyoto University'sAstronomy Professor. The entire production of Kojiki and the Universe was developed using modern film editing techniques, as well as state-of-the-art hardware and software. In Japanese myth: logy, Kojiki is a story closely related to evolution of the universe. It describes the origin of Heaven, Earth and the creation of the Gods. Utilizing Kitaro's album as the soundtrack, "Kojiki and The Universe" is a chronicle of astronomical research as well as a beautiful introduction to modern astronomy for everyone.
The Sacred Journey of Ku-Kai series is an earthly voyage that transports the listener to the eighty-eight sacred temples located on Shikoku Island in Japan, ancestral home of the beloved Buddhist holy man Ku-kai. The music, which pays homage to the true to life excursion made over 1100 years ago on Shikoku Island endures to this day. Each track on the album revolves around the unique bell sound from the individual temples, using actual sampling and Kitaro's inspired musical interpretations and distillations of their essences.
Tickets available here: http://kitaro.alistixs.com