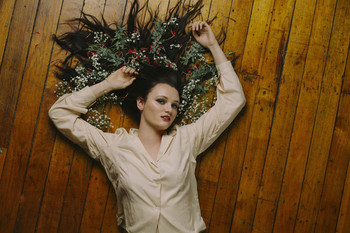 Staying true to the saying 'good things come in threes', today AYLA announces her second EP Let's Talk Monday (out January 12), new single 'Porcelain Doll' and an East Coast tour presented by Rare Finds.
Premiering via Goodnights with Linda on triple j, 'Porcelain Doll' is AYLA's most matter-of-fact release to date – almost a direct letter. Riffing on her alabaster skin, AYLA remarks, "I'm pretty pale… I've been called a porcelain doll by a few people, but it was just one that I wrote this song to," she says. "The songs I write are usually more of a mixture of different thoughts, or more metaphorical, but this one is pretty direct language, just talking."
Flexing her growth as a writer across not just on 'Porcelain Doll' but the entirety of Let's Talk Monday, AYLA teamed up with super-human team, co-writer Glenn Sarangapany (Birds of Tokyo) producer Sam Cromack (Ball Park Music) and mixer Ian Pritchett (Boo Seeka, Kim Churchill, Angus & Julia Stone). Exploring techniques new to AYLA including writing and recording on electric guitar and vocal layering as instrumentation has helped expand the possibilities of her sound – as well as breathing new life into previously dormant tracks such as the six-year-old 'Cry Honey, Cry'. The result is a release that blossoms with uniqueness and shimmers with a maturity far beyond the Sunshine Coast songstress' years. For AYLA though, the six tracks mark a natural progression from debut EP When The World Ends, journaling pivotal realisations and anecdotes in her life. Opening with the familiar 'Shallow End', the EP offers a taster before diving deep into AYLA's 2016 anthem for being different in 'Like The Other Kids'. What follows are a four previously unreleased tracks documenting themes such as; love and commitment ('Porcelain Doll'), friend connection vs emotional connection ('New Furniture') and a nod to winter romance ('Too Cold For June').