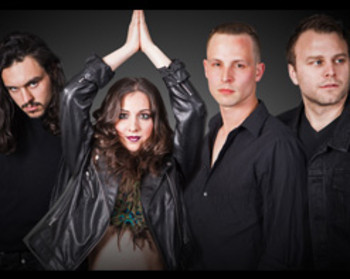 Tuneful and tenacious, Arizona's top up and coming band is back! Anyone who knows Jane N' The Jungle knows they are a powerhouse of diverse musical aesthetics, from singer Jordan White's musical theater background to guitarist Brian Dellis's years as a punk rocker. An intriguing mashup of disparate influences, this musical tsunami creates a sonic mosaic of indie/alt ear candy that set them up to be the next big thing to come out of The Grand Canyon State since Jimmy Eat World. It's rare when a young band can build their reputation for their ferocious live sets, while continuing to release superbly constructed, surprisingly nuanced recordings.
http://www.janenthejungle.com/
With White's passionate vocal stylings stronger than ever, the band is thrilled to return with a song and video that seems like a total 180 spin from their last critically acclaimed release "Faded Stars." Jane N' The Jungle has knocked it out of the park on this compelling new video with a toe curling, face melting, sinister ode to debauchery called "Killed Someone."
Fans around the world have embraced their trademark, anthemic choruses that wash over the listener like a tidal wave, and it's there in spades in "Killed Someone". Possessed with fervent passion coming from the deepest, darkest chasms of her soul, Jordan White's force of nature voice soars like a hawk looking for prey, and the bodacious, mind-blowing guitar solo, just like in "Fading Stars," absolutely slays.