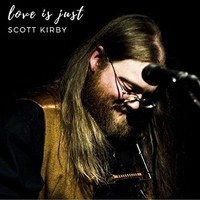 Have you come to notice that whatever your age, class, the profession is, there is always a song that appeals to you? No matter how stressed you are or how busy you are or occupied you might be; whenever that tone of music comes to your hearing you enjoy every line of the song.
For me, Love IS JUST by SCOTT KIRBY is one song that appeals to music lovers across various segments of life. It's not every day you come across a nice song with a very wonderful video that gives you a vivid imagination of the song you listening to. I got to say a very big thumbs up to Scott here. The video really got to me.
When they said that music is an expression of our emotions with the vocal and or with instruments, I never really got to understand it until I listened to LOVE IS JUST by Scott. The song is a pure expression of emotion at play. Like a verse from the lyrics 'love is a game' would get you thinking about your love experience. As Scott actually shows us that we all can define love in our own ways as love is an expression that we can all express in our own ways, unlike the crap most songs now what us to believe is love. It has that same word we are conversant with LOVE in its lyrics bringing it fresh to our mind that love is not just a game as many people now see it. In a unique way, he is expressing his feeling and thought about what he see love to be and what he really wants from love.
The instruments are just perfect and timely, the guitar got me nodding my head way before the music started playing and rightly accompanied by the drums then you will hear the piano striking a perfect notes; just the combination of this instruments sets the music playing and then comes the distinctive, rich, warm and expressive vocal – rendering the song with a voice that really knows the exact way to pass the message and making you sit back to pick every word in every line of the song. I know that there are good songs but this is one of a kind – filling your mind and soul with a perfect tune you would always like to hear every time irrespective of where you are or what you are doing.
Loving and being loved is one of the sweetest feelings of all time and age. listening to the wordings of the song had me put it on repeat all day and being conscious of the fact that Love never change, the way it felt last century exactly the same way it is feeling now and that is why I came to the conclusion that the song is for everyone not minding what your category is – as you can always say 'there is a song for everyone 'the lyrics of this fascinating song is very thought-provoking, inspiring and heart-warming. LOVE IS JUST by Scott is a song for everyone.
So in love with this song that I have been humming it, ever since I watched the video on YouTube, expect to hear more melodious songs from you Scott. Hopefully, we will see you win the Grammy's in the nearest future.
http://www.scottkirbymusic.com/
By Eilene Gross