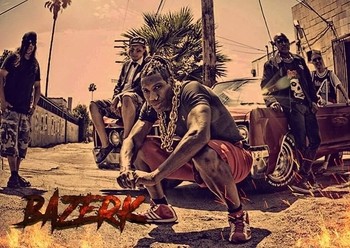 WORKERS AT GUITAR CENTER STORES RATIFY 1ST UNION CONTRACT
Today, the Retail, Wholesale and Department Store Union's (RWDSU) newly unionized Guitar Center workers at four stores in New York (NY), Chicago (IL), Danvers (MA), and Las Vegas (NV), unanimously ratified their first contract. Guitar Center, and the RWDSU, which represents retail workers in a variety of industries across the nation, reached agreement for contracts for over 100 of Guitar Center's employees who work in the four stores. The contract was finalized as part of the global settlement agreement reached last month between the parties. Under the new contract, workers will receive guaranteed base wage increases over the three-year term of the contract and access to union-provided healthcare insurance.
"The contract that was ratified tonight wrote the song book for workers in the retail music industry," said Stuart Appelbaum, President, Retail, Wholesale & Department Store Union (RWDSU). "Workers from all four stores fought to ensure the voices of their over 100 co-workers were heard – and the company listened. I am extremely proud of the negotiations team involved in this first contract and the provisions they reached in unison."
Aloe Blacc Releases New Single "King Is Born"
GRAMMY-nominated singer/songwriter Aloe Blacc releases his new song, "King is Born," today, July 11, on XIX Recordings/Interscope Records. The anthemic first single from Blacc's forthcoming album is available at digital retailers today.
"King Is Born" will be used as the sound track on the promotional spot for the upcoming showdown between legendary boxing champion Floyd "Money" Mayweather and UFC Champion "The Notorious" Conor McGregor. Blacc's first ever performance of "King Is Born" will take place at STAPLES Center in Los Angeles today, July 11, during the first stop of an international press tour where the two fighters will square off for the very first time. Mayweather vs. McGregor will take place Saturday, August 26 at T-Mobile Arena in Las Vegas. The pay-per-view telecast and will be produced and distributed by SHOWTIME PPV®.
M.I.L.K. shares video for 'When You Feel Good'
Copenhagen based artist M.I.L.K. (real name: Emil Wilk) today releases the video for 'When You Feel Good' – the first video in a line of 6 video releases, lifted from his acclaimed debut EP 'A Memory Of A Memory Of A Postcard'.
J. RODDY WALSTON & THE BUSINESS Announce Fall Tour Dates
Richmond, VA's J. Roddy Walston & The Business have announced a new fall US tour today, including dates in Columbus, Detroit, Seattle, Los Angeles and more. Their upcoming fourth studio album is also slated for fall 2017.
The band's forthcoming studio album came to life in their own Richmond, VA recording studio, a space they built by hand in 2016. The new LP, slated for a fall 2017 release was finished in Seattle with co-producer Phil Ek (Band of Horses, The Walkmen, Built To Spill). Listen to the new single "The Wanting" HERE.
POWERFLO PREMIERES NEW VIDEO "WHERE I STAY" VIA MASS APPEAL TODAY
Powerflo's brand new video for "Where I Stay" is having its exclusive worldwide premiere via Mass Appeal today. The video is a love letter to the band's hometown of Los Angeles and its alternative cultures. Of the new video, Powerflo's Sen Dog commented, "The video is a look into the car and motorcycle cultures in the Los Angeles area where some of the most recognized low riders, car clubs, motorcycle clubs and tattoo artists have helped bring these worlds to light. The video is a great representation of the city we love and call home". "Where I Stay" is featured on the band's debut self-titled album which was just released via New Damage Records. POWERFLO charted #15 on the Hard Rock chart, #17 on the Heatseekers chart and #54 on the Indie chart, respectively.
Joseph Childress Shares "Virginia Bound" Track On Flood
Flood Magazine has premiered "Virginia Bound" the new single from the Self-Titled sophomore album by Joseph Childress. Joseph has shared intimate bills with many of folks top acts including Joanna Newsom, Kevin Morby, Little Wings, Devendra Banhart, Vetiver, Richard Buckner and Mount Eerie. His new LP will be out on October 6th of this year on Empty Cellar Records.
USNEA Shares New Song "Lathe Of Heaven"
Portland doom quartet USNEA has announced the full details of their third full-length album, Portals Into Futility. Inspired by dystopian science-fiction and the painful intersection of today's crushing reality, Portals Into Futility offers five songs and fifty-six minutes of expertly crafted and elegantly depressive doom/sludge. With an evolved sound of strength and dynamism, USNEA delve more into the worlds of dissonant death metal, varied vocal structures, and cinematic composition, all while maintaining the monumental heaviness, brutality, discord, anger, and mournful melodicism of their previous work. Across dark and brooding peaks and valleys, USNEA reminds us that no matter how many doors are opened to the human species, our self-aggrandizement and hubris all lead to futility.
Becomes Astral Announces Album 'Paleblood Sky'
Today, Ontario-based death metal outfit Becomes Astral announced their album Paleblood Sky, which has been set for release on August 18, 2017. Paleblood Sky includes six pulverizing tracks and was recorded and mixed by Christian Donaldson and Marco Frechette at The Grid. Upon the release of Paleblood Sky, the band will set out on their album release tour throughout Canada, starting on the Eastern leg with Eye of Horus and later adding Into Eternity for the Western leg of the tour.
Rolling Stone Country names Ron Pope an "Artist You Need To Know"
The site says Pope "Sounds Like: Earnest, melodic story songs written and sung by a guy who knows his way around an electric guitar" and is "For Fans of "Tom Petty's hooks, Little Feat's grooves, the rock and soul wing of Americana."
The album follows last year's critically acclaimed Ron Pope & The Nighthawks, of which Entertainment Weekly raved, "Heavier, deeper, bigger, louder. The warm glow of the West, and a heavy meditation on classic sounds of the South seeps out."
The Domestics team with Tucker Martine
Finn, who works with Martine as an engineer at Portland's Flora Recording, teamed with the critically acclaimed producer on the new album to create a sound distinct from the more organic, acoustic feel for which Martine has come to be known. Experimenting with a plethora of effects and found sounds such as crowd noise, hissing toy robots and chains dropping on a studio floor, the group would routinely spend upwards of 16 hours a day working in the studio while recording. "It felt like the culmination of the past five years spent working with Tucker, having built that rapport and aligning our workflow the way we have, and then getting to apply all that to these songs of Leo's that we had developed such high expectations for," explains Finn. "It's the most rewarding process I've ever been apart of."
MARTIN SOLVEIG RELEASES OFFICIAL MUSIC VIDEO FOR "ALL STARS" FEAT ALMA TODAY
French DJ and producer Martin Solveig releases the official music video for his new single, 'All Stars' featuring Finnish breakthrough act ALMA today.
Solveig's latest serving follows hot on the heels of his hit single, 'Places' featuring Norwegian singer/songwriter Ina Wroldsen. ALMA recently released her latest buzzing single "Chasing Highs," which has been labeling her as "one to watch."
Naughty Professor Release New Video For "I Can't Sleep At Night"
Today, acclaimed New Orleans-based future funk collective Naughty Professor released the video for "I Can't Sleep at Night," off of their new album, Identity. "I Can't Sleep at Night," features fellow New Orleans musician Dexter Gilmore (Sexy Dex and the Fresh) delivering a powerful and expansive vocal performance as the focus of the track. The video release comes alongside the announcement of Naughty Professor's fall tour dates, an extension of their Identity Tour, in which Dexter Gilmore will be joining the band on the road for select shows.
On the streets of London a new sound is rising alongside a new generation of stars. It's a movement at one of its most creative moments, where all kinds of cultural influences are thrown into the blender to create something new. No one has picked a name for it yet; UK afrobeats, afro-trap or afro-bashment are contenders. GB is the newest arrival on the scene (government name Kevin Kameni Antwi). From Hackney and with one parent from Cameron and the other from Ghana, music is in his blood. His Dad is a working Highlife gospel musician and he grew up playing drums in church before learning how to produce and write songs.
The Dull Blue Lights Release New Single "All Or Nothing"
The Dull Blue Lights are a band in between. Drawing from influences as varied as Motown soul, Nuggets psychedelia, and Jamaican rocksteady, the Philadelphia-based group's definitive blend of cascading harmonies, screaming guitars and relentlessly grooving rhythms lives somewhere between each one. The band calls this in-between sound Basement Soul. "We acknowledge that genre exists, but have no interest in confining ourselves to being just a soul band, or a mod band, or a reggae band, and on and on," lead vocalist/guitarist, Todd Fausnacht, explains. For the band, any type of music they enjoy can become part of the Dull Blue Lights Sound. "For us personally, coming from a scene full of vintage throwback bands, it's a refreshing change."
People Like You premiere new single with Stereogum
People Like You are set to release their sophomore album entitled Verse on July 28 via Topshelf Records. Today they share the second single from the album entitled "Thumbnail" via Stereogum who says its "sweet yet melancholy in nature, and the band's culmination of sounds work excellently together."
"'Thumbnail' is about being in a long-distance relationship," explains guitarist/vocalist Chris Lee-Rodriguez. "I used to say to my partner at the time that if you look far back enough you could measure the distance between each other with your thumbnail. No matter how hard it got, that would always help me get through it."
Sloan Peterson Premieres "Rats" Video Via Stereogum
"'Rats' was written about low-lifes who wanna make something out of themselves, ratbags and teenagers who are on their own in a big city," explains Jackson. "I had a pretty rough couple of years between 13-16 living up in Brisbane, being involved with bad company, never attending school among other horrible situations, and this song speaks to how I was feeling after coming out of such a whirlwind, trying to start all over again in Sydney by myself at only 16."
AC SLATER – DEALER FT. TCHAMI & ROME FORTUNE (OWSLA)
East coast born, LA resident producer, DJ and label-boss AC Slater has announced his new album, Outsider, and shared its lead single, "Dealer."
Whilst Outsider is out in September via AC Slater's own Night Bass imprint, the first taste of the album comes via the lead single Dealer, released today on Skrillex's own Owsla label. Dealer features contributions from Paris producer Tchami and Atlanta rapper Rome Fortune, who delivers some bleary-eyed vocals over a slinky, metallic house beat.
Indytronics – 'Savannah Only Temple'
Indytronics – psychedelic / indie 5-piece band from Kiev, Ukraine. The band started playing in 2015, releasing their debut long play 'Scintilla Wave'. Indytronics played live presentation show in Kiev club 'Atlas' and at several Ukrainian festivals: Woodstock Ukraine, Virtuoso Festival, Tattoo Collection, Master Festival and etc.
In 2016 Indytronics won 2 competitions: 'Battles Of Students Bands' and 'Irish True' by Tullamore Dew, winning the possibility to play concert in Dublin, Ireland. In summer Indytronics went in Ukrainian tour, playing in 6 cities and at two festivals: 'Woodstock Ukraine' and 'Z-Games'.
MARTY FRIEDMAN Reveals New Track "Miracle"
MARTY FRIEDMAN wasted no time unleashing his two latest anthems, "Self Pollution" and "Whiteworm", in preparation of the release of his new album, Wall Of Sound, to be released on August 4, 2017 via Prosthetic Records. Today, Marty follows up with another soaring new track, "Miracle", posted alongside an interview with Billboard Magazine.
Marty tells Billboard that "Miracle" is a heartfelt song, and that, "it's supposed to make you feel really good after a big accomplishment, like you ran a marathon, a promotion or you fell in love with somebody."